Published 08-09-23
Submitted by Mondelez International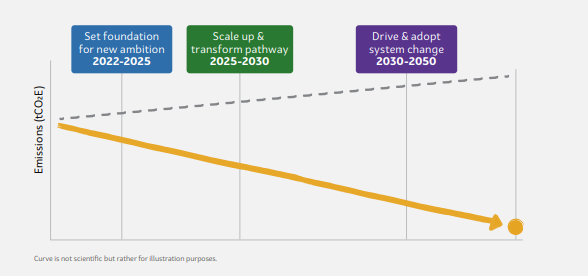 Mondelēz 2022 Snacking Made Right Report
Climate Risks 
We know how important it is to identify and assess our climate risks. This informs our strategy and actions to support the resilience of the business.
We take a rigorous approach to identifying and managing our climate risks, in line with the Task Force on Climate-Related Financial Disclosure (TCFD). This enables us to expand and deepen our understanding of our impact on the planet, and to sharpen and enhance how we can mitigate climate risks.
TCFD provides voluntary climate-related financial disclosure recommendations designed to help companies support informed capital allocation decisions and provide better and consistent information to stakeholders. This includes a framework for companies to assess climate-related risks and opportunities through the use of climate scenario analysis and guidance on reporting strategies and actions to mitigate risks. The disclosure recommendations are structured around four thematic areas: Governance, Strategy, Risk Management, and Metrics and Targets.
We strive to provide our stakeholders with relevant information on climate-related issues following the TCFD recommendations. See our TCFD index for references to our CDP response and portions of this report on how we address the eleven recommendations of TCFD.
Identifying and Assessing Climate Risk 
Climate risk management is driven by our Enterprise Risk Management (ERM) process for identifying, assessing, managing, and monitoring risks. We have a Risk and Compliance Committee (MRCC), co-led by our SVP & Chief Counsel, Chief Compliance Officer (Chief Compliance Officer) and SVP, Chief Audit & Controls Officer (Chief Audit & Controls Officer) and composed of leaders from the Finance, Accounting, Legal, Compliance, Internal Audit and People functions. The MRCC provides broad oversight of our enterprise risks and ERM process. The MRCC meets regularly and, through consultation with senior leaders and other managers with subject matter expertise, periodically assesses the key risks facing the Company, works with those risk owners responsible for managing each specific risk, and reviews mitigation actions and the status of the annual enterprise risk assessment. Our Chief Compliance Officer and Chief Audit & Controls Officer regularly report to the Audit Committee to provide updates on the status of the ERM process, which the Audit Committee Chair reports to the full Board. Similar risk and compliance committees exist on regional and local levels.
The identification of emerging climate risks is informed by external scans of megatrends, consultancy and industry reports, peer CDP disclosures, TCFD reports, annual reports and 10-Ks. For new and emerging climate risks, relevant internal stakeholders are engaged to review and rank the identified risks based on magnitude of potential impact and Mondelēz International strategic priorities.
Annually, we use tools and third-party consultants to assess the potential financial impact of climate risk in the short-term, medium-term and long-term horizons. We also conduct frequent quantitative scenario analysis to understand the future-scenario based financial impact of climate risk. We supplement the analysis with ongoing site-level engineering assessments to consider plant-level exposures, taking into consideration risk mitigation measures already in place.
The MRCC assigns ownership of specific risks to the Mondelēz Leadership Team. As owners of each specific risk, Mondelēz Leadership Team members are responsible for overseeing that appropriate mitigation controls, monitoring and response systems are in place. With support from the global ERM team, Mondelēz International develops a robust risk assessment, prioritization, and mitigation plan. This plan is based on our ERM risk rating criteria which includes risk impact, velocity, likelihood and management preparedness. The risks are then added to a global risk register, which is used to monitor all enterprise risks.
Managing, Mitigating and Monitoring Risk 
The management and monitoring of risks, including climate risks, is reviewed annually by the global ERM team, while the implementation of mitigation plans and the monitoring of risk KPIs are ongoing at the global, regional or business level, where required. Based on the specific risk drivers and prioritization, we develop and implement our risk response strategies, which can be either mitigation (action plans), transfer (insurance), avoidance, or acceptance. We monitor performance against our risk response strategies using risk KPIs that are tracked by the respective risk owner and reported to the global ERM team.
The global ERM team is enhancing the integration of climate risk management into the overall ERM strategy and process.
Action Toward Net Zero 
We are taking concerted, coordinated action to play our part in combating climate change – working toward our long-term ambition of net zero carbon and resilient landscapes. In doing so, we're transforming how we do business across our supply chain – from farmer's field to shop shelf.
OUR GOAL
10% reduction
We are in the process of adjusting our path towards our long-term goal of net zero, which is subject to verification by the SBTi (submission expected in 2023). In the meantime, we will continue to work towards our 2025 public goals, including reducing our absolute end-to-end GHG emissions by 10% by 2025 vs. a 2018 baseline.1
Working Toward Net Zero 
For the past few years we have been on a path to reduce our carbon emissions and in 2021 we took an important step forward – aiming toward a long-term goal of net zero GHG emissions across our full value chain by 2050.1 
As part of the goal, we have signed the Science Based Targets initiative's (SBTi's) Business Ambition for 1.5°C, aligning our long-term emissions mitigation targets with the aim of limiting temperature rise in accordance with the Paris Agreement. We've also joined the United Nations Race to Zero Campaign to help build momentum towards a decarbonized economy.
A CLEAR WAY FORWARD
Achieving net zero is no easy task, and we are setting a path so we know what we have to do to steer toward our long-term goal.
Our principles for transition: 
1. Transform the way we do business
2. Build on our existing efforts, scaling proven models for wider impact
3. Collaborate across the industry & sector and engage suppliers
4. Invest in bold innovation to drive technological evolution
5. Be transparent in progress, setting interim targets and communicating regular updates
WE'RE READY. WE'RE IN. 
Mondelēz International is joining the race to net zero and setting a goal of net zero emissions by 2050.
1 In the reporting year 2022, we have recalculated our base year, 2021 and 2022 inventory following the GHG Protocol Corporate Standards. For more details, please see the Carbon Accounting Manual. In 2021, Mondelēz International announced its goal to reach net zero emissions by 2050 as part of the SBTi's Business Ambition for 1.5°C campaign. In 2023, we plan on submitting our new emission reduction targets to the SBTi for independent validation. As part of the recent re-baseline event as well as new SBTi guidelines, we are in the process of updating our goal boundaries.
Read more in the Mondelēz 2022 Snacking Made Right Report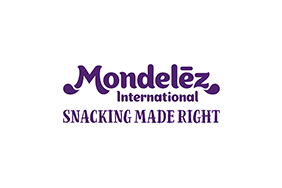 Mondelez International
Mondelez International
Mondelēz International, Inc. (NASDAQ: MDLZ) empowers people to snack right in over 150 countries around the world. With 2019 net revenues of approximately $26 billion, MDLZ is leading the future of snacking with iconic global and local brands such as OREO, belVita and LU biscuits; Cadbury Dairy Milk, Milka and Toblerone chocolate; Sour Patch Kids candy and Trident gum. Mondelēz International is a proud member of the Standard and Poor's 500, Nasdaq 100 and Dow Jones Sustainability Index. Visit www.mondelezinternational.com or follow the company on Twitter at www.twitter.com/MDLZ.
More from Mondelez International