Published 08-02-23
Submitted by PotlatchDeltic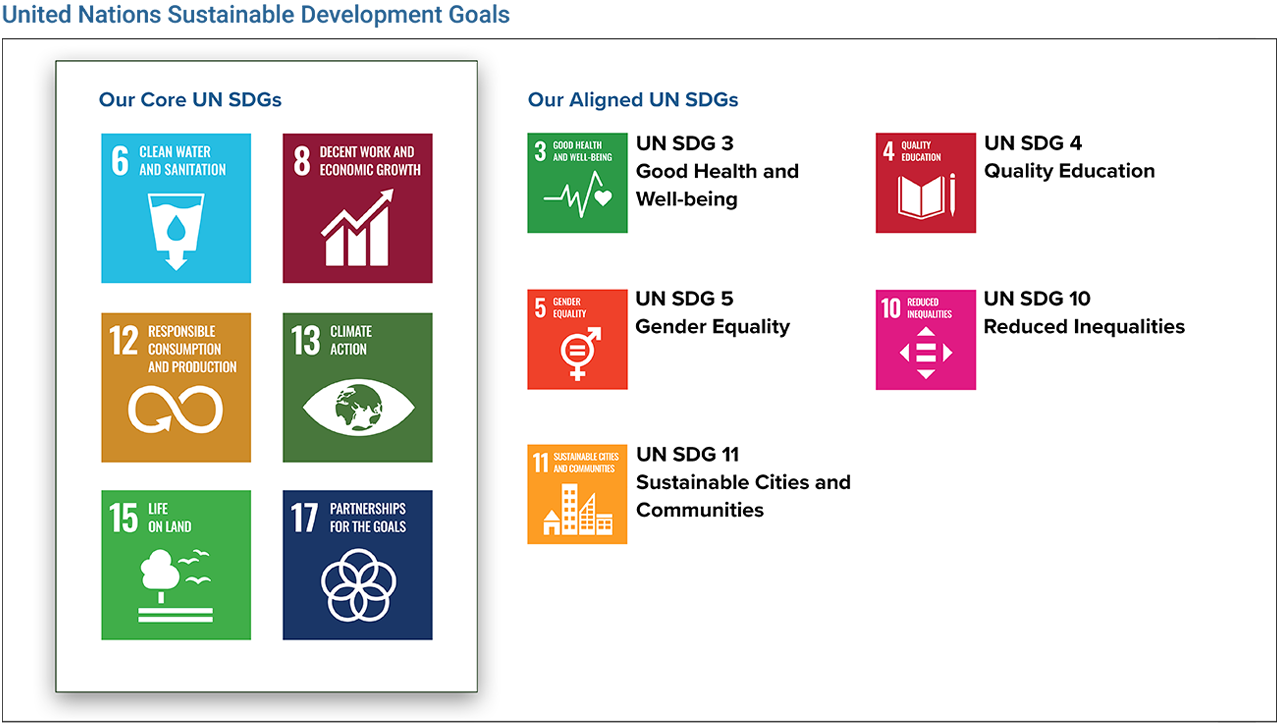 UN SUSTAINABLE DEVELOPMENT GOALS
The 2030 Agenda for Sustainable Development was adopted by all United Nations Member States in 2015. At its core are the UN Sustainable Development Goals (UN SDGs), which represent a global partnership between developed and developing countries to end poverty, protect the planet, and improve the lives and prospects of people everywhere. There are 17 UN SDGs with 169 underlying targets. The private sector has been asked to partner towards the successful achievement of the UN SDGs by identifying opportunities to incorporate them into business strategies. While PotlatchDeltic supports all the UN SDGs, we focus on the six core UN SDGs where we have the greatest impact. We also include an additional five goals that closely align with our policies and initiatives. In our ESG report, we highlight some of our work that reflects these international goals.
OUR CORE UN SDGS
UN - SDG 6 
CLEAN WATER AND SANITATION
A significant portion of the nation's drinking water originates from forests, and timberland owners play an important role in protecting water quality. PotlatchDeltic's forests play a fundamental role in protecting water quality and providing aquatic habitat. Protecting and restoring water-related ecosystems is fundamental to our forest management efforts. Our wood products facilities seek to minimize use of water and promote water quality. We also seek conservation outcomes through rural land sales that protect water and aquatic habitats.
UN - SDG 8 
DECENT WORK AND ECONOMIC GROWTH
PotlatchDeltic invests in technological improvements at our wood products facilities to increase productivity and resource efficiency. We cultivate a workplace of excellence through our inclusive culture, fair compensation, and opportunities for development. We maintain partnerships with high schools, technical schools, and universities within our communities. We aim to prevent occupational illness and injuries by focusing on the health and safety of our employees without compromise. This is at the core of every decision we make.
UN - SDG 12 
RESPONSIBLE PRODUCTION AND CONSUMPTION 
Sustainability is a hallmark of effective forest management and wood products manufacturing. With over 100 years of experience, PotlatchDeltic embodies sustainable consumption and production. From pollution prevention programs to technology upgrades, we have many examples of reducing emissions, reducing waste generation, and maximizing the efficient use of natural resources. By combining these efforts with sustainable practices and integrated sustainability benchmarks, we provide a winning combination for our shareholders, our Team Members, and our communities.
UN - SDG 13 
CLIMATE ACTION
As a steward of Earth's natural resources, PotlatchDeltic recognizes the need for climate action, and that timberlands play a powerful positive role in combating climate change through carbon sequestration. We continue to improve our climate change resilience and adaptive capacity across our organization, from specialized seedling selection for planting to increased resource utilization efficiency at our mills. This is an iterative process to integrate climate change measures into our policies, strategies, and planning cycles. In addition, wood products store naturally sequestered carbon as a climate solution. 
UN - SDG 15 
LIFE ON LAND
PotlatchDeltic has a vested interest in conservation and the sustainable use and management of our forests. We are a leader in the sustainable management of forests through best management practices, reforestation, and the protection of biodiversity and threatened species. As part of our sustainability commitment, we remain diligent in reducing the impacts of invasive and alien species through targeted control efforts.
UN - SDG 17 
PARTNERSHIPS FOR THE GOALS
Partnerships represent combined and often multiplicative efforts to improve the world in which we live. PotlatchDeltic maintains that cooperation and access to science, technology, and knowledge-sharing is foundational to sustainable development. Our work with research organizations, coalitions, cooperatives, and industry associations provides evidence of this philosophy, which helps make progress towards several of the UN SDGs.
Our Aligned SDGs 
UN SDG 3 
Good Health and Well-being 
UN SDG 10 
Reduced Inequalities 
UN SDG 4 
Quality Education 
UN SDG 5 
Gender Equality 
UN SDG 11 
Sustainable Cities and Communities
A positive human experience enables our employees to do their best work and our stakeholders to align with our mission. Our culture has health and safety as a core value and offers employees and their families comprehensive benefits and wellness initiatives. We value a culture of ethical, diverse, and inclusive teamwork and look to attract talent with diverse backgrounds and experience. Employee engagement, training, and development is promoted through a strategy of continuous performance improvement. We promote the use of wood products and innovations like mass timber in buildings as nature-based climate solutions. Our charitable giving focuses on supporting the communities where we operate.
View the full PotlatchDeltic 2022 ESG Report here. 
This release contains certain forward-looking statements within the meaning of the federal securities laws. Words such as "aim," "commitment," "continue," "goal," "look," "maintain," "promote," "seek," and similar expressions and references to achievement of objectives in the future are intended to identify such forward-looking statements. These statements reflect management's views of future events based on estimates and assumptions and are therefore subject to known and unknown risks, uncertainties, and other factors, and are not guarantees of future conduct, results, or policies. Please view the Cautionary Statement Regarding Forward-Looking Information on page 134 of PotlatchDeltic's 2022 ESG Report.

PotlatchDeltic
PotlatchDeltic
PotlatchDeltic (Nasdaq: PCH) is a leading Real Estate Investment Trust (REIT) that owns nearly 2.2 million acres of timberlands in Alabama, Arkansas, Georgia, Idaho, Louisiana, Mississippi, and South Carolina. Through its taxable REIT subsidiary, the company also operates six sawmills, an industrial-grade plywood mill, a residential and commercial real estate development business and a rural timberland sales program. PotlatchDeltic, a leader in sustainable forest management, is committed to environmental and social responsibility and to responsible governance. More information can be found at www.potlatchdeltic.com.
More from PotlatchDeltic