Published 08-02-23
Submitted by The Chemours Company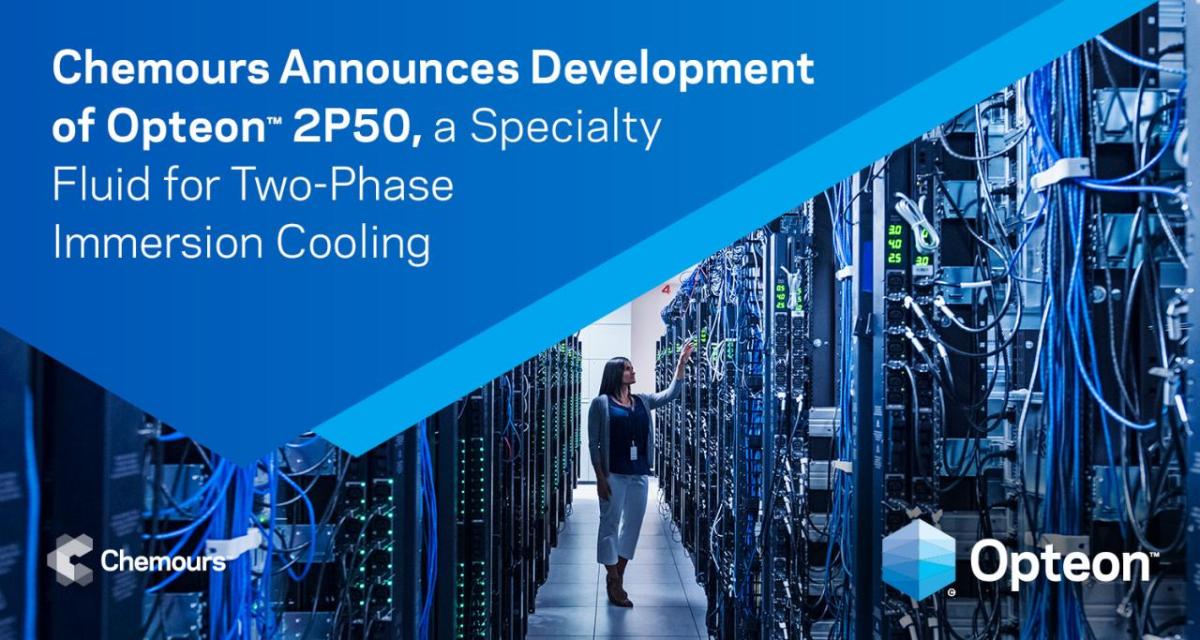 August 2, 2023 /CSRwire/ - The Chemours Company ("Chemours"), a global chemistry company, recently announced important achievements in the development and manufacture of Opteon™ 2P50, a new heat-transfer fluid for two-phase immersion cooling (2-PIC). The proprietary fluid is currently in the final testing stages for manufacturing capability, with initial commercialization targeted for 2025, pending appropriate regulatory approvals. Chemours' Opteon™ 2P50 is a proprietary hydrofluoroolefin (HFO) dielectric fluid designed to meet the growing demand for high-performing products that reduce environmental impact while enabling circularity. Opteon™ 2P50 offers zero ozone depletion potential (ODP) and substantially lower global warming potential (GWP) compared to incumbent fluids.
Chemours' introduction of Opteon™ 2P50 represents a critical step in positioning the company to meet a growing challenge brought on by a new era of data transmission driving a dramatic increase in demands for faster computing, AI capabilities, and other cutting-edge applications—all of which are based in technologies requiring elevated cooling capacities. Chemours' new 2-PIC fluid enables high-performance computing and energy-efficient cooling across a broad range of thermal management applications.
"Two-phase immersion cooling represents a tremendous unmet market need and Chemours is excited to be entering this space and investing in the present and future needs in such a significant way," said Natalia Duchini, Senior Director, Global Technology at Chemours. "We've innovated a next-generation fluid that meets or exceeds our customers' most critical criteria for performance and efficiency. Moreover, by putting the power of our chemistry to work, it also ensures sustainability in an evolving environmental landscape."
Worldwide, data centers currently account for approximately 1% of carbon emissions and approximately 1 to 1.5% of electricity consumption. More than 95% of data centers use traditional air- and water-cooling technologies. 2-PIC is the most sustainable, cost effective, and efficient alternative to traditional air-cooled data centers in terms of energy and water consumption. By submerging electronic equipment directly in a dielectric fluid, they can be cooled efficiently and safely, without the risk of hardware damage. Customer trials of Chemours Opteon™ 2P50 have confirmed outstanding performance.
2-PIC can reduce data center cooling energy consumption by more than 90% and nearly eliminate water use, reducing operating expenses. In addition, 2-PIC simplified cooling structure supports reduced capital expenditures by enabling up to a 60% reduction in the physical data center footprint, while ensuring optimum cooling capabilities to support next-generation high-performance computing applications. The ability to reclaim and reuse the two-phase immersion fluid also creates a clear path to a circular economy.
"We're working to create more than just an incremental improvement," said Duchini. "Our vision is to set a new industry standard with the performance and thermal stability of Opteon™ 2P50. In addition to playing a critical role in enabling 2-PIC technologies through enhanced thermal management performance, this new solution from Chemours will enable businesses and entire industries to reduce their physical footprint and environmental impact."
Chemours Opteon™ 2P50 fluid for 2-PIC is aligned with the transition to lower global warming potential (GWP) products. Whether being used in immersion cooling applications, industrial cooling, or throughout the entire cold chain, Chemours Opteon™ products offer a strong sustainability profile, and excellent performance properties across a broad range of applications.
For more information visit Opteon.com.
View the original announcement at, Chemours.com.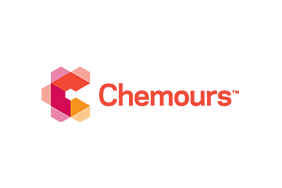 The Chemours Company
The Chemours Company
The Chemours Company (NYSE: CC) is a global leader in Titanium Technologies, Thermal & Specialized Solutions, and Advanced Performance Materials providing its customers
with solutions in a wide range of industries with market-defining products, application expertise and chemistry-based innovations. We deliver customized solutions with a wide range of industrial and specialty chemicals products for markets, including coatings, plastics, refrigeration and air conditioning, transportation, semiconductor and consumer electronics, general industrial, and oil and gas. Our flagship products are sold under prominent brands such as Ti-Pure™, Opteon™, Freon™, Teflon™, Viton™, Nafion™, and Krytox™. The company has approximately 6,600 employees and 29 manufacturing sites serving approximately 2,900 customers in approximately 120 countries. Chemours is headquartered in Wilmington, Delaware and is listed on the NYSE under the symbol CC.
More from The Chemours Company