Published 08-01-23
Submitted by GoDaddy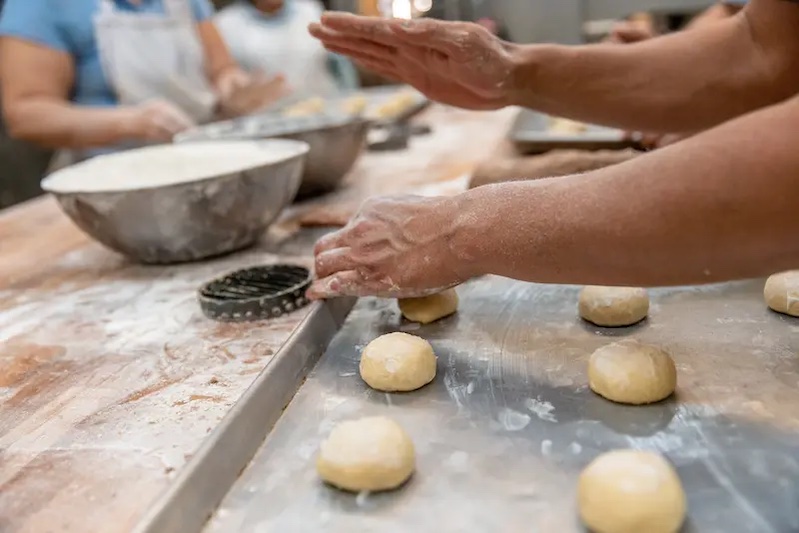 As originally published by GoDaddy's Venture Forward research initiative
The top 5 counties (with 250,000+ in population) that experienced a notable change in microbusiness density include:
Volusia, FL,
Trenton, NJ,
Burlington, NJ,
Tulsa, OK ; and
Montgomery, MD.
Venture Forward, a GoDaddy one-of-a-kind research initiative established in 2018 to quantify the impact of online microbusinesses on their local economies, defines microbusinesses as businesses with fewer than ten employees, a unique domain and an active website.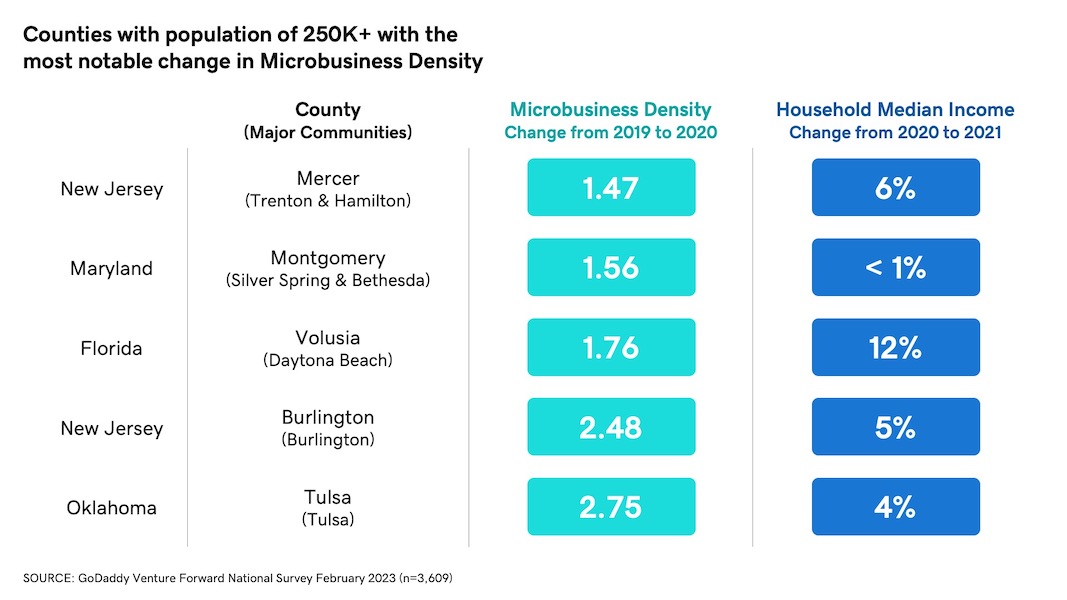 The Big Fact
Venture Forward research found, when analyzing the most recent U.S. Census data (2021), that counties with a microbusiness density (microbusinesses /100 people) change of 1, when holding other factors constant, also improved median household income by $489 in the area on average during the following year.

The Research
GoDaddy's Venture Forward research initiative analyzes more than 20 million online microbusinesses in the U.S. with fewer than ten employees, a unique domain and active website providing an unparalleled view into the attitudes, demographics, and needs of microbusiness entrepreneurs. The initiative's U.S. national survey started in 2019 and occurs twice a year, typically capturing responses from over 3,500 entrepreneurs per instance to identify and explore trends, as well as deliver insights to advocates of microbusiness entrepreneurs.
While these microbusinesses may be small, their impact on the U.S. economy is outsized. For example, for every one online microbusiness entrepreneur an additional 6.7 jobs are created at the county level.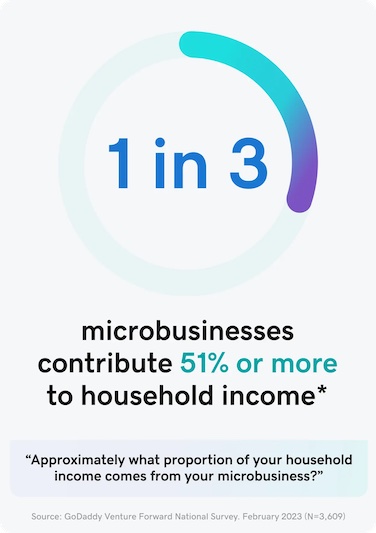 Macro to Micro Impact
Not only are microbusinesses making waves in the wider economy, but they also have an impact at the household level. One in three microbusinesses contribute 51% or more to household income, and half of those households are generating more than $60,000 per year. And 19% of microbusiness owners said 76% or more of their household income comes from their business.
Who Are the Breadwinners?
There's a shift in who is contributing to household income. Almost half (49%) of microbusiness owners who contribute more than 51% of income to their family are women. This segment steadily increased over time, according to Pew Research. Since 1972, wives accounted for an 11% increase in being primary or sole breadwinners for their households, while the same Pew Research noted a 30% decrease in husbands being primary or sole breadwinners for their households.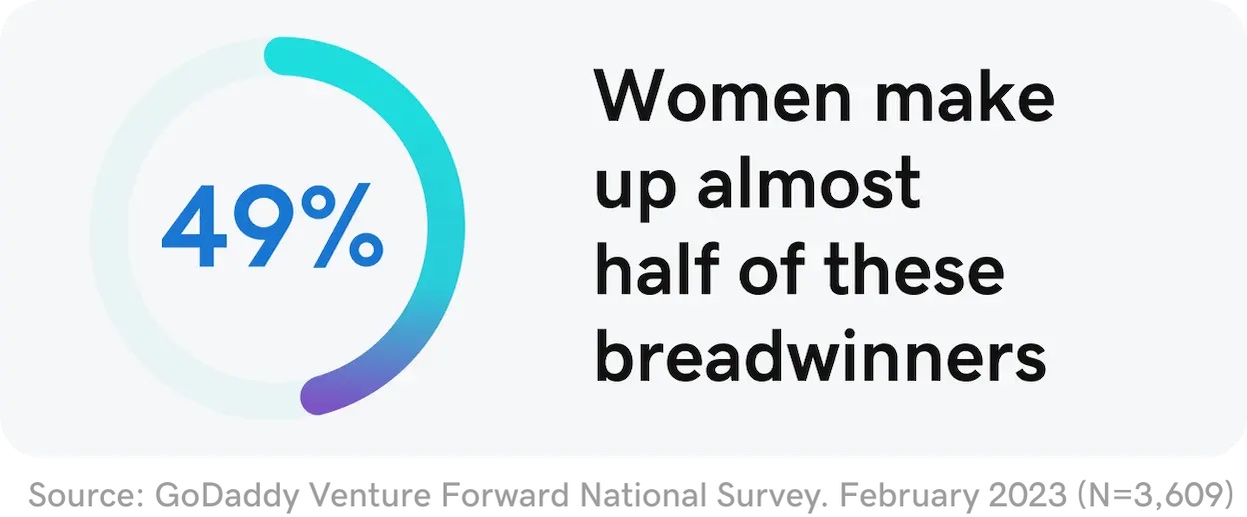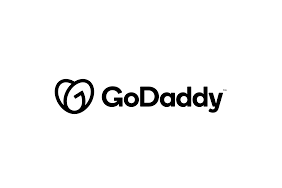 GoDaddy
GoDaddy
GoDaddy is empowering everyday entrepreneurs around the world by providing all of the help and tools to succeed online. GoDaddy is the place people come to name their idea, build a professional website, attract customers, sell their products and services, and manage their work. Our mission is to give our customers the tools, insights and the people to transform their ideas and personal initiative into success. To learn more about the company, visit www.GoDaddy.com.
GoDaddy focuses on making opportunity more inclusive for all in the communities where we work, live and play across the globe. We rally behind inclusive entrepreneurship and other critical local needs that empower people to succeed through philanthropic and in-kind donations, volunteerism, strategic partnerships and advocacy.
Empower by GoDaddy is GoDaddy's global community and philanthropic program equipping entrepreneurs in underserved communities with training, tools and peer networks to accelerate their journeys. GoDaddy rallies behind entrepreneurs in underserved communities by building their confidence and skills to strengthen their small business' digital presence.  Entrepreneurs engage in customized learning experiences, work 1-1 with GoDaddy volunteer coaches and local mentors, and gain access to wrap-around services, in-kind products and networks boosting their small businesses success.
More from GoDaddy