Published 07-28-23
Submitted by Enbridge Inc.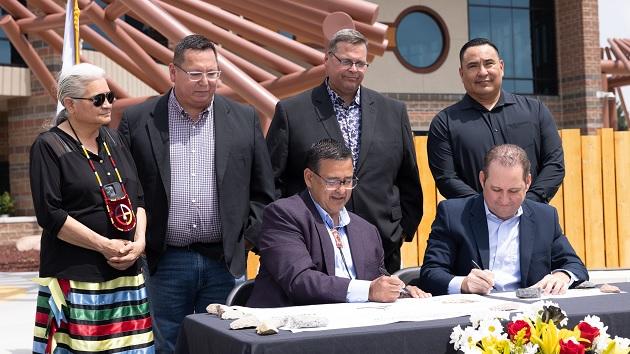 With more than 17,000 enrolled members across nearly a million acres of land, the Mandan, Hidatsa and Arikara Nation of North Dakota offers a wide range of services to its people—from finance to child care, from housing to health care, from employment training to cybersecurity to Veterans affairs.
The MHA Nation, also known as the Three Affiliated Tribes, also operates an energy division that includes oil production and processing.
Today, we laid the groundwork for a business partnership with the MHA Nation that will enhance economic opportunity on the Fort Berthold Reservation. Enbridge and the MHA Nation have announced that Thunder Butte Petroleum Services Inc., a wholly owned MHA Nation subsidiary, will purchase the Plaza/Wabek Pipeline from Enbridge for $5 million.
The agreement will begin the process of connecting the nation's operations with the Enbridge network—opening the door for MHA Nation to become the first Tribal shipper on the Enbridge system.
"It's another major step and positive investment that will further support development of our energy trust assets for the MHA Nation and its membership," says Mark N. Fox, Chairman of the MHA Nation. "This will also be a significant catalyst for enhancing economic development in our region of influence."
The Plaza/Wabek Pipeline is a six-inch-diameter oil pipeline traveling 31 miles from a gathering system in the Plaza/Wabek fields to Enbridge's Stanley Terminal in Stanley, ND. The line has a transport capacity of 15,000 barrels per day.
Representatives of the MHA Nation, Thunder Butte Petroleum and Enbridge gathered today at the nation's headquarters in New Town, ND to announce the news.
"The Enbridge purchase is a positive step to providing Thunder Butte Petroleum Services an asset that will lead to economic self-sufficiency, and a future revenue source for the MHA Nation," says Bernie Fox, CEO of Thunder Butte Petroleum. "We also look forward to a positive relationship with our new partner Enbridge."
Royalties from oil and gas development on the Fort Berthold Reservation are managed and dispersed for the benefit of the people of the MHA Nation under the direction of its Tribal Business Council.
Enbridge is committed to early engagement and meaningful dialogue with Indigenous peoples along our pipeline rights-of-way, based on respect, trust and appreciation for their deep connection to the natural world. As part of our Indigenous Reconciliation Action Plan (IRAP), we're also actively involved in creating and stimulating Tribal economic inclusion and partnerships in the regions where we do business.
Our September 2022 agreement with Athabasca Indigenous Investments (Aii) saw 23 First Nation and Métis acquire an 11.57% interest in seven Enbridge-operated pipelines in northern Alberta—the largest energy-related Indigenous economic partnership transaction in North America to date.
"We're excited about today's announcement because MHA Nation is quickly moving towards becoming the first Tribal shipper on our system. This is a major step towards connecting MHA Nation to new markets and industry partnerships," says Mike Koby, Enbridge's Vice President of U.S. Liquids Pipelines Operations.
Enbridge operates the world's longest and most complex liquids transportation system, with about 17,800 miles of active pipe across North America, and delivers more than 3 million barrels a day via our Mainline and Express networks.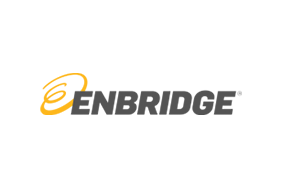 Enbridge Inc.
Enbridge Inc.
About Enbridge
At Enbridge, our name spells out our mission: a bridge to a sustainable energy future. That bridge safely connects millions of people around the world to the energy they rely on every day, fueling quality of life. Whether it's natural gas, oil or renewable power, the energy we deliver through networks spanning North America and our growing European offshore wind portfolio helps to heat homes, feed families, fuel vehicles and power industry. We're investing in modern energy infrastructure to sustain access to secure, affordable energy. We're also building on two decades of experience in renewable energy to advance new low-carbon energy technologies including hydrogen, renewable natural gas and carbon capture and storage. We're committed to reducing the carbon footprint of the energy we deliver, and to achieving net zero greenhouse gas emissions by 2050.
Headquartered in Calgary, Alberta, Enbridge's common shares trade under the symbol ENB on the Toronto (TSX) and New York (NYSE) stock exchanges. To learn more, visit us at Enbridge.com
More from Enbridge Inc.