Published 07-26-23
Submitted by MetLife, Inc.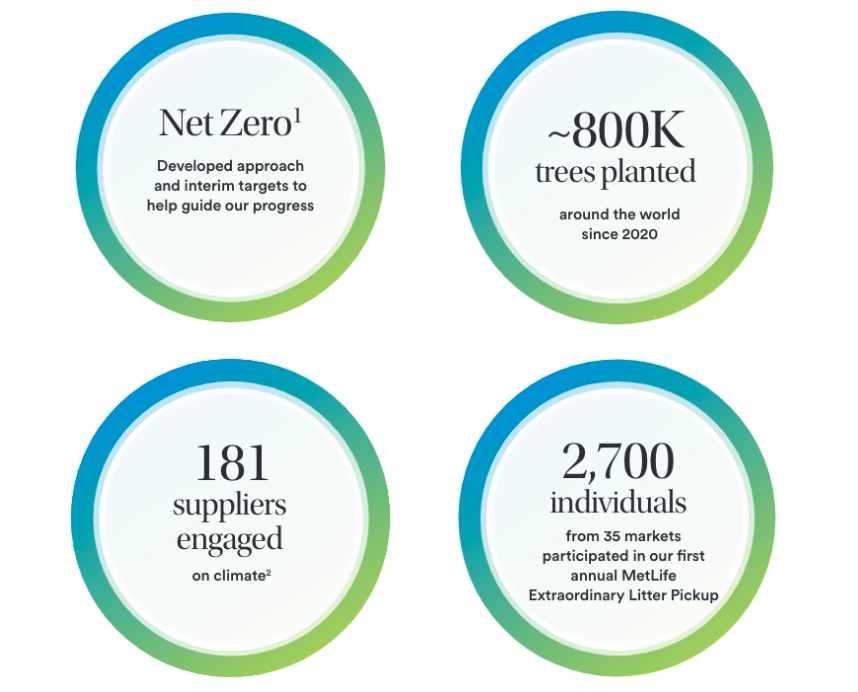 Read the full MetLife 2022 Sustainability Report
Our Approach
MetLife's commitment to environmental stewardship has been a cornerstone of our 155-year history. As a purpose-driven company, we believe it is our responsibility to adapt to meet the needs of a rapidly changing world. This includes addressing climate change and enabling a just transition to a low-carbon economy that will require collective action from diverse stakeholders. We aim to reduce the environmental impacts associated with our business while developing solutions to help positively contribute to a more sustainable future for all. 
Our approach to environment, health and safety is built on collaboration with our colleagues and business partners on environmental stewardship, engagement in community service and environmental awareness activities, and upholding standards and procedures designed to prioritize our colleagues' health and safety while at work. 
We manage and monitor climate and other environmental risks and opportunities while leveraging our people, products, services, investments and position as a Fortune 50 company to support a resilient economy and environment. We support climate projects throughout the markets we operate in and partner with organizations that are focused on diverse and equitable solutions. Please see For Our Communities to learn more. 
We support the intentions of the Paris Agreement for managing and reducing GHG emissions, collaborating on climate action and supporting communities facing the effects of climate change. In June 2022, we announced our Net Zero GHG emissions goal for our global operations and General Account investment portfolio by 2050 or sooner.1 We have reoriented our previous climate commitments to advance this goal. Please see Our Commitments to learn more.
MetLife Highlights Critical Role of Insurers in Addressing Climate Change
The annual United Nations Climate Change Conference of Parties aims to renew solidarity between countries to deliver the landmark Paris Agreement to limit global warming. Held at the Egyptian city of Sharm El Sheikh, MetLife participated in a panel "The Role of Insurance in Increasing Climate Resilience," featuring MetLife's EMEA Regional President, Nuria Garcia, alongside leaders from Allianz and Swiss Re.
Garcia highlighted MetLife's green investments, including solar arrays and wind farms globally, as well as MetLife's climate commitments. She also discussed how being investors makes insurers critical players in driving climate resilience and action, emphasizing that investing for the long term means we must often consider how climate change may impact MetLife's portfolio.
In a separate session, Haitham Taher, General Manager, MetLife Egypt, hosted a panel that explored the need for resilience around critical infrastructure.
Governance
The MetLife Board of Directors' Governance and Corporate Responsibility Committee oversees our environmental strategy and implementation. This responsibility includes reviewing our climate goals and metrics associated with those goals. MetLife's Chief Sustainability Officer and other senior leaders report progress on commitments and programs to the Board multiple times per year. Please see Responsible Governance to learn more.
Read MetLife's Environmental Policy  >
1 The Net Zero commitment applies to GHG emissions from MetLife, Inc.'s global owned and leased offices and vehicle fleets, employee business travel, supply chain and assets in MetLife's General Account investment portfolio, which includes the general accounts of MetLife, Inc.'s wholly owned insurance company subsidiaries, where reliable data and methodologies are available. While reliable methodologies and data sets pertaining to certain GHG emissions are not available at this time, MetLife is committed to identifying and measuring relevant climate data as methodologies and standards evolve. Emissions are tracked in accordance with the GHG Protocol, unless otherwise directed by regulators. Additional information about MetLife's General Account investment portfolio is available here.
2 Engaged via CDP's Supply Chain Program on disclosing climate risks, GHG emissions and other environmental data in 2022, an increase from 123 suppliers in 2021.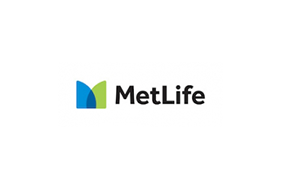 MetLife, Inc.
MetLife, Inc.
MetLife, Inc. has helped generations of people around the world protect their families and finances. As one of the world's leading financial services companies, MetLife provides insurance, annuities, employee benefits and asset management to individual and institutional customers. United by its purpose—Always with you, building a more confident future—MetLife is adapting to meet the needs of a rapidly changing world and strengthening its commitments to address critical challenges such as climate change, gender and racial inequality, and disadvantaged communities.
Visit MetLife's website

Read about MetLife's sustainability strategy

Learn more about the work of MetLife Foundation
More from MetLife, Inc.