Published 07-26-23
Submitted by Ceres

July 26, 2023 /CSRwire/ - A new report released today by the Ceres Accelerator for Sustainable Capital Markets and the California Department of Insurance reveals that insurance companies are pursuing a wide variety of strategies to manage the increasing risks associated with climate change.
Climate Risk Management in the U.S. Insurance Sector: An Analysis of Climate Risk Disclosure, is the first comprehensive review of U.S. insurance companies' climate risk strategies. The findings are based on an examination of nearly 500 publicly available insurance company responses to the National Association of Insurance Commissioners' (NAIC) 2021 Climate Risk Disclosure Survey, which implemented Task Force on Climate-related Financial Disclosures (TCFD) recommendations for the first time.
The TCFD framework is a global standard used by thousands of companies worldwide and insurance regulators in France, Switzerland, and the United Kingdom. The U.S. Securities and Exchange Commission is using the TCFD framework as the basis for their proposed climate disclosure rules. The survey includes sections on governance, strategy, risk management, investments, and metrics and targets, requiring companies to measure their progress toward reducing climate risks across all areas of their business.
The report points the way for insurance companies and regulators to expand their climate reporting and consider new approaches to managing climate risks. This year, 27 states are participating in the NAIC Climate Disclosure Survey, the largest participation ever. It covers 80% of the U.S. insurance market.
In addition to response analysis, Ceres commissioned consultant Manifest Climate to measure TCFD-alignment using an innovative new machine learning algorithm.
"Insurance companies face enormous and rapidly growing risks from climate-related disasters. This report shows the important progress they are making to account for these risks, but there is still more work that can be done," said Steven Rothstein, managing director for the Ceres Accelerator for Sustainable Capital Markets. "Managing climate risk starts with having consistent and transparent data. The results of this first-of-its-kind report will help insurance risk managers and regulators improve their risk management practices as they take on the vital work of maintaining a sustainable insurance sector."
"This report offers invaluable insights that insurance companies across the United States can use to benchmark against their peers and adopt best practices, said Laura Zizzo, co-founder and CEO of Manifest Climate. "As climate risks escalate, society, business and governments now look to the insurance sector for leadership in risk identification and management. Manifest Climate is committed to leveraging its leading-edge AI powered platform, and expansive climate intelligence resources, including TCFD expertise, to support the sector's transformation," Zizzo added.
"Our strong new climate risk standard gives regulators powerful new tools to protect consumers and our planet," said California Insurance Commissioner Ricardo Lara, co-chair of the bipartisan NAIC Climate and Resiliency Task Force that adopted the TCFD standard in 2022. "This valuable report will help insurance regulators and the public better understand how insurance companies are preparing for climate-related risks to the U.S. insurance market, which is the largest in the world. Insurance companies can learn from other industry leaders as they expand their reporting and adopt sustainable strategies including new products that can reduce risks and safeguard communities."
The analysis shows broad engagement and diverse approaches from some insurance companies:
Insurers are offering new products that support risk reduction among their customers or that support clean technology, and these offerings take a variety of specific forms.
At least 20% of the responses mention forward-looking climate risk assessments such as climate scenario analysis or climate stress testing.
Many insurers describe purchasing reinsurance as their primary strategy for managing climate risk, while some reinsurers describe how climate risk is leading them to reprice or reduce their offerings. Some insurers describe reliance on their reinsurance provider for climate risk education, expertise, and technical resources.
Insurers describe a diverse array of strategies for managing climate risk.
Analysis of the first full year of TCFD-aligned reports helps set a benchmark to improve future reporting. Insurers across lines of business and sizes demonstrated ability to provide detailed disclosures according to all 11 TCFD recommendations. Property & casualty and life insurance companies most consistently provide comprehensive information. Metrics and targets was the area with the weakest responses across all lines, with only 193 reports providing information and very few encompassing a comprehensive set of climate-related metrics.
EDITOR'S NOTE
The analysis results along with insights from insurance regulators and other stakeholders will be presented in a webinar at 2 p.m. ET Thursday, July 27. Featured speakers include:
David Carlin, Head of Risk, UNEP Finance Initiative
Ricardo Lara, Commissioner, California Department of Insurance
Andrew Mais, Commissioner, Connecticut Insurance Department
Mike Peterson, Deputy Commissioner for Climate & Sustainability, California Department of Insurance
Steven Rothstein, Managing Director, Ceres Accelerator for Sustainability Capital Markets
Sharon Seilman, Director, Climate Strategy, Manulife
Kara Voss, Climate Finance Specialist, Climate & Sustainability Branch, California Department of Insurance
Laura Zizzo, Co-Founder and CEO, Manifest Climate
Register for the webinar here.
About the Ceres Accelerator for Sustainable Capital Markets 
Ceres is a nonprofit organization working with the most influential capital market leaders to solve the world's greatest sustainability challenges. The Ceres Accelerator for Sustainable Capital Markets is a center of excellence within Ceres that aims to transform the practices and policies that govern capital markets to reduce the worst financial impacts of the climate crisis. It spurs action on climate change as a systemic financial risk—driving the large-scale behavior and systems change needed to achieve a net zero emissions economy through key financial actors including investors, banks, and insurers. The Ceres Accelerator also works with corporate boards of directors on improving governance of climate change and other sustainability issues. For more information, visit ceres.org and ceres.org/accelerator and follow @CeresNews.
About the California Department of Insurance
Led by Insurance Commissioner Ricardo Lara, the California Department of Insurance is the consumer protection agency for the nation's largest insurance marketplace and safeguards all of the state's consumers by fairly regulating the insurance industry. Under the Commissioner's direction, the Department uses its authority to protect Californians from insurance rates that are excessive, inadequate, or unfairly discriminatory, oversee insurer solvency to pay claims, set standards for agents and broker licensing, perform market conduct reviews of insurance companies, resolve consumer complaints, and investigate and prosecute insurance fraud. Consumers are urged to call 1-800-927-4357 with any questions or contact us at www.insurance.ca.gov via webform or online chat. Non-media inquiries should be directed to the Consumer Hotline at 800-927-4357. Teletypewriter (TTY), please dial 800-482-4833.
About Manifest Climate 
Manifest Climate is the leading global Climate Risk Planning solution designed to support organizations with climate-related insights, analytics and recommendations. Launched to scale the reach and impact of strategic climate services, Manifest Climate's cutting-edge software is specifically designed to assess and benchmark corporate climate disclosure, derive data-driven insights and foster strong climate risk and opportunity management. In 2020, Laura Zizzo, a climate change pioneer known for her integrated legal and consulting leadership, joined forces with proven technology entrepreneur Jeremy Greven to create Manifest Climate.
Backed by some of Canada's largest institutional investors like OMERS, Business Development Bank of Canada, and Climate Innovation Capital, Manifest Climate is a Canadian-owned and female-led organization that employs 50 people in Canada and the United States. The company has been recognized as a leading fast-growing climate tech company by Corporate Knights and LinkedIn and consistently receives Great Places to Work honours.
Media Contact: Diane May, dmay@ceres.org, 617-247-0700 ext. 220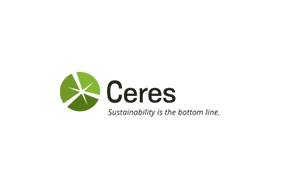 Ceres
Ceres
Our Mission: Ceres is transforming the economy to build a just and sustainable future for people and the planet. 
Ceres is a nonprofit organization working with the most influential capital market leaders to solve the world's greatest sustainability challenges. Through our powerful networks and global collaborations of investors, companies, and nonprofits, we drive action and inspire equitable market-based and policy solutions throughout the economy to build a just and sustainable future. For more information, visit ceres.org and follow @CeresNews. 
More from Ceres