Published 07-20-23
Submitted by Ericsson
Originally published by Ericsson
Energy efficiency has risen to the top of everyone's agenda in recent times, and it is an area in which Ericsson has been leading the way for many years - that vast experience is now being leveraged in Open RAN to address every aspect of the energy challenge.
By Frank Li, Strategic product manager in Cloud RAN Product line, responsible for vDU evolution and Massimiliano Fratini, Strategic Manager for Network Services
The technological innovations featured in Ericsson's Cloud RAN portfolio help communications service providers (CSPs) to meet the need for increased capacity and exponential increases in data traffic with solutions that make the best use of the available resources – in short, doing more with less.
Ericsson has long been focused on energy efficiency and it is a core element of our strategy - where our power comes from and how it can be better managed are essential topics in discussions around sustainability, and that is a subject that is top of mind for everyone, not least for CSPs.
It is no longer enough for them to provide reliable and fast connectivity at the expense of everything else – that would be like turning on the heating in your home in winter and opening all the windows. These days our customers – and their customers – rightly expect us to make every effort to ensure that no energy goes to waste, and everything Ericsson does at the moment is governed by that demand, with sustainability in mind.
Energy efficiency and sustainability guide the development of every new product, solution and feature, as well as how we address our legacy technologies. Working in this ecosystem together with our customers and technology partners, this energy focus is helping us plot a path to significantly reduce the energy consumed while not compromising on service or performance.
These developments are driven by concrete goals – at Ericsson, our ambition is to be Net Zero across our value chain by 2040, and the first major milestone will be to reduce supply chain and portfolio in use emissions by 50% by 2030, and to be Net Zero in our own operations at the same time.
The key to reaching these goals, which are shared by many of our customers, is embracing technical innovation to do more with less – to get there, we will need more capacity with less energy consumption and better performance using lighter infrastructure. Featuring a number of new additions and improvements, our Cloud RAN portfolio is another step towards a best-in-class sustainable portfolio with excellent performance and lower embodied carbon emissions.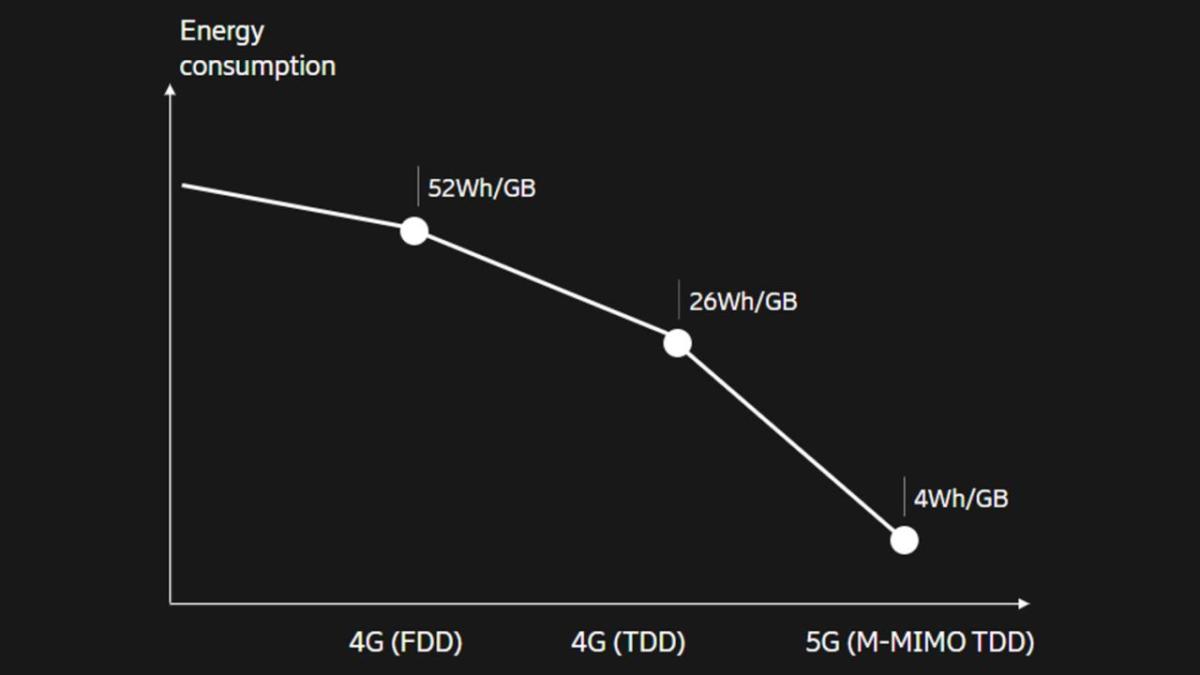 Helping our Cloud RAN customers
Many of our customers are coming at the subject of energy efficiency from the point of view of their legacy networks; they want to re-use whatever they can, if possible, but they also want to implement a future-proof, energy-efficient solution that can be scaled over time.
From the perspective of both the environment and their bottom line, they want waste to be reduced to the absolute minimum; regardless which path our customers take – purpose-built RAN, Cloud RAN, or a combination of both - we guide them to ensure that they maximize the energy efficiency of their chosen solution.
For most mobile networks over 80% of energy is consumed in the radio access network, and the remainder in the core network, support systems and associated cloud infrastructure.
Of that estimated 80 percent used by the RAN, around 80 percent of that energy is used to power the radios, with the other 20 percent going to the distributed unit (DU) – this represents a major percentage of the total energy consumption of the network.
As a result, we have a relentless focus on how our industry-leading radios can be optimized for performance, energy usage and embodied carbon emissions, regardless of whether they are deployed in an integrated or Cloud RAN setting.
Our newest radios are our most energy-efficient yet, offering 39 percent energy savings compared to previous hardware generations as per our Sustainability & Corporate Responsibility Report for 2022. Furthermore, with our energy saving software we have achieved substantial additional energy savings.
We have also proven in the field that with our 5G Massive MIMO radios we can be 13 times more energy-efficient compared to 4G, meaning that they can transmit 13 times more data for the same amount of energy consumed. That is the gigabyte economy, and we are reducing the cost per gigabyte as you can see in the graph below.
Another key area in Cloud RAN is the Cloud RAN Distributed Unit (Cloud RAN DU or vDU), and this offers another opportunity to improve energy efficiency.
The approach here is to leverage both the hardware and the software capabilities to reduce energy consumption even further, while maintaining and improving network performance.
This is achieved by balancing the leveraging of commercial off-the-shelf (COTS) hardware with the cloud computing platform and innovative algorithm designs to achieve savings across platforms and generations. The cadence of the generational evolution of the compute CPU is much faster and enables it to catch up and keep pace with purpose-built hardware.
As the technology evolves, we see a possible trajectory that would see capacities double from generation to generation, all while maintaining the same energy consumption.
Collaboration key to maximizing energy efficiency
Working closely within the Cloud RAN ecosystem and a variety of software and hardware partners such as Intel and AMD (CPU providers) Red Hat (containers-as-a-service, or CaaS), HPE and Dell (servers), Ericsson continues to lead the way in bringing new Cloud RAN innovations to market.
On the hardware front, Ericsson is engaged in these ecosystem collaborations to maximize the efficiency of hardware by offering a choice of energy-efficient servers and accelerators. This also enables us to take advantage of the larger cloud computing ecosystem to apply our software to the most power-efficient compute platform.
With new hardware generations such as the Intel® 4th Generation Xeon® Enhanced Edge, we have managed a significantly higher capacity using the same energy consumption, based on the initial setups, and we are working on similar projects with AMD. This work within the ecosystem will bring further innovation and diversity in the industry that will further improve energy efficiency.

Cloud RAN software features that help reduce energy consumption
Hardware is only part of the story – there is always going to be a base level of energy required, even at the lowest levels, to maintain contact with the rest of the network, so the real savings are to be found in monitoring, analyzing and optimizing the network in real time to ensure that the hardware is performing exactly as it should.
Ericsson has been at the forefront of ecosystem collaboration, working with partners to create software features for the Cloud RAN DU that drastically lowers energy consumption while maintaining performance. This is part of a wider collaborative effort to develop a software ecosystem that drastically improves energy efficiency, providing a template for what the networks of the future will look like.
The adoption of Intel's Real Time Dynamic scaling of CPU cores with C-state technology is a great example of bringing cloud technology to the RAN Market. This allows further energy efficiency to be achieved.
As an example – working together with Intel and building using their C-state management technology enables us to lower energy consumption in the Cloud RAN DU using our algorithm.
This Ericsson algorithm enables energy savings while safeguarding performance, and it is a natural choice to move CPUs to sleep mode outside of peak hours when traffic is not expected. However, the network must be capable of waking up again in an instant to ensure that no traffic will be blocked or lost if demand suddenly increases.
​This application is the first step in Ericsson's energy-saving feature and is based on traffic prediction. This allows for the dynamic management of the working state of each core to save energy while maintaining throughput performance.
Based on its knowledge of what is happening in the network, the application can dynamically adjust the compute resources it requires, - not only does this provide energy savings of up to 20 percent during periods of less demand, it also provides up to 10 percent energy savings during busy periods.
Ecosystem partnerships around both hardware and software are key to improving energy efficiency, safeguarding capacity, and reduced energy consumption in Cloud RAN DU with no drop-off in performance is made possible by using partner technologies. The disaggregation and openness of Cloud RAN is a requirement for multilateral collaboration to improve energy efficiency.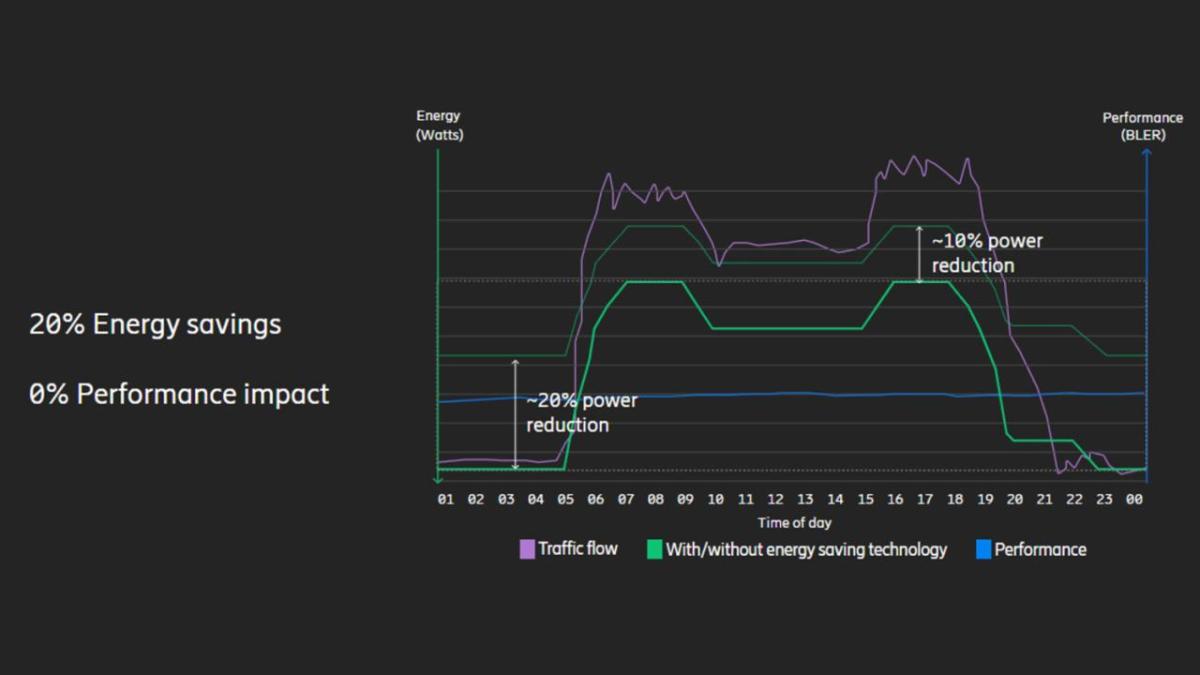 rApps for network optimization – the "secret sauce" for Open RAN network sustainability
In recent times Ericsson has released a number of rApps that address the need for automated non- Real Time network management, and these can be used to reduce operational costs, improve network performance and reduce energy consumption.
These rApps are applications designed for automation and optimization, and they are deployed and managed on the non-real time RAN Intelligent Controller (RIC) in the Service Management and Orchestration platform (SMO), Ericsson Intelligent Automation Platform is the SMO realization following O-RAN specifications but with additional capabilities. Ericsson envisions the architecture with the EIAP as future evolution of networks enabling an open ecosystem with rApps that can be also developed by partners and developers to foster innovation.
Ericsson is developing rApps as cloud-native software applications that can benefit from using AI to improve the performance of the radio network functions at scale, in both purpose-built and Open RAN architectures.
The latest rApps for energy efficiency are the evolution of Ericsson network services in the new Open RAN architecture, maintaining preemption and prediction principles to secure the highest level of service support required for 5G.
CSPs can leverage rApps to reduce their operational costs, improve network performance and reduce energy consumption, making these apps the "secret sauce" when it comes to network energy efficiency and sustainability.
Ericsson's RAN Energy Cockpit rApp monitors the energy efficiency of the RAN. By detecting the causes of energy inefficiencies, it enables faster resolution of issues. This helps operational teams to not only detect inefficiencies, but also to isolate faults for root cause analysis and produce recommendations for resolutions, thanks to accurate insights which are available promptly and with minimal effort. This rApp can run in both open and closed loops to empower the operations team according to the service provider´s preference.
The RAN Energy Control rApp creates an autonomous mechanism using artificial intelligence (AI) and machine learning (ML) technologies and closed-loop automation to reduce daily radio network energy consumption by up to 25 percent, with zero impact on user experience.
The benefits of this rApp are twofold. Firstly, energy savings are enabled by the smart activation or deactivation of energy-saving features, and secondly traffic is protected by the continuous training of the ML algorithm governing the energy savings. In other words, traffic demand is taken into consideration to activate or deactivate energy-saving features to get the best results without impacting on user experience.
Both solutions enable the network to operate intelligently, simplifying the operations to reduce energy consumption and improve performance with intelligent automation. Perhaps most importantly, they operate with a high degree of autonomy, requiring little or no human interaction.
Two-track approach
There are two RAN architectures - Integrated RAN and Cloud RAN – and for both, we can use our energy-efficient radios and our optimization solutions in the form of rApps for both purpose-built and Cloud RAN.
Ericsson's aim is to have energy-efficient end-to-end systems, and in every architecture, this means that, aside from the radio units, we need to ensure optimum energy consumption in Cloud RAN DU and Cloud RAN CU.
On the hardware side, the Intel® vRAN Gen over Gen Platforms deliver twice the capacity using the same amount of energy. In terms of software features, Ericsson has implemented mechanisms to exploit Intel's Real Time Dynamic scaling of CPU cores with C-state technology, managing power savings up to 20% while eliminating the risk of Block Error Rate (BLER).
The algorithm is powerful and responsive, and it guarantees in real-time a small headroom of non-sleeping CPU above the current instantaneous traffic level to cope with sudden or any unexpected traffic demand increase. This headroom can be controlled by upper layers to hold traffic for short periods in order to eliminate the risk of BLER.
Ericsson solutions – with energy efficiency built in
Ericsson has long understood which direction things are going when it comes to energy efficiency; both the planet and our customers need solutions that deliver the service they have come to expect in the most efficient manner possible, and for that reason, we are partnering with our customers to lower the carbon emissions across the value chain. We are constantly researching and developing new innovations and pushing technology to maximize energy efficiency and performance, and many of the results have already been rolled out around the world.
The ambitious goals of Net Zero by 2040 require ambitious designs and solutions, and we believe that every day is bringing us closer to those goals. Together with our partners, our customers, and the rest of the ICT industry, we are working to boost energy savings as a way to achieve Net Zero as our contribution to the fight against climate change.
The days of plugging in a radio and letting it run 24/7 to provide connectivity are long gone – no-one in the industry is prepared to turn on the heating and leave their windows open any longer.
Together with our customers and our partners, we are driving the development of the technologies that ensure that we can build a future based on the most sustainable idea of all – that of doing more with less.

Ericsson
Ericsson
Ericsson is one of the leading providers of Information and Communication Technology (ICT) to service providers. We enable the full value of connectivity by creating game-changing technology and services that are easy to use, adopt, and scale, making our customers successful in a fully connected world.
Our comprehensive portfolio ranges across Networks, Digital Services, Managed Services and Emerging Business; powered by 5G and IoT platforms.
More from Ericsson