Published 07-18-23
Submitted by Yum! Brands
IRVINE, Calif., July 18, 2023 /CSRwire/ - Taco Bell is known for its unexpected menu mashups, like Doritos© Locos Tacos and the Grilled Cheese Burrito, but team members are the secret ingredient that drives the company from the kitchen and beyond. Today, Taco Bell announced it is collaborating with Brooklyn-based artist Ricardo Gonzalez, known as "It's a Living," to introduce exclusive team member gear paying homage to the brand's people-oriented culture.
The streetwear-inspired collection includes a commemorative shirt and hat with the saying "family is everything," displayed across both items, expressing the people-first values the brand holds. Earlier this month, Taco Bell team members across the country received the items alongside a note from Taco Bell CEO Mark King, encouraging team members to show their brand spirit by wearing the ensemble with pride.
"Spending time with restaurant team members over the years, I've found the one thing that stands out the most is the huge sense of pride and community," said Kelly McCulloch, Global Chief People & Transformation Officer, Taco Bell. "Each restaurant creates its own authentic culture, and yet there is still a sense of connection and belonging to the larger Taco Bell brand. This is what makes our restaurant experience truly special."
Taco Bell's people are central to the brand's identity – that's why the company has made it a priority to invest in partnerships and cultural currency that evoke a sense of pride among team members who are truly the face of the brand. The choice to join forces with "It's a Living" was an easy one – both Gonzalez and Taco Bell share similar people-first values, which made him a natural fit for this partnership.
With roots in Durango, Mexico, Gonzalez is a designer and graphic artist whose signature script style can be seen in large-scale murals all over the world. "It's a Living" is the name of Gonzalez's studio, brand, and personal philosophy. His love for artistic expression started at a young age as an adolescent in Durango, and after years of hard work, that passion has led him to landing collaborations with top brands across the globe.
"This collaboration is an exciting one for me as I have long been a fan of the brand," said Gonzalez. "I admire Taco Bell's commitment to its people and dedication to creating a positive impact through culture – that's what my work is all about."
The "It's a Living" partnership marks the second installment in an ongoing annual series of team member-driven collaborations. In 2022, Taco Bell partnered with Los Angeles-based streetwear brand Born X Raised on another merchandise collection for team members in honor of the brand's 60th anniversary.
"I am energized and excited about partnering with yet another inspiring artist at the intersection of culture and style," said Taylor Montgomery, Chief Marketing Officer, US, Taco Bell. "A community can often be found in the most unlikely places, and that's what this collab is all about – recognizing the incredible community in our restaurants responsible for making the Taco Bell experience a unique one."
Looking ahead to 2024 and beyond, Taco Bell will continue to seek out partnerships that celebrate differences, champion its people and reflect the brand's roots in culture.
# #
About Taco Bell Corp. 
For more information about Taco Bell, visit our website at www.TacoBell.com, our Newsroom at www.TacoBell.com/news or www.TacoBell.com/popular-links. You can also stay up to date on all things Taco Bell by following us on LinkedIn, TikTok, Taco Bell's Twitter, Taco Bell News' Twitter, Instagram, Facebook, and subscribing to our YouTube channel.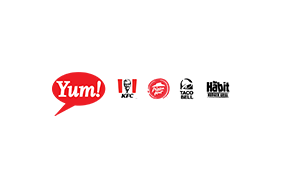 Yum! Brands
Yum! Brands
Yum! Brands, Inc., based in Louisville, Kentucky, has over 54,000 restaurants in more than 155 countries and territories, operating the Company's brands – KFC, Pizza Hut and Taco Bell – global leaders of the chicken, pizza and Mexican-style food categories. The Company's family of brands also includes The Habit Burger Grill, a fast-casual restaurant concept specializing in made-to-order chargrilled burgers, sandwiches and more. Yum! Brands was named to the 2021 Dow Jones Sustainability Index North America and was ranked on Newsweek's list of 2021 America's Most Responsible Companies. In 2022, Yum! Brands was named to 3BL Media's 100 Best Corporate Citizens.
More from Yum! Brands