Published 07-06-23
Submitted by Whirlpool Corporation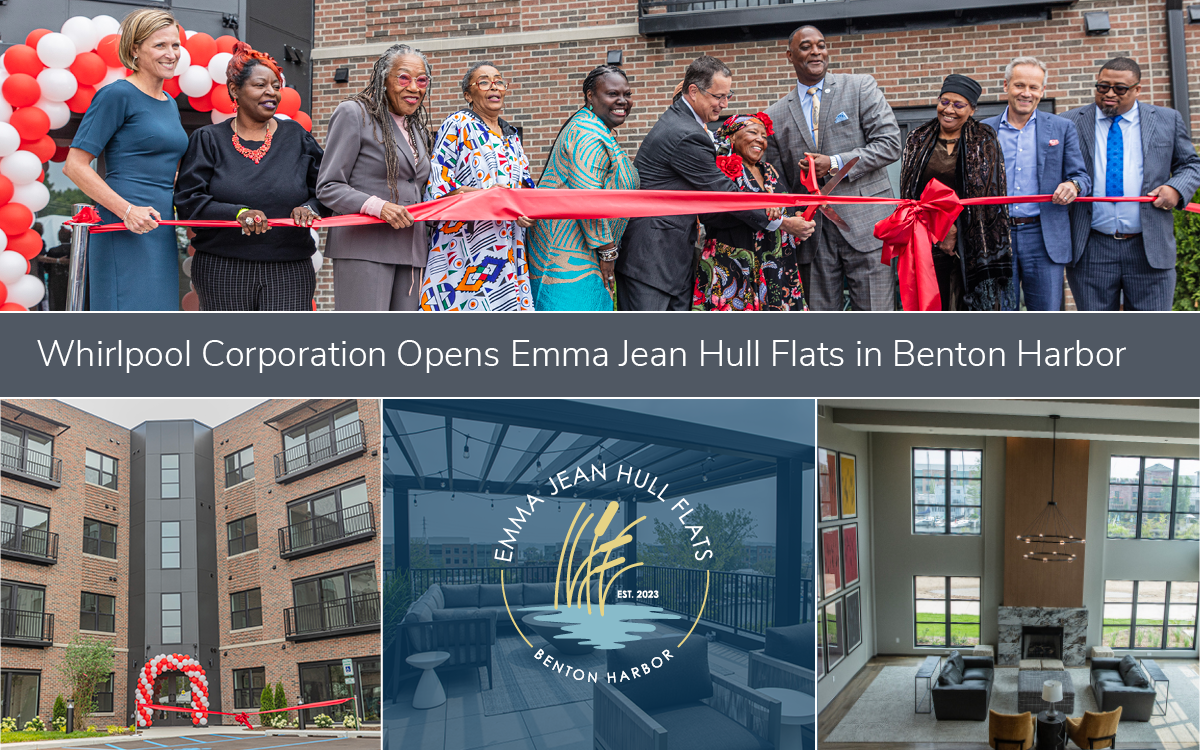 Whirlpool Corporation announced today that Emma Jean Hull Flats, an 80-unit waterfront development in Benton Harbor, Mich., where the company was founded and is headquartered, has officially opened. The project is the newest apartment building in the city, and the ribbon-cutting ceremony was attended by Whirlpool Corp. Chairman and CEO Marc Bitzer, City of Benton Harbor Mayor Marcus Muhammad and former Mayor of Benton Harbor Emma Jean Hull. The Emma Jean Hull Flats development is expected to attract new residents and businesses to the city.
In August 2022, Whirlpool Corp. announced the building would be named after former Benton Harbor Mayor Emma Jean Hull, who served as Mayor from 1991-1997 and is known as the catalyst to the revitalization of the city. Hull's legacy and the rich history of Benton Harbor are celebrated throughout the building's interior with works from local artists, historical pictures and gathering rooms named for prominent historical local figures.
"We're excited to see the vision of the Emma Jean Hull Flats become a reality," said Marcus Muhammad, mayor of Benton Harbor. "This building is part of the city's master plan and will have a positive financial impact on Benton Harbor by adding new, permanent residents to our community."
The apartment units are available to everyone but require residents to be permanent Benton Harbor residents for the duration of the minimum 12 month lease. Some of the units are reserved for "Hometown Heroes," public service workers such as teachers and first responders.
Expanding high-quality, market-rate housing in Benton Harbor to attract new residents to be part of the community is consistent with the city's comprehensive development plan and Whirlpool Corp.'s ongoing work through our racial equality pledge.
"The building itself and unique programs like Hometown Heroes were developed from valuable input from the city's officials. It was important to everyone involved that the complex be connected to the community," said Marc Bitzer, chairman and CEO of Whirlpool Corp. "Expanding high-quality, market-rate housing in Benton Harbor to attract new residents to be part of the community is consistent with the city's comprehensive development plan and Whirlpool Corp.'s ongoing work through our racial equality pledge."
Emma Jean Hull Flats offers world-class amenities including an exercise facility, rooftop terrace and meeting rooms, energy-efficient Whirlpool brand appliances, wood-style flooring, a dog park, wifi and Juliet balconies. It's conveniently located to enjoy a plethora of Southwest Michigan recreation opportunities, unique dining experiences, lively entertainment venues, and daily conveniences within walking distance.
Through a partnership with Harbor Shores Community Redevelopment LLC, Whirlpool Corporation plans to invest more than $20 million to construct the multi-family development in the city of Benton Harbor with the support of the Michigan Strategic Fund.

"We applaud Whirlpool Corporation's continued investment in southwest Michigan as we work to jumpstart our economy," said Governor Gretchen Whitmer. "This innovative approach to solving a critical workforce housing gap is a win for Whirlpool in attracting top talent, a win for the community, bringing increased density and revenue to small businesses in downtown Benton Harbor and a win for people who need and deserve quality, attainable housing in the place they live, work and play."

Whirlpool Corporation announced plans for the multi-family housing development in June following Michigan Strategic Fund approval of a Michigan Community Revitalization Program performance-based grant in the amount of $750,000 for the project and relevant road improvements.

"This project would not be possible without the collaboration of so many, including Mayor Muhammad and the City of Benton Harbor, the Benton Harbor Planning Commission, the MEDC and Cornerstone Alliance, and is a testament to what we can accomplish when we all work together to achieve our shared goals," said Whirlpool Corporation Chairman and CEO Marc Bitzer. "By working with our communities on projects such as this one, we can all benefit, and are all collectively more successful as a result."
For more information, visit emmajhullflats.com or call the leasing office directly at (269) 281-4546.

View original content here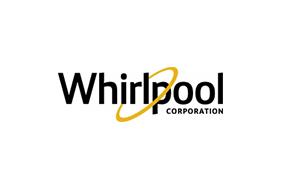 Whirlpool Corporation
Whirlpool Corporation
About Whirlpool Corporation: 
Whirlpool Corporation (NYSE: WHR) is committed to being the best global kitchen and laundry company, in constant pursuit of improving life at home. In an increasingly digital world, the company is driving purposeful innovation to meet the evolving needs of consumers through its iconic brand portfolio, including Whirlpool, KitchenAid, Maytag, Consul, Brastemp, Amana, Bauknecht, JennAir, Indesit and Yummly. In 2021, the company reported approximately $22 billion in annual sales, 69,000 employees and 54 manufacturing and technology research centers. Additional information about the company can be found at WhirlpoolCorp.com.
More from Whirlpool Corporation