Published 06-30-23
Submitted by Gen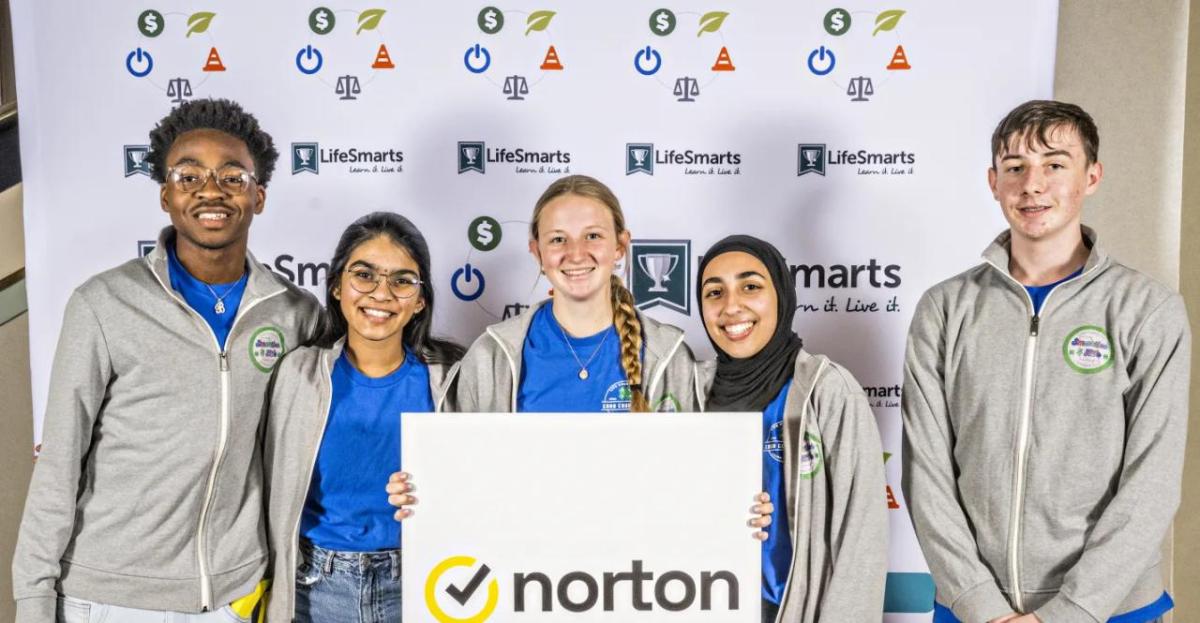 By Kimberly Bishop | Corporate Responsibility
According to studies, 59% of U.S. teens have been bullied or harassed online. The need to empower youth to protect themselves online is growing as technology becomes even more embedded in teen lives. That's why Norton, one of Gen's trusted Cyber Safety brands, remains committed to a year-round partnership with the National Consumers League's (NCL) LifeSmarts program. 

For 30 years, LifeSmarts has provided free education and resources to middle and high school students on core consumer topics. This includes consumer rights and responsibilities, the environment, health and safety, personal finance, technology and workforce preparation. Norton is proud to have supported LifeSmarts as a 2023 Champion Level Sponsor for the second year in a row, granting NCL $125,000 for the program year. In addition to supporting the annual LifeSmarts Championship, we covered travel and expenses for students that would otherwise not have been able to attend the event. With Norton's support, training in online safety, identity theft and online fraud are also now included in the year-long program.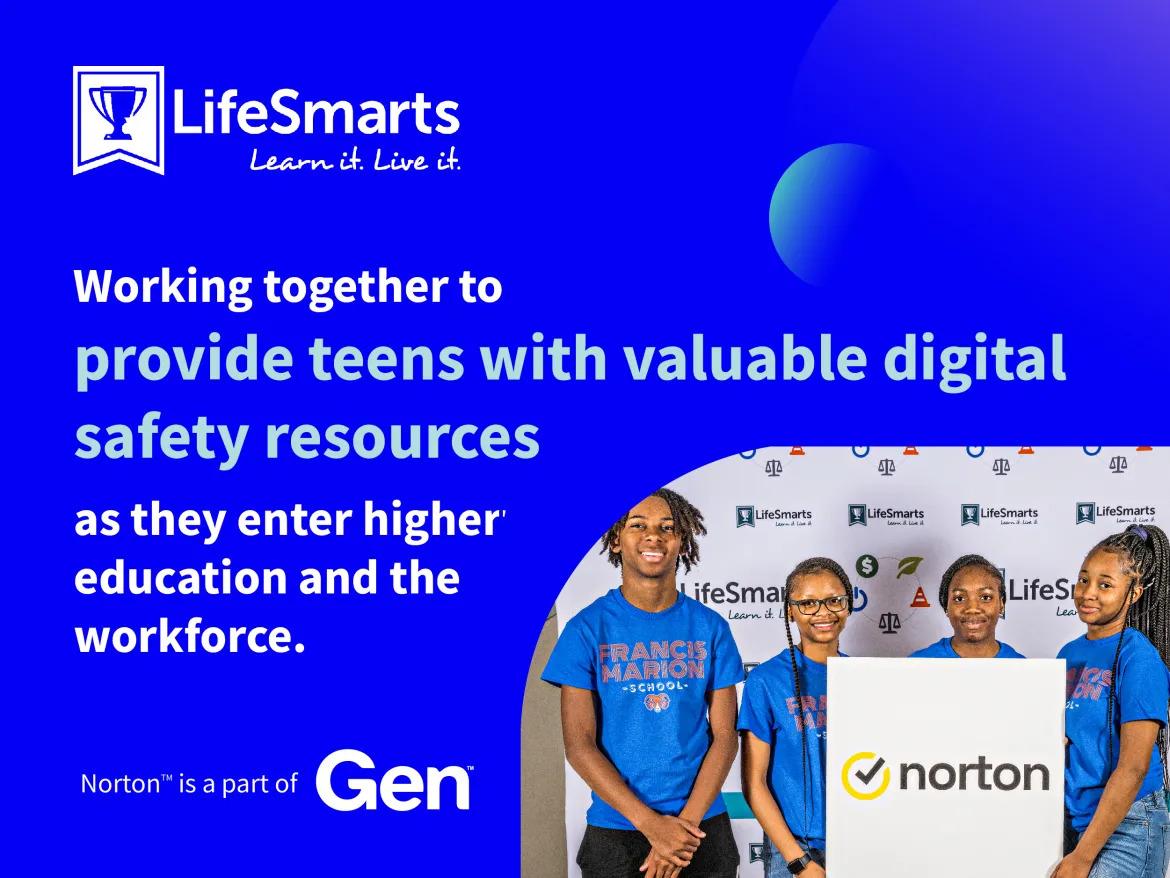 LifeSmarts Championship 
Recently, the 2023 National LifeSmarts Championship took place in Cincinnati, Ohio. The annual event brings together top-performing student teams from across the country to compete for scholarships and prizes.
The Championship, which aims to create consumer-savvy young people who will be well-equipped for today's complex marketplace, is free to participants, relying on corporate and private donations to make sure student teams are able to attend.
This year, 42 teams competed, representing 30 states and the District of Columbia. Nine of these teams were from Title-1 schools (schools in which the majority of families live below the poverty line and under-resourced community organizations. Norton supported these nine Wild Card teams by funding the LifeSmarts Diversity, Equity and Inclusion initiative. Our funding covered all travel expenses, including air fare, hotel stays and meals. For many of these teams, this was their first time out of the state or traveling on an airplane and many let us know that without our contribution, it would have been impossible to attend.
"The students who attend our rural Minnesota school have not had an easy road and tend to struggle to see that they have what it takes to be successful in both school and in life. As we have progressed this year through the LifeSmarts program, it is so fun to see them light up when they get a question correct and it's exciting to see their growth. This has only drawn them in more to this competition, as this type of success is not something that is familiar to many of them. Many of our families cannot afford to take trips within Minnesota, much less to other states. The opportunity for these kids to fly on an airplane, stay in a hotel and meet other students is not something that comes along for them. Without this generous Norton Wild Card team, our school could not afford to send our kids to a national competition. They will look back on this experience as one of the best experiences within their high school career, if not their lives. They also come back knowing that they have been seen and that they do have what it takes to truly succeed in life." – Norton Wild Card team coach
We're excited to add that a student from one of our Wild Card teams, Gabe Laster, was awarded 'Student of the Year' and two of our Wild Card teams tied for fifth place at the event.
In addition to providing direct support to make the competition accessible for more students, our support underwrote the LifeSmarts Identity Theft Essay Contest. Thirty-two students investigated identity theft and wrote essays, and we awarded five winners with $1,000 scholarships at the event. We also provided Norton 360 Deluxe product licenses to each student, coach, alumni and coordinator who attended the Championship – 350 licenses in total.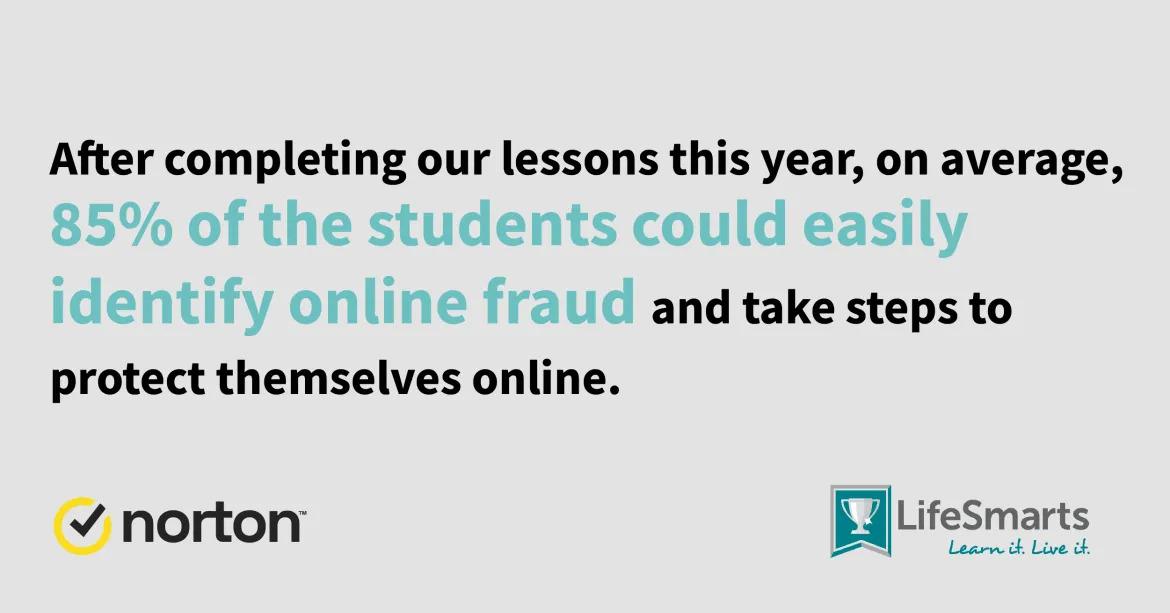 Year-round Support 
Throughout the 2022-2023 school year, Norton has provided lessons focusing on online safety and identify theft for LifeSmarts to incorporate into its curriculum. Our joint goal is to provide teens with valuable digital safety resources as they prepare to enter higher education and the workforce.
After completing our lessons this year, on average, 85% of the students could easily identify online fraud and take steps to protect themselves online. Test scores for our programs have also improved more than 15% across the board from the beginning to the end of the program year. 

The LifeSmarts program continues to improve the lives of many students across the country, and we're proud to play a role in supporting their success. To learn more about LifeSmarts, visit their website here. 

Gen™ is a global company dedicated to powering Digital Freedom with a family of trusted consumer brands including Norton, Avast, LifeLock, Avira, AVG, ReputationDefender and CCleaner.

Gen
Gen
Gen (NASDAQ: GEN) is a global company dedicated to powering Digital Freedom through its trusted Cyber Safety brands, Norton, Avast, LifeLock, Avira, AVG, ReputationDefender and CCleaner. There's a new generation, and it's not Gen X, Y, or Z. It's Gen D: Generation Digital. Gen's family of consumer brands is rooted in providing safety for the first digital generations. Now, Gen empowers people to live their digital lives safely, privately, and confidently today and for generations to come. Gen brings award-winning products and services in cybersecurity, online privacy and identity protection to more than 500 million users in more than 150 countries. Learn more at GenDigital.com.
More from Gen