Published 06-29-23
Submitted by PotlatchDeltic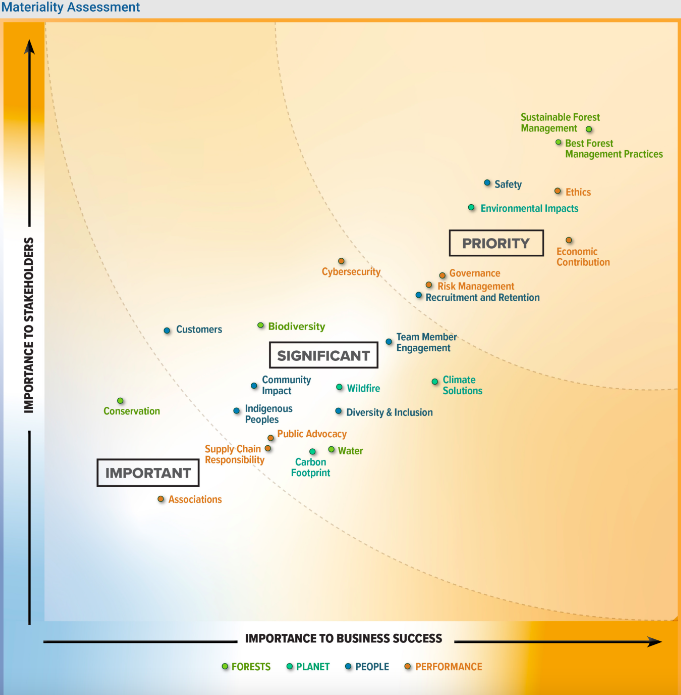 Identifying ESG Reporting Topics
PotlatchDeltic conducts a materiality assessment every two years to identify the ESG topics deemed to be priorities to a broad range of internal and external stakeholders.
ESG PRIORITIES ASSESSMENT
The ESG priorities assessment encourages stakeholder dialogue regarding our corporate responsibility strategy and reporting. The results of the assessment focus attention and transparency on the most important ESG topics, inform management of ESG issues, and assist with our ongoing alignment with UN Sustainable Development Goals (UN SDGs), Global Reporting Initiative, and other reporting frameworks. Our most recent materiality assessment was completed in 2022. 

Our process for the ESG priorities assessment began with the identification of a range of potential issues, followed by selected internal interviews to narrow the issues into topics. We then engaged with a broad range of internal and external stakeholders to identify the importance of each topic. The final phase consisted of interviews and analysis with members of the management team to prioritize the importance of each topic to PotlatchDeltic's business success. The results were plotted on an ESG Materiality Assessment matrix which was then reviewed and approved by the ESG Working Group and ESG Management Group.
Several topics were identified as "priority," both in importance to stakeholders and in importance to our business success. These priorities align with our core UN SDGs. The topics Best Forest Management Practices and Sustainable Forest Management directly support our work towards UN SDG 15 – Life on Land, which is further supported by our efforts in Biodiversity and Conservation. Safety and Wellness, Economic Performance, and Economic Contribution align with our initiatives supporting UN SDG 8 – Decent Work and Economic Growth. Direct Environmental Impacts are a key component of our work toward UN SDG 12 – Responsible Consumption and Production. Several other topics deemed "significant" also run parallel with our core or supported UN SDGs. Climate Change and Natural Climate Solution Strategies reflect the work we are doing in support of UN SDG 13 – Climate Action. Government Relations and Public Advocacy, combined with the support of our associations, are key to our work in UN SDG 17 – Partnerships for the Goals. The additional UN SDGs we support are reflected in many of the other topics that are important to both stakeholders and to our business success.
Note: The term "materiality" in this context is intended to reflect priority ESG issues and does not carry the same meaning as it does under applicable securities and other laws.
View the full PotlatchDeltic 2022 ESG Report here. 

PotlatchDeltic
PotlatchDeltic
PotlatchDeltic (Nasdaq: PCH) is a leading Real Estate Investment Trust (REIT) that owns nearly 2.2 million acres of timberlands in Alabama, Arkansas, Georgia, Idaho, Louisiana, Mississippi, and South Carolina. Through its taxable REIT subsidiary, the company also operates six sawmills, an industrial-grade plywood mill, a residential and commercial real estate development business and a rural timberland sales program. PotlatchDeltic, a leader in sustainable forest management, is committed to environmental and social responsibility and to responsible governance. More information can be found at www.potlatchdeltic.com.
More from PotlatchDeltic