Published 06-28-23
Submitted by Duke Energy

Community has always mattered to Amy Strecker, so when she was promoted to president of the Duke Energy Foundation, she was excited to lead the team from Charlotte, N.C., and continue making a difference.
The Foundation invests more than $31 million each year in projects that support nonprofits in the seven states the company serves while focusing on strengthening economies, being resilient to climate change, and addressing justice, equity and inclusion.
"I think the most interesting work we're doing," she said, "is going to be at the intersection of these focus areas."
For example, one of her favorite Foundation collaborations was creating the first lineworker training program at Central Piedmont Community College in Mecklenburg County, N.C., where Duke Energy is headquartered.
Training programs like this one prepare a skilled workforce and creates opportunities for economic mobility.
The company's goal of net zero carbon emissions by 2050 requires upgrades to the electric grid and enough lineworkers to complete them. While the company employs more than 7,700 lineworkers, who build and maintain thousands of miles of power lines and equipment that enables the grid, the participants in the program at Central Piedmont are not required to work or apply for roles at Duke Energy. The program also helps create a pipeline of lineworkers for other utilities as the U.S. energy industry undergoes a massive transformation.
"Here's where philanthropy can lend some dollars that align well with the company's business priority on the clean energy future, but it also does so much for the community," Strecker said. "The best path to economic mobility is great employment – and that is what Duke Energy offers with competitive salaries for our lineworkers that can really transition a family out of poverty and create a great life for someone with an outstanding company."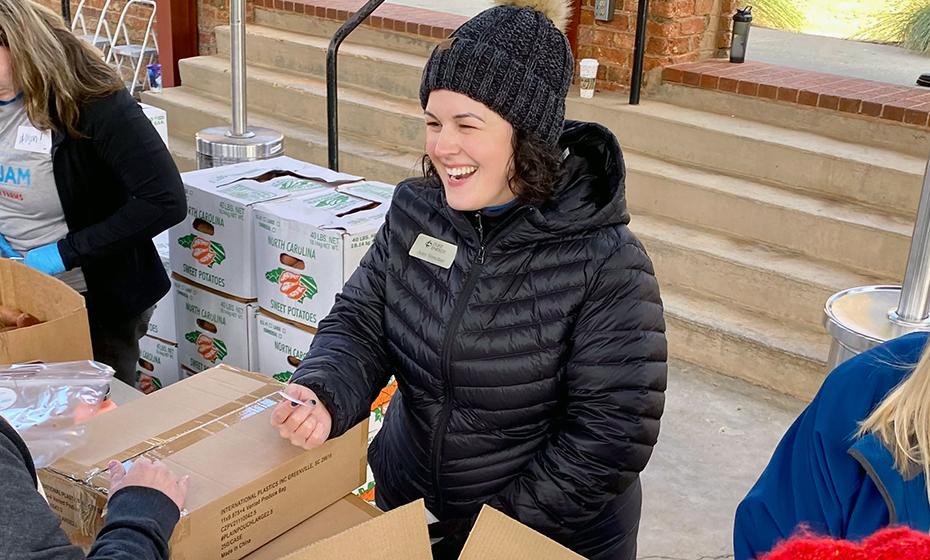 Strecker, who has worked for Duke Energy from the Raleigh office in various roles since 2010, was the Foundation's vice president before her promotion. Despite being new to town, Strecker earned a spot on the Charlotte Business Journal's 40 Under 40 list of leaders.
Strecker said she was flattered to receive the honor and is enjoying learning about the needs and nonprofits across Duke Energy's territory and how her team can help.
"I get a lot of energy from being surrounded by interesting people who are trying to make positive changes in their communities," Strecker said, "and it is a real privilege to be able to represent Duke Energy in these conversations."
While Strecker said this is her dream job, working at a utility wasn't her plan.
After graduating from the University of Texas, she started her career as an English teacher in eastern North Carolina with Teach for America. While there, she met her wife, Emmy Coleman, who was a principal at another school. The couple decided to stay in North Carolina, and while Strecker earned her master's degree from the University of North Carolina at Chapel Hill, she joined Progress Energy, a Duke Energy legacy company, as an intern in corporate communications and the Foundation.
She was on track to become a librarian, but her internship proved corporate philanthropy was a better fit and she could help rural communities like the one where she started her career. Her former students, she said, are never far from her mind.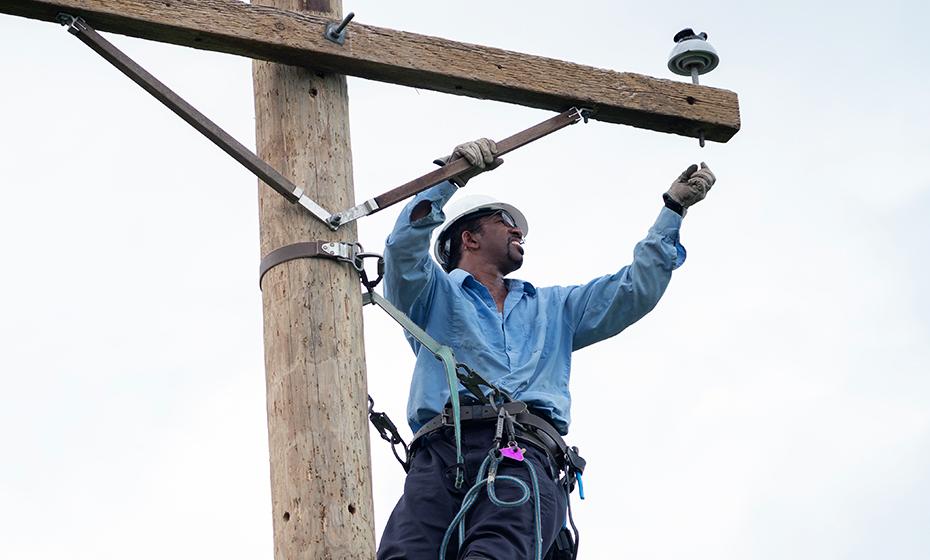 "I'm thinking, 'OK, this program sounds like a good idea, but how are my students in these very rural, under-resourced communities going to benefit from this investment? How do we make sure communities that haven't had the same educational opportunities benefit? How do we make sure that our workforce reflects the communities that we serve?' All these questions are the lens through which we're reviewing opportunities to make sure our dollars are well spent in programming that reflects our customers."
As Foundation president, Strecker is responsible for the company's employee philanthropy efforts. Employees and retirees volunteer thousands of hours in their communities and donate $10 million per year to nonprofits. She is the executive sponsor for Charlotte-based employee resource groups (ERG), networks that support veterans, women in the workforce and other areas of diversity. Before becoming the sponsor, Strecker was chair of the Business Women's Network and a member of WeR1, the ERG that supports LGBTQ+ equality.
Supporting employees matters to Strecker. When she met her wife, she remembers not feeling comfortable to be open at her previous job about her relationship. At Duke Energy, she has felt supported by her co-workers and managers and said she hopes by being herself, others will feel empowered to do the same.
"Keeping a secret about an essential part of your life is a burden that I do not wish upon anyone," Strecker said. "That's something I really value about Duke Energy – the ability to be my authentic self."
To her, Pride Month is an opportunity to celebrate that authenticity and community and remind others of the importance of inclusion.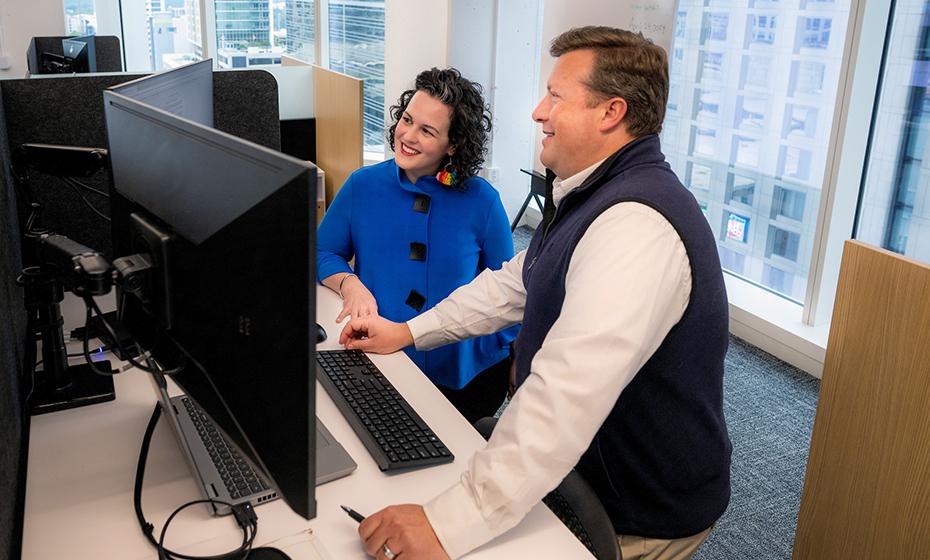 "Pride means different things to people, but for me it's a symbol of being safe and welcomed," Strecker said. "In the workplace, we're all just looking for safety, kindness and respect. And you do not have to understand the intricacies of any colleague's life to treat them well and wish them joy on their journey."
As she starts her new journey in Charlotte, she's building her own community as well. She and Coleman are hosting neighborhood gatherings to make friends, volunteering and learning about the city.
"We're working really intentionally to build a personal community in Charlotte and some deep friendships here, too," Strecker said. "The Charlotte community has been so welcoming and gracious. I know the operational side of our philanthropic world really well from spending years on this team, but to get to dive deeper into this community and partner with our Duke Energy leaders on our path forward feels really exciting."
Diversity and inclusion at Duke Energy
To learn more about Duke Energy's employee resource groups and its commitment to diversity and inclusion: Diversity and Inclusion.
View original content here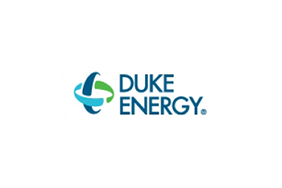 Duke Energy
Duke Energy
Duke Energy (NYSE: DUK), a Fortune 150 company headquartered in Charlotte, N.C., is one of America's largest energy holding companies. Its electric utilities serve 8.2 million customers in North Carolina, South Carolina, Florida, Indiana, Ohio and Kentucky, and collectively own 50,000 megawatts of energy capacity. Its natural gas unit serves 1.6 million customers in North Carolina, South Carolina, Tennessee, Ohio and Kentucky. The company employs 27,600 people.
Duke Energy is executing an ambitious clean energy transition to achieve its goals of net-zero methane emissions from its natural gas business by 2030 and net-zero carbon emissions from electricity generation by 2050. The company has interim carbon emission targets of at least 50% reduction from electric generation by 2030, 50% for Scope 2 and certain Scope 3 upstream and downstream emissions by 2035, and 80% from electric generation by 2040. In addition, the company is investing in major electric grid enhancements and energy storage, and exploring zero-emission power generation technologies such as hydrogen and advanced nuclear.
Duke Energy was named to Fortune's 2023 "World's Most Admired Companies" list and Forbes' "World's Best Employers" list. More information is available at duke-energy.com. The Duke Energy News Center contains news releases, fact sheets, photos and videos. Duke Energy's illumination features stories about people, innovations, community topics and environmental issues. Follow Duke Energy on Twitter, LinkedIn, Instagram and Facebook.
More from Duke Energy