Published 06-22-23
Submitted by WESCO International
Wesco is committed to supplier diversity and driving socio-economic growth. We promote the participation of minority-, women-, aboriginal-, people with disabilities-, veteran-, service-disabled veteran, and LGBTQ-owned enterprises in our distribution business.
Wesco is committed to promoting the participation of Diverse Business Enterprises (DBE) and Federal Government Small Business Administration (SBA) defined businesses in our distribution business. We increase company value working with certified DBE and SBA businesses through purchasing or reselling opportunities, participating in teaming arrangements and subcontracting whenever practical. We are equally committed to growing our diverse vendor network. We strive to strengthen our supplier diversity engagements to contribute to the economic growth and expansion in the communities we serve.
Guiding Principles
Strengthen our diversity supplier community economically.
Offer DBEs and SBA defined businesses an opportunity to compete on an equal basis.
Support the demand from customers for value-added and third-party certified diversity partners.
Focus on building an authentic and engaging culture of inclusion and diversity.
Our Solutions
Our solutions thrive on supplier diversity growth through innovation by introducing new products, driving competition resulting in savings, and through a channel that extends sales reach.
We recognize the benefits that a network of diverse businesses bring to the communities we serve, customers we supply, and the enterprises we maintain. As a world-class organization, we have prioritized this initiative to help strengthen economic growth in the communities we support.
Diversity Alliance Network
Wesco's Diversity Alliance partners provide customers with a direct procurement solution. A network of trusted and vetted third-party certified companies aligned to Wesco's sales teams. They provide value-added solutions, along with access to Wesco's 1.5M products to help customers meet diversity goals.
Diverse Supplier Network
Wesco partners with diverse suppliers to enhance our supply chain. Our program creates growth opportunities for suppliers and creates a Tier 2 diversity solution for our customers. Meaning when a customer has a diversity spend requirement, we work to find the right suppliers to fulfill their needs.
Learn about our commitment to supplier diversity and driving socio-economic growth here.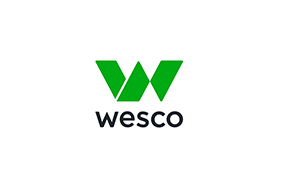 WESCO International
WESCO International
About Wesco
Wesco International (NYSE: WCC) builds, connects, powers and protects the world. Headquartered in Pittsburgh, Pennsylvania, Wesco is a FORTUNE 500® company with more than $18 billion in annual sales and a leading provider of business-to-business distribution, logistics services and supply chain solutions. Wesco offers a best-in-class product and services portfolio of Electrical and Electronic Solutions, Communications and Security Solutions, and Utility and Broadband Solutions. The Company employs approximately 18,000 people, partners with the industry's premier suppliers, and serves thousands of customers around the world, including more than 90% of FORTUNE 100® companies. With nearly 1,500,000 products, end-to-end supply chain services, and leading digital capabilities, Wesco provides innovative solutions to meet customer needs across commercial and industrial businesses, contractors, government agencies, institutions, telecommunications providers, and utilities. Wesco operates approximately 800 branches, warehouses and sales offices in more than 50 countries, providing a local presence for customers and a global network to serve multi-location businesses and multi-national corporations.
More from WESCO International