Published 06-19-23
Submitted by Yum China
For over 15 years, in partnership with the China Rural Development Foundation, Yum China's One Yuan Donation Program has gone from strength to strength. Through it, the company contributes to poverty alleviation and rural revitalization by improving the diet and nutrition of children in remote areas and enhancing their access to digital education. Today, the One Yuan Donation Program is one of Yum China's flagship initiatives and over the years it has grown into one of the largest and most impactful charity events in China. As of the end of 2022, the One Yuan Donation Program has seen over 140 million customers participate, covered 14 provinces and autonomous regions, accumulatively raised more than RMB 240 million, accumulatively offered more than 55 million nutritious meals to benefit rural children, and provided over 1,350 rural schools with modern kitchen equipment.
Under the program, Yum China brand restaurants, including KFC, Pizza Hut, and Taco Bell, serve as the main contributors to this cause through in-store and online donations. Over the past 15 years, Yum China have continuously fine-tuned the program to increase its impact, including extending fundraising channels from its stores to its own online platforms such as KFC and Pizza Hut Super Apps. Under the program, Yum China has also rolled out new fundraising initiatives like charity auction livestreams led by its executives.
The One Yuan Donation Program expanded its mission in 2022 by adding a 'Digital Classroom' component to our existing program on nutrition supplement and modern kitchen. This new focus emphasizes on talent development, intending to promote the healthy growth of rural young children and contribute to rural revitalization.
Commenting on the milestone anniversary, Yum China's Chief Public Affairs Office, Alice Wang, recently said, "For the past 15 years, we have been dedicated to promoting public welfare through various innovative means. From offering nutritious meals to providing modern kitchens, and to digital classrooms, from in-store donations to creating online donation channels including online charity shops, we stay ahead of the times while embracing love and generosity. Our aim is to make a lasting impact and raise awareness about the importance of public welfare in society."
To learn more about Yum China's ESG efforts, visit: http://www.yumchina.com/respIndex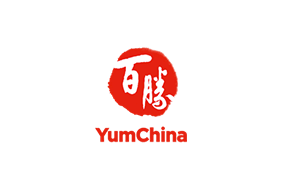 Yum China
Yum China
About Yum China Holdings, Inc.
Yum China Holdings, Inc. is a licensee of Yum! Brands in mainland China. It has exclusive rights in mainland China to KFC, China's leading quick-service restaurant brand, Pizza Hut, the leading casual dining restaurant brand in China, and Taco Bell, a California-based restaurant chain serving innovative Mexican-inspired food. Yum China also owns the Little Sheep, Huang Ji Huang, East Dawning and COFFii & JOY concepts outright. In addition, Yum China has partnered with Lavazza to explore and develop the Lavazza coffee shop concept in China. The Company had over 12,000 restaurants in over 1,700 cities at the end of February 2022.
In 2021, Yum China ranked # 363 on the Fortune 500 list and was named to TIME100 Most Influential Companies list. Yum China has also been selected as member of both Dow Jones Sustainability Indices (DJSI): World Index and Emerging Market Index. In 2022, the Company was named to the Bloomberg Gender-Equality Index and was certified as a Top Employer 2022 in China by the Top Employers Institute, both for the fourth consecutive year. For more information, please visit http://ir.yumchina.com.
More from Yum China