Published 06-12-23
Submitted by CSR International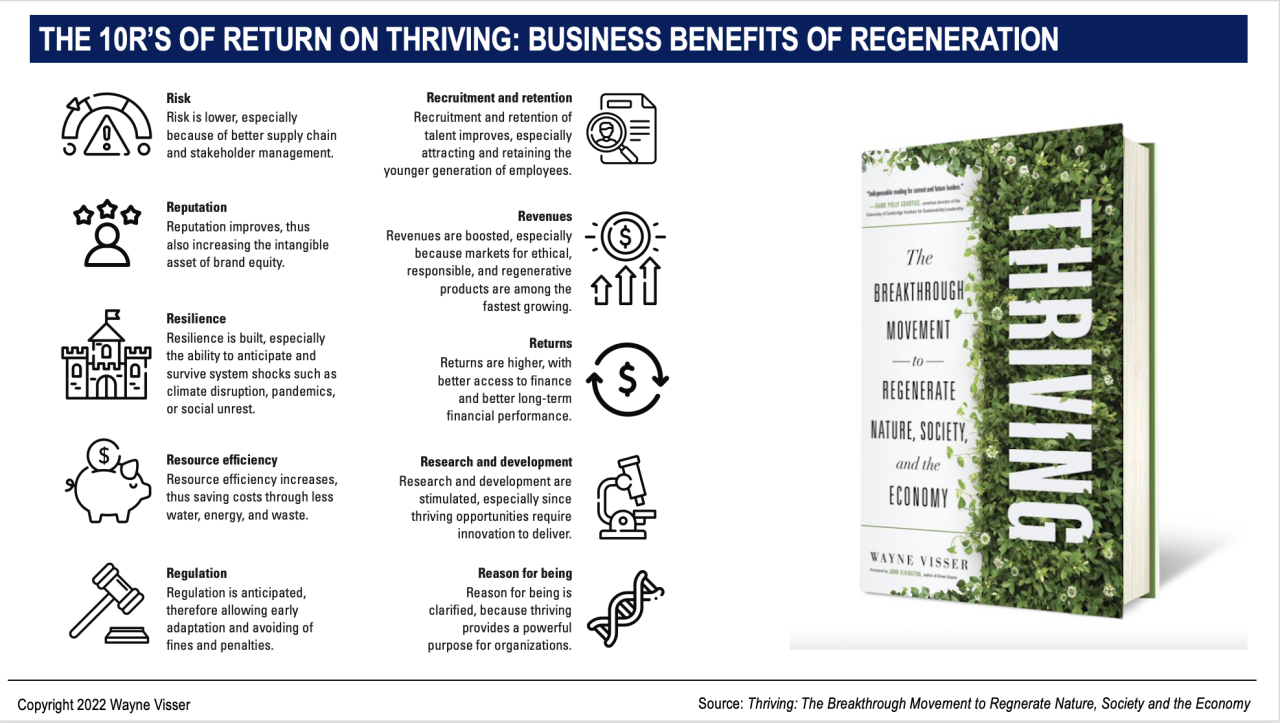 What is the business case for sustainability? It's a question I've been asked for 30 years, so finally I finally distilled the economic benefits into the "10 Rs of Return on Regeneration (Figure 1). Let me make each one clear by using an example.
Figure 1: The 10 Rs of Return of Regeneration
| | |
| --- | --- |
| Risk | Risk is lower, especially due to better supply chain and stakeholder management. |
| Reputation | Reputationimproves, thus also increasing the intangible asset of brand equity. |
| Resilience | Resilience is built, especially the ability to anticipate and survive system shocks such as climate disruption, pandemics, or social unrest. |
| Resource efficiency | Resource efficiency increases, thus saving costs through less water, energy, and waste. |
| Regulation | Regulation is anticipated, therefore allowing early adaptation and avoiding of fines and penalties. |
| Recruitment and retention | Recruitment and retention of talent improves, especially attracting and retaining the younger generation of employees. |
| Revenues | Revenues are boosted, especially because markets for ethical, responsible, and regenerative products are among the fastest-growing markets. |
| Returns | Returns are higher, with better access to finance and better long-term financial performance. |
| Research and development | Research and development are stimulated, especially since regeneration opportunities require innovation to deliver. |
| Reason for being | Reason for being is clarified, because regeneration provides a powerful purpose for organizations. |
Risk is lower. The costs of growing the business will be lower without costly delays due to protests by angry activists or unhappy suppliers. Moving to a circular economy may also decrease potential disruption of resource supplies. Risk is the reason why 11 major shipping banks signed the Poseidon Principles, committing to assess the carbon intensity of their shipping investments and to incorporate climate goals into shipping vessels that they fund.
Reputation improves. The reason that Tesla is valued so highly by the market (and by its customers) is because it has gained a reputation for innovative solutions that will accelerate the world's transition to sustainable energy. Sustainable Brands has, since 2006, tapped into this understanding, bringing together companies that see social and environmental challenges as an essential driver of brand innovation, value creation, and positive impact.
Resilience is built. Companies like Interface have done better during economic recessions because of savings from their sustainability programs, their innovation culture, and strong employee commitment. This is why Randstad worked with Antwerp Management School to develop the Future Resilience Index, with 10 factors to assess individual, organizational, and societal resilience.
Resource efficiencyincreases. The Excess Materials Exchange among companies like Schiphol Airport, Philips, and Sodexo discovered €64 million in financial value creation. According to the Waste & Resources Action Programme (WRAP), savings of between 30 and 50 percent can be achieved by investing in no- and low-cost water-reduction techniques and technologies. A company with an annual turnover of £2 million could save up to £20,000 per year.
Regulation is anticipated. Eighteen countries have already committed to ban sales of new diesel and gasoline cars and move to 100 percent zero-emission vehicles, with Norway leading with a ban from 2025. In the EU the Plastics Strategy caught many producers and retailers off guard with its rapid ban of single-use plastics and its declaration that by 2030 all plastic packaging placed on the EU market must either be reusable or recyclable.
Recruitment and retentionof talent improves. A Deloitte survey finds that 42 percent of Millennials and Gen Z are choosing relationships with companies whose core business has positive social or environmental impacts, while 38 percent are lessening ties with companies with a perceived negative impact.[i] In addition, research shows that sustainable and responsible companies also boost employee motivation, productivity, loyalty, and satisfaction.
Revenues are boosted. Sustainability-marketed products grew more than seven times faster than other products in 2015-2019,[ii] with plant-based foods expected to grow annually at 11.9 percent from 2020-2027.[iii]
Returns are higher. Analysis by S&P Global Market Intelligence and Morningstar shows that investments that are screened on environmental, social, and governance (ESG) criteria are less risky and outperform the market in both the short and long term.[iv]
Research and development are stimulated. The Business Commission on Sustainable Development estimates that meeting the SDGs will unlock $12 trillion in new market value,[v] while Accenture estimates that the circular economy is a $4.5 trillion opportunity.[vi]
Reason for being is clarified. When Paul Polman was CEO of Unilever, around 1.7 million people applied to work at the company every year. Polman believes this had a lot to do with its inspiring Sustainable Living Plan. Similarly, IKEA is using its "People & Planet Positive" sustainability strategy to drive innovation, transform their business, shape their investments, and unleash new business opportunities.
Source: Extract from Thriving: The Breakthrough Movement to Regenerate Nature, Society and the Economy, by Wayne Visser (Fast Company Press, 2022)
Endnotes:
[i] Deloitte, 2019 Deloitte Millennial Survey, Report, 2019.
[ii] New York University and IRI, "2020 CSB Sustainable Market Share Index,™ Report by the NYU Stern Center for Sustainable Business and IRI, 2020.
[iii] Meticulous Research, Plant Based Food Market—Global Forecast to 2027, 2020.
[iv] S&P Global Market Intelligence, "ESG Funds Beat Out S&P 500 in 1st Year of COVID-19; How 1 Fund Shot to the Top," April 6, 2021.
[v] BSDC, Better Business, Better World, Report by Business & Sustainable Development Commission 2017.
[vi] P. Lacy and J. Rutqvist, Waste to Wealth: The Circular Economy Advantage (London: Palgrave Macmillan, 2015).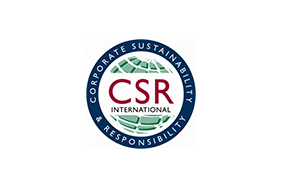 CSR International
CSR International
CSR International was founded in 2009 with the mission to be an incubator for CSR 2.0, which means Transformative Corporate Sustainability & Responsibility (CSR). Since then, we have delivered CSR training around the world, welcomed many people through our internship program, shared hundreds of CSR Research Digests and licensed CSR 2.0 Assessors & Advisors.
More from CSR International