Published 06-09-23
Submitted by Viatris
To make progress on our mission and successfully deliver on our strategy and business model to build access to medicine and create long-term value, we continually work to advance sustainable operations and responsible practices. At Viatris, we are committed to addressing key environmental, social and governance matters by leveraging the collective expertise within Viatris and in our partnerships, recognizing that our actions affect the stakeholders and communities we serve.
We are a signatory to the UN Global Compact and committed to its 10 principles on human rights, labour, the environment and anti-corruption. In 2022, this work was as important as ever, as the world was trying to build back economies and healthcare systems amid the COVID pandemic, facing growing health disparities and inflation, as well as the growing impact on and from climate change, including immediate human health impact. The war in Ukraine created urgent needs and for Viatris, ensuring the safety and wellbeing of our colleagues and their families was our immediate priority as well as providing essential medicines to those in need. Thanks to our interconnected global supply chain, we were able to mitigate disruptions and maintain supply of critical medicines as well as participate in and donate to emergency response and relief efforts.
We continue our work to be a trusted partner of key stakeholders to help close gaps to equal access to care, build more resilient healthcare systems, uphold a reliable global supply of medicines, curb climate change and protect the environment, on which human health largely depends. Providing a diverse, equal, and inclusive workplace where colleagues feel engaged, empowered and safe, and upholding ethical practices and a holistic approach to enterprise risk management are foundational for our continued success. Further scaling sustainable practices together with our partners across the value chain helps to protect the global and diverse supply chain on which reliable access for patients across the world hinges.
In 2022, we communicated Viatris' initial company-wide sustainability goals in the areas of access and health; diversity, equity and inclusion (DEI); and the environment. The work to progress on our goals and priority areas serves the resilience of our operations and supply of medicine, helps us anticipate key stakeholder expectations and support global progress on the UN Sustainable Development Goals for 2030. While there are no easy fixes to many of the world's challenges, there are significant opportunities for meaningful advancement through diligent and systematic efforts and long-term perspectives. And further, partnerships are essential for scalable and lasting progress. In this report, we are sharing just some of the examples of the hard work being done by colleagues across Viatris and in external collaborations to do our part.
This includes the ongoing work to build access to HIV prevention and treatment, with 65% of children on treatment in 2022 being treated with a Viatris product, and the NCD academy launching new courses available to HCPs across the world – now impacting approximately 48.6 million patients. As part of stimulating DEI and engagement, we conducted our initial employee Voice Survey in 2022, hosted voluntary educational events and will soon introduce required DEI training. We made real progress in pursuit of our environmental goals in climate, water and waste. And we are pleased that the SBTi validated and approved our scope 1, 2 and 3 greenhouse gas emissions reduction targets, while also determining that Viatris' scope 1 and 2 target ambition is in line with the 1.5°C trajectory.
We can't underscore enough how everyone at Viatris is part of the journey to build more sustainable access to medicine. And we thank them all for their continuing passion and impact as we work to empower people worldwide to live healthier at every stage of life.
— Lara Ramsburg Head of Corporate Affairs, Viatris
"Addressing key sustainability matters truly is foundational for our relevance and our future success as an employer and as a partner, to our operations and ultimately our ability to advance on our mission. And this work truly involves everyone at Viatris in different ways. It is multifunctional, it happens across geographies, and it goes on all year round." — Lina Andersson Head of Corporate Social Responsibility, Viatris
CSR Governance 
Viatris' Board of Directors oversees management's efforts with respect to corporate environmental and social responsibility matters through its Risk Oversight Committee. The CSR function operates as a center of excellence within the Corporate Affairs leadership team. The Head of Corporate Affairs reports directly to the CEO and communicates quarterly with the Viatris Board through the Risk Oversight Committee together with the Head of Corporate Social Responsibility. The Head of Corporate Social Responsibility drives the strategic and operational development of CSR across the company together with key partners.
A multifunctional CSR Advisory Committee comprised of global leaders with a monthly meeting cadence monitors the external landscape, company progress and supports the integration of corporate environmental and social responsibility activities across the organization. Progress on strategic focus areas and execution of relevant tasks rely on a broad and engaged network of functional leaders across the company.
View the full 2022 Sustainability Report here.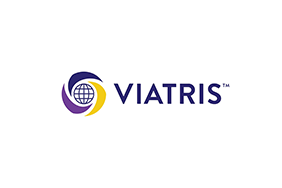 Viatris
Viatris
Viatris Inc. (NASDAQ: VTRS) is a global healthcare company empowering people worldwide to live healthier at every stage of life. We provide access to medicines, advance sustainable operations, develop innovative solutions and leverage our collective expertise to connect more people to more products and services through our one-of-a-kind Global Healthcare Gateway®. Formed in November 2020, Viatris brings together scientific, manufacturing and distribution expertise with proven regulatory, medical, and commercial capabilities to deliver high-quality medicines to patients in more than 165 countries and territories. Viatris' portfolio comprises more than 1,400 approved molecules across a wide range of therapeutic areas, spanning both non-communicable and infectious diseases, including globally recognized brands, complex generic and branded medicines, and a variety of over-the-counter consumer products. With more than 38,000 colleagues globally, Viatris is headquartered in the U.S., with global centers in Pittsburgh, Shanghai and Hyderabad, India. Learn more at viatris.com and investor.viatris.com, and connect with us on Twitter at @ViatrisInc, LinkedIn, Instagram and YouTube.
More from Viatris