Published 06-05-23
Submitted by Yum China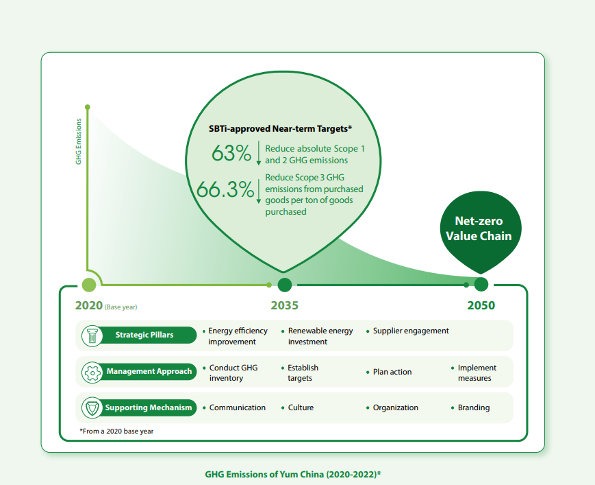 Yum China, the largest restaurant company in China, is making significant strides toward decarbonizing its business. Given the increasing impact of climate change on the global food system, the restaurant industry has been actively promoting climate action to mitigate the risks associated with climate change. Yum China is committed to reaching net-zero value chain GHG emissions by 2050 and has set near-term GHG emissions reduction targets based on the leading climate scientific consensus, which were officially approved by SBTi in 2022, marking Yum China the first restaurant company in China to reach this milestone.
To achieve these targets and drive progress, Yum China has developed a low-carbon transformation roadmap based on SBTi suggestions, focusing on energy efficiency improvement, renewable energy investment, and supplier engagement.
Renewable Energy Investment
Yum China recognizes the importance of utilizing renewable energy to bolster its climate resilience and support its low-carbon transition.
The company is actively collaborating with partners to explore affordable, reliable, and scalable renewable energy opportunities. Yum China is evaluating and piloting the application of Distributed Photovoltaics (DPV) for company-owned restaurants and logistics centers, as well as for strategic leased locations. The green power generation capacity of these DPV projects in 2022, including completed and ongoing projects, is expected to reach 2,400 MWh per year.
Yum China is also exploring China's green power trading scheme as another way to invest in renewable energy. The company is working with business partners to gain an in-depth understanding of market practices and assess the feasibility of green power purchase agreements (PPAs). In December 2022, Yum China signed a PPA with a local power trading company to achieve 100% renewable energy for two company-owned restaurants in Hangzhou, Zhejiang.
As part of its efforts to explore new energy vehicles to support its extensive distribution system, Yum China has piloted a small-scale electric vehicle (EV) for logistics fleets in its Shenzhen logistics center. The company is also exploring emerging low-carbon energy sources such as hydrogen applications. In 2022, at the 5th China International Import Expo (CIIE), Yum China announced a partnership with Beiqi Foton Motor and Air Products to support the development and investment in the hydrogen energy industry value chain. Together, the companies developed demo application scenarios for hydrogen fuel logistics vehicles, with Yum China aiming to pilot the operation of hydrogen logistics vehicles in 2023.
Low-carbon Supply Chain
More than two-thirds of Yum China's Scope 3 GHG emissions are from its purchased goods, making it essential to promote low-carbon transformation throughout the value chain to achieve the net-zero GHG emissions goal by 2050. Yum China is committed to reducing Scope 3 GHG emissions from purchased goods 66.3% per ton of goods purchased by 2035 from a 2020 base year. Yum China's supply chain is complex across a wide range of categories and with different stages of readiness for low-carbon operations among suppliers. The company works with suppliers through a '3E' management method, including engaging suppliers to promote participation in GHG emissions reduction, educating suppliers to help build their capacity in dealing with climate risks, and empowering suppliers' low-carbon development.
Yum China firmly believes in the role of business leaders as stewards of the environment. Guided by the 4R principle of Reduce, Reuse, Recycle, and Replace, the company integrates sustainable development into its daily operations, from raw materials sourcing, logistics and warehousing, and restaurant operations to distribution services. Yum China also strives to use natural resources more efficiently and mitigate negative impacts on the environment, ultimately minimizing the environmental footprint of the entire value chain.
To learn more about Yum China's ESG efforts, visit: http://www.yumchina.com/respIndex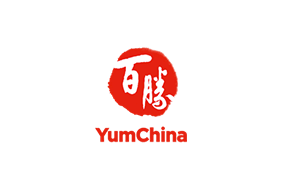 Yum China
Yum China
About Yum China Holdings, Inc.
Yum China Holdings, Inc. is a licensee of Yum! Brands in mainland China. It has exclusive rights in mainland China to KFC, China's leading quick-service restaurant brand, Pizza Hut, the leading casual dining restaurant brand in China, and Taco Bell, a California-based restaurant chain serving innovative Mexican-inspired food. Yum China also owns the Little Sheep, Huang Ji Huang, East Dawning and COFFii & JOY concepts outright. In addition, Yum China has partnered with Lavazza to explore and develop the Lavazza coffee shop concept in China. The Company had over 12,000 restaurants in over 1,700 cities at the end of February 2022.
In 2021, Yum China ranked # 363 on the Fortune 500 list and was named to TIME100 Most Influential Companies list. Yum China has also been selected as member of both Dow Jones Sustainability Indices (DJSI): World Index and Emerging Market Index. In 2022, the Company was named to the Bloomberg Gender-Equality Index and was certified as a Top Employer 2022 in China by the Top Employers Institute, both for the fourth consecutive year. For more information, please visit http://ir.yumchina.com.
More from Yum China