Published 06-01-23
Submitted by Duke Energy

Duke Energy's dragon boat race team practiced for this moment.
Seasoned racers showed the newcomers how to execute an A-frame technique, how to cut their paddle through the water at the exact second a teammate pounds a drum to keep time, how to win, together – and that's exactly what they did.
They pulled their long, thin wooden boat into the shallow waters of Lake Norman, and once the starting horn blew, the paddlers gave it their all, ultimately gliding across the finish line at the Charlotte Dragon Boat Race and Asian Festival in first place for their division.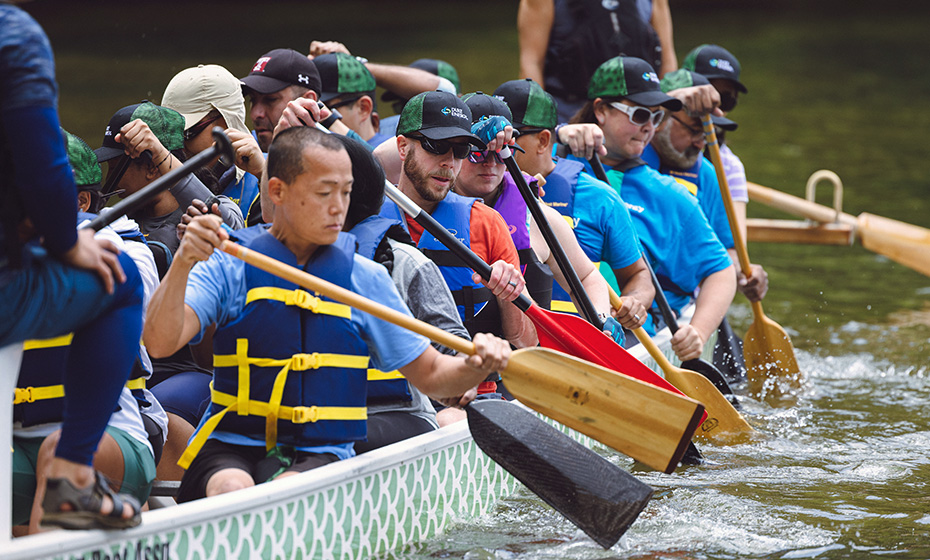 Each person's reason for joining the team is unique: Some are in it for the fun, others for the thrill of competition. For teammates Schuyler McKay, Manoj Karki and Thomas Doan, the race has a deeper meaning: The ancient tradition connects them to their heritage. It's a direct line to their ancestors, cultures and a shared Asian American identity they've each found in their own way.
"It signifies diversity, but also unity," Doan said. "We are a diverse group of people from different backgrounds, who work across different departments in different roles. But in the boat, we're all the same. We're one group, working toward one goal, while still holding true to all of the things that uniquely make us who we are."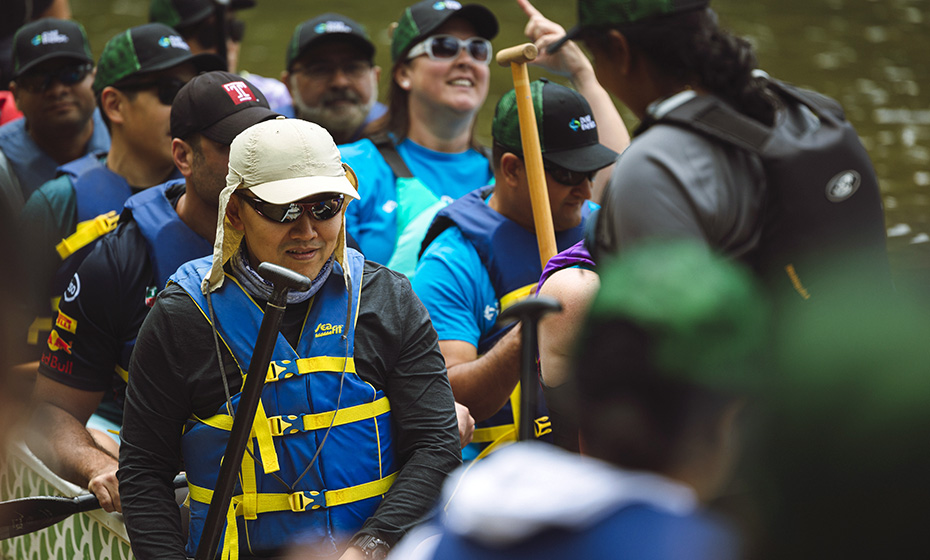 Doan is an engineer in the Charlotte Distribution Control Center and has been a part of Duke Energy for four years. He's also one of the founders of the Charlotte Asian Inclusion Network (AIN) employee resource group.
"I remember first learning about AIN after reading about the Cincinnati chapter," Doan said. "I wanted to be a part of something like that."
AIN is one of 10 Employee Resource Groups at Duke Energy. The groups are networks of employees formed around a common dimension of diversity. ERGs help employees value the differences and similarities among teammates, customers and the communities the company serves, while providing professional development opportunities, like mentoring.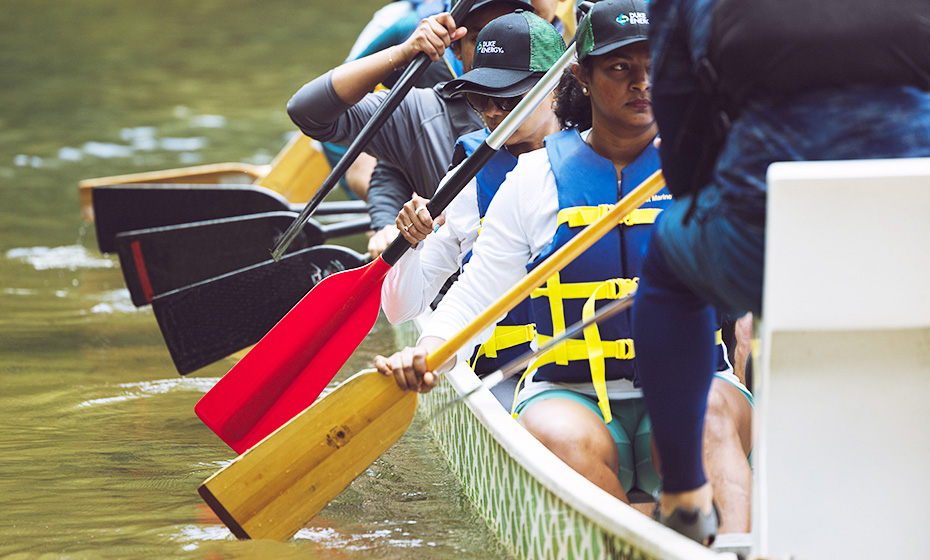 "ERGs play a crucial role in our company culture," Chief Diversity and Inclusion Officer Sharene Pierce said. "They provide a supportive environment for members to share ideas, perspectives and experiences, which often leads to fresh insights and creative problem-solving."
Today, the chapter is more than 100 members strong, and its success is something Doan said he is proud of. It offers members a space to safely express their interests and identity among people who likely share similar life experiences – something Doan says he hasn't always felt comfortable doing.
"I struggled with my Vietnamese American identity from a young age," Doan said. "I didn't have many Asian friends growing up. I really didn't tap into my heritage until my college years in Charlotte. I was around my siblings there, and they taught me a lot about our culture. It means so much to me now."
Opportunities to participate in community events like the dragon boat race are meaningful. In 2022 they took home the bronze medal.
"It takes a lot of practice to learn how to row as a team," Doan said. "We have 21 people in the boat, 10 rows of two people, with a person up front who is the drummer. They beat on an actual drum to maintain a consistent cadence. We paddle with the beat of the drum and, hopefully, move in unison."
"That's the hardest part," Karki said. He's a business development manager who has been with the company for 10 years.
"One team member can't do all of the work."
Karki moved to the United States in 2005 from Nepal, an area he feels isn't always top of mind when people think about Asia. Drawing attention to his heritage, and the Indian subcontinent, is important to him, and he said AIN Charlotte offers him a great space to do it.
"It's so important to have AIN, because we have such a diverse team of people working here at Duke Energy, as well as diverse customers across all of our regions," Karki said. "We need to understand the needs of every community we serve."
He said Duke Energy's consistent participation as a sponsor in the Asian American festival proves the company understands that – and takes it seriously.
"We get a chance to show visitors that Duke Energy is a very diverse company and that we welcome talent from every community."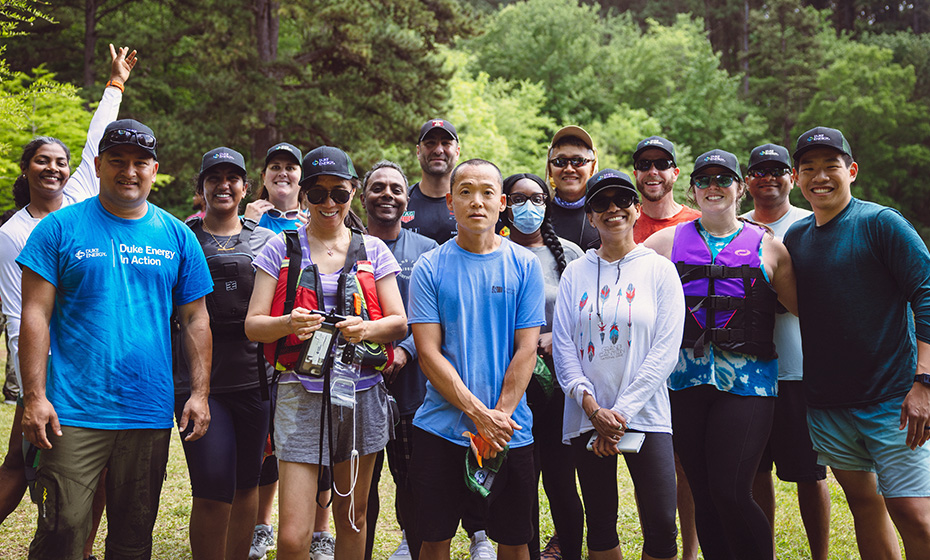 McKay says he is, too. The IT infrastructure analyst started his career with Piedmont Natural Gas and has now been with Duke Energy for more than 12 years.
He's also a dragon boat race veteran, participating in at least 10 competitions.
McKay was born in Seoul, South Korea, and adopted when he was 3 years old by a family from Hendersonville, N.C. While he had a wonderful childhood, he said it was difficult to connect with his roots.
"I was the only boy with Asian heritage in my high school, and I was very conscious about it."
That all changed for McKay during his time at Appalachian State University. A friend pushed him to join the Asian Student Association.
"It was transformative for me," McKay said. "And, you want to know something funny? That's where I met my wife."
Now, McKay said he hopes employees, whether they identify as Asian American or not, know they will always have a place in AIN – and in the dragon boat.
"It's the ultimate team sport," McKay said. "Not one person, I don't care how strong you are, can bring the boat to victory. It takes all 21 of us to be in sync to win. We have to be a team to be successful. We have to support each other."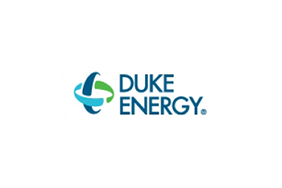 Duke Energy
Duke Energy
Duke Energy (NYSE: DUK), a Fortune 150 company headquartered in Charlotte, N.C., is one of America's largest energy holding companies. Its electric utilities serve 8.2 million customers in North Carolina, South Carolina, Florida, Indiana, Ohio and Kentucky, and collectively own 50,000 megawatts of energy capacity. Its natural gas unit serves 1.6 million customers in North Carolina, South Carolina, Tennessee, Ohio and Kentucky. The company employs 27,600 people.
Duke Energy is executing an ambitious clean energy transition to achieve its goals of net-zero methane emissions from its natural gas business by 2030 and net-zero carbon emissions from electricity generation by 2050. The company has interim carbon emission targets of at least 50% reduction from electric generation by 2030, 50% for Scope 2 and certain Scope 3 upstream and downstream emissions by 2035, and 80% from electric generation by 2040. In addition, the company is investing in major electric grid enhancements and energy storage, and exploring zero-emission power generation technologies such as hydrogen and advanced nuclear.
Duke Energy was named to Fortune's 2023 "World's Most Admired Companies" list and Forbes' "World's Best Employers" list. More information is available at duke-energy.com. The Duke Energy News Center contains news releases, fact sheets, photos and videos. Duke Energy's illumination features stories about people, innovations, community topics and environmental issues. Follow Duke Energy on Twitter, LinkedIn, Instagram and Facebook.
More from Duke Energy