Published 05-19-23
Submitted by Yum China
Yum China, the largest restaurant company in China, is an industry leader when it comes to managing natural resources responsibly. The company does this by implementing concrete measures such as reducing food loss and waste, developing sustainable packaging solutions, and focusing on water conservation, which effectively reduces natural resource consumption in its operations.
The company is working towards its stated 2030 goal of 10% reduction of its food waste per restaurant by 2030 as compared to the 2020 baseline. In working towards to this goal and to reduce food loss and waste, the company has explored innovative ways and partnerships to build green and sustainable business and consumption models in the restaurant industry. The company adopts innovative technology and scientific management methods to reduce food loss and waste across its entire value chain, from purchasing, transportation, and processing, to dispose.
In terms of food purchasing and transportation, Yum China applies AI and IoT to improve ingredient purchasing forecast accuracy and inventory management and has increased the proportion of cold chain transportation. To enhance food processing, the company uses oil-saving fryers and adjusts cooking volume, both in aggregate and on a per batch basis, to avoid excessive cooking. Additionally, the company has bolstered food disposal through recycling of food waste and the promotion of KFC's pioneering Food Bank Program.
KFC's Food Bank Program was launched in 2020 with the purpose of distributing surplus food from our stores to nearby residents in need. The program not only helps reduce food waste but also plays an active role in GHG emissions reduction. According to the company's estimates, each pack of food distributed by KFC results in an average of 596g of GHG emissions reduction. In 2022, the company further promoted the Food Bank Program in KFC stores and guided more of its brands to explore innovative ways to reduce food waste based on their unique characteristics.
To learn more about Yum China's ESG efforts, please visit its website: http://www.yumchina.com/respIndex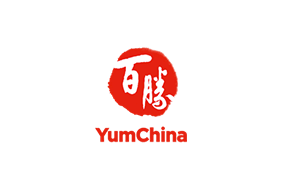 Yum China
Yum China
About Yum China Holdings, Inc.
Yum China Holdings, Inc. is a licensee of Yum! Brands in mainland China. It has exclusive rights in mainland China to KFC, China's leading quick-service restaurant brand, Pizza Hut, the leading casual dining restaurant brand in China, and Taco Bell, a California-based restaurant chain serving innovative Mexican-inspired food. Yum China also owns the Little Sheep, Huang Ji Huang, East Dawning and COFFii & JOY concepts outright. In addition, Yum China has partnered with Lavazza to explore and develop the Lavazza coffee shop concept in China. The Company had over 12,000 restaurants in over 1,700 cities at the end of February 2022.
In 2021, Yum China ranked # 363 on the Fortune 500 list and was named to TIME100 Most Influential Companies list. Yum China has also been selected as member of both Dow Jones Sustainability Indices (DJSI): World Index and Emerging Market Index. In 2022, the Company was named to the Bloomberg Gender-Equality Index and was certified as a Top Employer 2022 in China by the Top Employers Institute, both for the fourth consecutive year. For more information, please visit http://ir.yumchina.com.
More from Yum China