Published 05-17-23
Submitted by Enbridge Inc.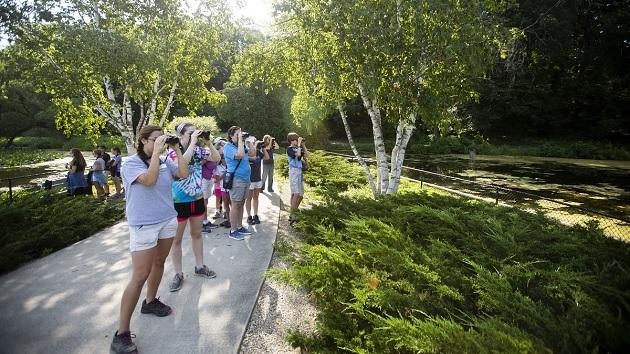 At Wintergreen Lake, a bevy of trumpeter swans performs in concert, their unmistakeable call echoing across the water. Nesting pairs raise their young and juveniles practise fishing as tens of thousands of visitors watch every year, charmed by the majestic white waterfowl with jet-black bills.
Just 30 years ago, this lake in southwest Michigan was devoid of trumpeter swans, as were nearly all waterways from Wisconsin to Mississippi along the Mississippi Flyway bird migration route. In the 1980s and '90s, overhunting and deaths by blood poisoning from toxins decimated the population of North America's largest native bird species.
But thanks to conservation efforts led by Augusta's W.K. Kellogg Bird Sanctuary, the trumpeter swan population has been restored.
The hundreds of swans that stop over in Wintergreen Lake today are part of the lineage of the restored population, explains Sarah Carroll, a development coordinator with the 180-acre Kellogg Bird Sanctuary, which includes Wintergreen Lake.
Now, multiple generations of visitors, including thousands of schoolchildren, flock to the Sanctuary to visit the trumpeter swans, as well as Canada geese, eastern screech owls, red-tailed hawks, bluebirds and hummingbirds.
"The best stories are meeting people who came as kids, then brought their own children, and now are coming back with their grandchildren," says Carroll.
The Sanctuary was established in 1927 by W.K. Kellogg of Kellogg's cereal fame. He donated the property a year later to Michigan State University, whose main campus is in East Lansing, an hour northeast of the Sanctuary. In addition to being a green space preserving species and habitat, the Sanctuary serves as a research lab for the university's scholars and students.
In the 1960s, the university built a welcome center with an auditorium to enhance visitors' educational experience. Schoolchildren in Grades 1 to 12 take part in programs that expand on the state's science curricula relating to ecology, birds and habitats. The public attends talks and workshops, such as bird identification courses.
After more than a half century of welcoming learners, the center needs an upgrade to expand its educational capacity, update technology, and comply with the American Disability Act. The upgrade will also see the creation of two new learning spaces.
"In these different spaces, people will learn from our volunteers and educators before they go out on the trail to see the birds on a field-trip experience," explains Carroll.
To help with the upgrade, Enbridge contributed a $10,000 Fueling Futures grant to Michigan State in 2022 as part of our commitment to sustainability projects that help improve, grow and nurture the environment. We've also supported a second ornithological project through MSU, with a $25,000 Fueling Futures grant directed toward a research project studying the movement and migration of red-tailed hawks in the Straits of Mackinac.
As shown with the restoration of trumpeter swan populations, the Sanctuary's work is having a significant impact on bird populations and is helping the next generation learn to care for the environment.
Carroll herself was influenced by childhood visits to the Sanctuary. Her first job was greeting guests in the welcome center. Now, she supports conservation and restoration efforts.
MSU researchers doing cutting-edge conservation work often present their work in public talks at the center, she notes.
As the Sanctuary approaches its 100th anniversary, generations of families have experienced memorable moments to cherish—spotting tiny hummingbird nests, feeding the swans at Wintergreen Lake, watching owlets learn to fly.
Says Carroll: "The Sanctuary is a place to connect with family and connect with nature, to walk together and appreciate the beauty of Wintergreen Lake and the species that live here."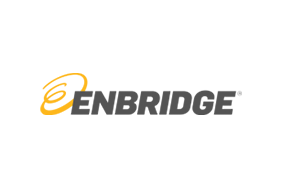 Enbridge Inc.
Enbridge Inc.
About Enbridge
At Enbridge, our name spells out our mission: a bridge to a sustainable energy future. That bridge safely connects millions of people around the world to the energy they rely on every day, fueling quality of life. Whether it's natural gas, oil or renewable power, the energy we deliver through networks spanning North America and our growing European offshore wind portfolio helps to heat homes, feed families, fuel vehicles and power industry. We're investing in modern energy infrastructure to sustain access to secure, affordable energy. We're also building on two decades of experience in renewable energy to advance new low-carbon energy technologies including hydrogen, renewable natural gas and carbon capture and storage. We're committed to reducing the carbon footprint of the energy we deliver, and to achieving net zero greenhouse gas emissions by 2050.
Headquartered in Calgary, Alberta, Enbridge's common shares trade under the symbol ENB on the Toronto (TSX) and New York (NYSE) stock exchanges. To learn more, visit us at Enbridge.com
More from Enbridge Inc.