Published 05-10-23
Submitted by The Conference Board

Roughly half of CEOs globally say climate change is already having a significant impact on their business or will in the next 1-5 years. Moreover, CEOs identify the greatest climate change-related threats to business operations as higher costs related to energy and regulation.

Uncovering economic opportunity in the global energy transition and transitioning to greater social and environmental sustainability will require changes to business models. These trends will affect every firm.

We are delighted to share the agenda and our confirmed speakers to date for the Sustainability Summit: Thriving Amid the Global Energy Transition, (July 13 and 14, 2023) in New York City. We invite you to join us to hear the latest insights from those leading the charge toward a net-zero future.
Enter code 3BLVIP to receive $500 off
REGISTER NOW

CONFIRMED SPEAKERS TO DATE
Ann Tracy, Chief Sustainability Officer, Colgate-Palmolive
Mitrankur Majumdar, Senior Vice President and Global Head - Services, Infosys
Brian Singer, Managing Director & Global Head of GS SUSTAIN, Global Investment Research, Goldman Sachs
Mneesha Nahata, Senior Vice President, Legal & Chief Sustainability Officer, American Tower
Roman Kramarchuk, Head - Future Energy Analytics, S&P Global Commodity Insights
Kara Fulcher, Director of Sustainability, North America, Michelin
Louis Gritzo, Ph.D. Chief Science Officer, FM Global
Eloiza Domingo, Vice President, Human Resources and Chief Inclusive Diversity & Equity Officer, The Allstate Corporation
Hugh Welsh, General Counsel, Secretary & President, DSM North America
Karen Y. Johns, Chief Executive Officer, GOOD Institute
Zoe Beck, Director of Sustainability, HCA Healthcare
Brian Halweil, Strategic Associate, Astanor Ventures
David LeCureux, Chief Strategy Officer, HDR
Catherine Roggero-Lovisi, Chief Executive Officer, Modern Meadow
John Gibson, Vice President, External and Multicultural Affairs, Motion Picture Association
Tessa Recendes, Assistant Professor of Management and Organization, Penn State University
Edan Dionne, Vice President, Environmental, Energy and Chemical Management Programs, Corporate Environmental Affairs, IBM
Claudia Toussaint, Senior Vice President, Chief People and Sustainability Officer, Xylem
Olivia Wassenaar, Partner, Head of Sustainable Investing and Head of Natural Resources, Apollo Global Management
Jeffrey Whitford, Head of Global Corporate Responsibility and Life Science Branding, MilliporeSigma
Celeste Warren, Vice President, Global Diversity & Inclusion Center of Excellence, Merck
Charles Neidenbach, Lead ESG Advisor, Nasdaq
Peter Cherukuri, Chief Executive Officer, LeaderBoard Media
Alexander Heil, PhD, Senior Economist, ESF Center, The Conference Board
Erin McLaughlin, Senior Economist, ESF Center, The Conference Board
Dana M. Peterson, Chief Economist and Center Leader, Economy, Strategy & Finance, The Conference Board
Steve Rochlin, Founder and CEO, Impact ROI and Program Director, The Conference Board
Paul Washington, Executive Director, Environmental, Social & Governance Center, The Conference Board
VIEW THE LATEST AGENDA
Enter code 3BLVIP to receive $500 off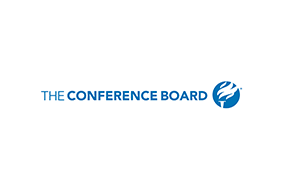 The Conference Board
The Conference Board
The Conference Board is the member-driven think tank that delivers trusted insights for what's ahead. Founded in 1916, we are a non-partisan, not-for-profit entity holding 501 (c) (3) tax-exempt status in the United States. www.conference-board.org
More from The Conference Board