Published 05-04-23
Submitted by Forum for the Future
LONDON, May 4, 2023 /CSRwire/ - International sustainability non-profit Forum for the Future has today announced that its Founder Director, Jonathon Porritt, is stepping down after almost 30 years of service.
Alongside sustainability campaigner Sara Parkin and sustainable economics academic Paul Ekins, Jonathon Porritt founded Forum in 1994 (launching two years later in 1996), aiming to create a sustainable future by inspiring business leaders and policymakers to take action on environmental and social challenges.
Since then, Forum has grown into one of the world's leading sustainability organisations, with offices in the UK, US, India and Southeast Asia, and working with a wide range of businesses, governments, and civil society organisations to create solutions to the climate crisis, crashing biodiversity and social inequality.
Jonathon Porritt is recognised as one of the world's leading environmentalists and authors. His leaving follows 30 years of providing strategic advice to leading UK and international companies to deepen their understanding of today's converging environmental and social crises, and supporting them in developing solutions. He has convened and chaired leading advisory panels, as well as overseeing inquiries into controversial issues such as palm oil, aviation and bioenergy.
Commenting on stepping down from Forum, Jonathon Porritt said: "Thirty years on from co-founding Forum for the Future, our work (along with many others who've got involved in the world of corporate sustainability since 1996) has demonstrated the incredible potential of business and civil society joining forces to accelerate the solutions we need to today's converging environmental and social crises. It's been an astonishing privilege for me to work through the Forum with so many wonderful colleagues and Partners in pursuing that solutions agenda. The fact that the world today, unfortunately, is still in a wretched place is primarily down to an almost complete lack of political leadership throughout that time, and that's a massive challenge we all need to confront."
Dr Sally Uren, Forum's Chief Executive, said: "I am extremely grateful to Jonathon for his vision and leadership over the years. He has been a tireless advocate for sustainability, and his work has inspired countless individuals and organisations to take action. Moreso, he has been an invaluable mentor to me and many others in the sustainability movement. Jonathon's willingness to ask tough questions and challenge shortfalls have been instrumental in ensuring difficult but critical conversations are had on where we need to focus going forwards. We look forward to building on his legacy as we strive for a just and regenerative future."
Rita Clifton, Forum's Chair of the Board of Trustees, said: "Jonathon's contributions to the sustainability movement have been immeasurable and I want to thank him for his tireless efforts and friendship. In 1994, he, Sara and Paul had an idea to create something that was then almost unheard of: an independent sustainability non-profit working not against, but with businesses to tackle the defining challenges of our time. Almost 30 years later, enabling business as a force for good, and working with all stakeholders, remains central to our mission."
Jonathon Porritt will next be focusing on campaigning activities with the Green Party, anti-nuclear organisations, electoral reform, population and family planning, supporting young climate campaigners, and continuing work with corporate sustainability partners.
- ENDS -
For media enquiries, please email:
Amy Langridge
Head, Marketing and Communications
a.langridge@forumforthefuture.org
Tanya Grueneberger
Digital & PR Executive
t.grueneberger@forumforthefuture.org
About Jonathon Porritt
Jonathon Porritt is one of the world's leading environmentalists and sustainability advocates. He has been instrumental in driving forward the sustainability agenda, working with businesses, governments, and civil society to create a more sustainable future. In addition to his work as Founder Director of Forum for the Future, Jonathan Porritt has also served as Chair of the UK Sustainable Development Commission, and as a co-founder of the Prince of Wales's Business and Sustainability Programme. He has authored numerous books on sustainability, including his most recent publication, "Hope in Hell: A Decade to Confront the Climate Emergency". Porritt has been recognised for his work with numerous awards and honours, including a CBE for services to environmental protection.
About Forum for the Future
Forum for the Future is a leading international sustainability non-profit. For more than 25 years we've been working in partnership with business, governments and civil society to accelerate the shift towards a just and regenerative future in which both people and the planet thrive. As our environmental, social and economic crises intensify, the world is rapidly changing, with multiple transitions already reshaping how we all live and work. But will we go far enough, and fast enough?
Forum is focused on enabling deep transformation in three game-changing areas: how we think about, produce, consume and value both food and energy, and the purpose of business in society and the economy.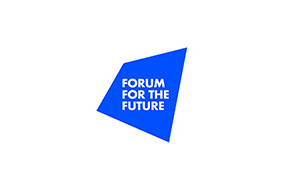 Forum for the Future
Forum for the Future
Forum for the Future is a leading international sustainability non-profit. For 25 years we've been working in partnership with business, governments and civil society to accelerate the transformation toward a just and regenerative future. 

We use our systems change and futures expertise to help tackle critical global challenges: the climate emergency, transforming our food and farming systems, and ensuring supply chains are more resilient and more equitable. We also enable long-term, transformative change by equipping individuals and organisations to act more systemically. Find out more at https://www.forumforthefuture.org/
More from Forum for the Future