Published 04-25-23
Submitted by Yum China
As China's largest restaurant company, Yum China is committed to offering delicious and nutritious food to its customers as well as promoting a balanced and healthy diet. Adopting the Chinese Dietary Guidelines (2022), which offer a series of dietary guidelines for Chinese residents, the company revised its Nutrition and Health Policy and issued its commitments to further drive the company's nutrition and health endeavors.
The Nutrition and Health policy focuses on encouraging balanced diets through ongoing product innovation, providing a range of products to cater to difference preferences, promoting a healthy lifestyle and raising public awareness of nutrition and health, and supporting scientific research and improving innovation. A notable trend, responding to the increasing customer demand for plant-based products, has been the company's launch of a range of plant-based foods and beverages across its brands, such as vegetarian meat-stuffed rice balls, natural fruit juice and pulp-based fruit teas, among other products.
Underpinning the company's nutrition and health efforts are commitments to caring about the health of the next generation, the balanced diet of customers, and nutrition and health improvement. Meaningful progress towards these commitments has been made in recent years. In 2022, 100% of KFC, Pizza Hut and Taco Bell Kids Meals met the Chinese Nutrition Society's (CNS) Nutrition Guidelines for Meals Offered by the Restaurant Industry to School-Age Children. In addition, 100% of KFC, Pizza Hut and Taco Bell Light Meals met the Guidelines for Design of Nutritional Light Meals issued by the China Cuisine Association (CCA), while all products are free of trans fat originating from hydrogenated/ partially hydrogenated oils. The company also has stated goals of 700+ tons of salt reduction in French fries, ketchup, and frozen cheese by 2030 from a 2020 base year, as well as 4,500+ tons of total sugar reduction by 2030 from a 2020 base year.
To learn more about Yum China's ESG efforts, please visit its website: http://www.yumchina.com/respIndex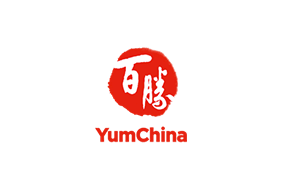 Yum China
Yum China
About Yum China Holdings, Inc.
Yum China Holdings, Inc. is a licensee of Yum! Brands in mainland China. It has exclusive rights in mainland China to KFC, China's leading quick-service restaurant brand, Pizza Hut, the leading casual dining restaurant brand in China, and Taco Bell, a California-based restaurant chain serving innovative Mexican-inspired food. Yum China also owns the Little Sheep, Huang Ji Huang, East Dawning and COFFii & JOY concepts outright. In addition, Yum China has partnered with Lavazza to explore and develop the Lavazza coffee shop concept in China. The Company had over 12,000 restaurants in over 1,700 cities at the end of February 2022.
In 2021, Yum China ranked # 363 on the Fortune 500 list and was named to TIME100 Most Influential Companies list. Yum China has also been selected as member of both Dow Jones Sustainability Indices (DJSI): World Index and Emerging Market Index. In 2022, the Company was named to the Bloomberg Gender-Equality Index and was certified as a Top Employer 2022 in China by the Top Employers Institute, both for the fourth consecutive year. For more information, please visit http://ir.yumchina.com.
More from Yum China