Published 04-24-23
Submitted by Bloomberg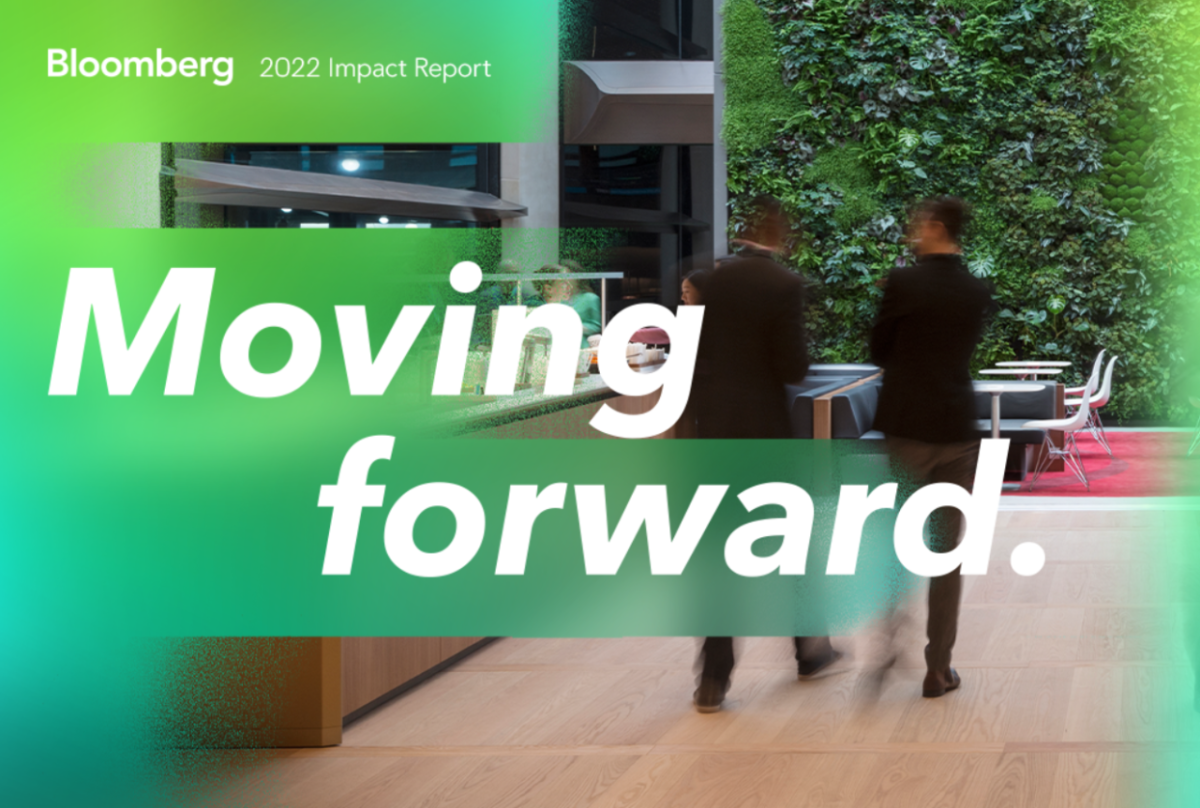 Originally published on bloomberg.com
NEW YORK, April 24, 2023 /CSRwire/ - Bloomberg LP today published its 2022 Impact Report, which outlines how the company continues to address climate change through its operations and products, philanthropy and collaborations with partners and industry peers. The report also provides details on how Bloomberg continues to invest in an increasingly diverse workforce, and drives change on critical social issues.
The report highlights Bloomberg's efforts to build significant momentum in the lead up to the UN climate change conference (COP27) and how the company, along with Bloomberg Philanthropies, are leading industry initiatives to transition the global economy to net zero and bring transparency to climate risk data. This in turn helps markets to better understand how climate can impact businesses and economies.
"The world is in transition, moving away from a past powered and polluted by fossil fuels and heading towards a future that runs on clean and renewable energy," said Michael R. Bloomberg, founder of Bloomberg LP and Bloomberg Philanthropies. "We aren't nearly as far along as we should be in order to avoid the worst harms of climate change. But the right tools and support can help companies and policymakers pick up the pace – and at Bloomberg, we're working harder than ever to provide them."
Some highlights from the 2022 Impact Report include:
Environmental Impact
Reducing emissions in line with a 1.5°C future
Bloomberg has progressed towards its validated near-term science-based targets for 2030 which are in line with required global emissions reductions necessary to limit global temperature rise to 1.5 degrees Celsius. This includes a 38% reduction in Scope 1 and 2 emissions (target: 80%) and a 36% reduction in Scope 3 emissions (target: 30%) from a 2018 baseline.
In 2022, Bloomberg's 2.55MW solar project expansion went live at the Princeton office, with solar energy now providing 100% of the electricity needed for the two buildings on site. Overall, nearly 55% of Bloomberg's global electricity consumption is sourced from renewable energy projects, with an additional 13% of global electricity sourced from renewable certificates.
The Science Based Targets initiative (SBTi) has validated Bloomberg's overall science-based net-zero target by 2040 from a 2018 base year, which includes long-term absolute emissions reduction targets of 90% across our global Scope 1, 2 and 3 emissions.
Supporting coherent, impactful climate action
Bloomberg expanded and enhanced its Sustainable Finance products that help investors and companies better evaluate assets and assess environmental performance, including expanding its proprietary Environmental, Social & Governance (ESG) Scores to cover 5,500 companies across all sectors.
Bloomberg launched several new indices within the Bloomberg Climate Index family, including Bloomberg Paris Aligned Indices, which deliver investors the tools and insight they need to measure and align their investment strategy with the Paris Climate Agreement's decarbonization targets.
Bloomberg launched new tools for analyzing climate risk, including the Net Zero Pathway screen on the Bloomberg Terminal (ESG NETZ<GO>), which enables users to keep tabs on the company's emissions reductions pledges and progress towards net-zero targets, and Implied Temperature Rise Metrics, which provide investors with comparable measures for assessing how companies and investment and loan portfolios align with climate goals.
BloombergNEF published more than 2,500 research publications on the global low-carbon transition and commodity markets in 2022.
Bloomberg's News and Media divisions published extensive content on climate and ESG across multiple channels. In 2022, our readership across ESG stories increased 93%.
Bloomberg continued to strengthen access to climate-related information through the Task Force on Climate-related Financial Disclosure (TCFD) and the Climate Data Steering Committee (CDSC). The TCFD framework now serves as a foundation for climate reporting standards being developed by countries and standards-setters around the world. French President Emmanuel Macron and Michael Bloomberg created the CDSC in June 2022, with a goal to build a broadly accessible foundation of high-quality climate data that is critical to delivering a net-zero economy.
Bloomberg continued to lead efforts to clear the way to a low-carbon economy through the Glasgow Financial Alliance for Net Zero (GFANZ) and the Climate Finance Leadership Initiative (CFLI). GFANZ, co-chaired by Mike Bloomberg, released tools to help companies and financial institutions develop and implement strategies for achieving net zero. CFLI, chaired by Mike Bloomberg, launched CFLI Colombia, its second Country Pilot initiative designed to mobilize climate finance tailored to the local market.
Social Impact
Investing in an increasingly diverse workforce
Bloomberg outlined its diversity and inclusion vision — inclusion of all, exclusion of none — and evolved our D&I mission: to build an inclusive and equitable culture for all of us, by all of us.
Bloomberg launched the Chairman's Challenge to encourage 900+ global managers to develop D&I-focused ideas to help increase inclusion and spur positive change in our business.
Bloomberg expanded its Diversity Sourcing team and collaborated with nearly 20 external organizations in 2022, including Management Leadership for Tomorrow, Project BASTA and ALPFA, to help us identify and hire candidates from underrepresented communities.
Through our Best of Bloomberg program, a record 18,382 employees from 111 cities participated in volunteering, giving and access programs during 2022, including 784 team projects hosted at the request of 60 departments across the company.
Driving change on critical social issues
Bloomberg's social and governance data, scores and insights help investors and companies evaluate assets and report on social performance. In 2022, the number of companies that submitted their data to Bloomberg via the Gender Equality Index Reporting Framework increased by 11%. The 2022 GEI features 484 companies from 54 industries headquartered in 45 countries and regions, representing a total market capitalization of $16 trillion.
Bloomberg employees facilitated more than 38,600 mentoring interactions to help improve access to financial industry careers for historically underrepresented groups. This included hosting the Bloomberg ESG Trading Challenge at five Historically Black Colleges and Universities (HBCUs) in the U.S. and offering the new Bloomberg for Education ESG Certificate course, where participants earned a credential to add to their resumes and LinkedIn profiles.
Our Open Source Program Office (OSPO) in Bloomberg's Office of the CTO and Corporate Philanthropy launched the Bloomberg FOSS Contributor Fund, a framework designed to put sponsorship decisions of free and open source software (FOSS) projects into the hands of Bloomberg employees who are active within the open source community.
Bloomberg's New Voices initiative–developed to increase the representation of women and minority executives as sources in both online and on-air content–brought media training to 13 global cities and increased the representation of women and minority executives as sources in both online and on-air content. Since 2018, the program has more than tripled the percentage of external female guests on Bloomberg Television and helped Bloomberg grow its global database of women sources from 500 to 8,400+ names.
Nearly 15,000 employees participated in volunteer work in their communities, including offering financial assistance, sharing pro bono expertise and creating care packages for vulnerable neighbors and those in need of disaster relief.
The Impact Report is third-party verified, and is in accordance with the CDP climate change questionnaire, as well as the GRI (Global Reporting Initiative) and SASB (Sustainability Accounting Standards Board) frameworks, and the recommendations of the Task Force on Climate-related Financial Disclosures (TCFD). The 2022 Impact Report can be viewed and downloaded at www.bloomberg.com/impact, along with the GRI Content Index, SASB Disclosures, and TCFD supplement.
About Bloomberg
Bloomberg is a global leader in business and financial information, delivering trusted data, news, and insights that bring transparency, efficiency, and fairness to markets. The company helps connect influential communities across the global financial ecosystem via reliable technology solutions that enable our customers to make more informed decisions and foster better collaboration. For more information, visit Bloomberg.com/company or request a demo.
Media Contacts
Erin Barnes 
+1-212-617-0697 
ebarnes9@bloomberg.net
Ty Trippet 
+ 1 212-617-2443 
ttrippett@bloomberg.net

Bloomberg
Bloomberg
Bloomberg delivers business and markets news, data, analysis, and video to the world, featuring stories from Businessweek and Bloomberg News.
More from Bloomberg