Published 04-20-23
Submitted by Henkel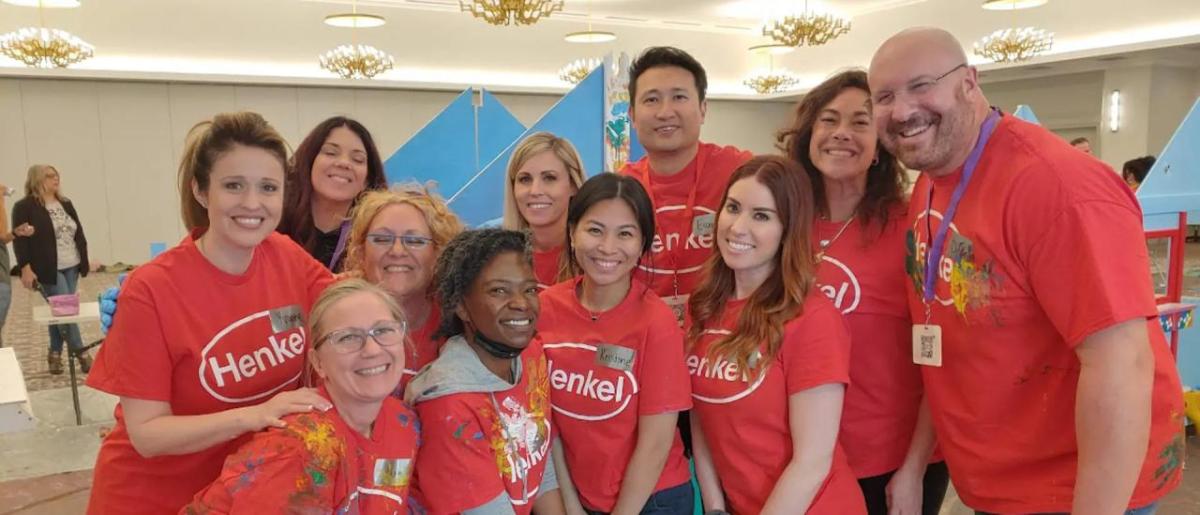 When it comes to teambuilding and giving back to their communities, our Henkel employees don't play around.
As they planned to gather in person for an "All-in" employee meeting, several teams within the Hair Professional Business of Henkel Consumer Brands, knew they wanted to help improve life in the San Diego community where their meeting would be held.
"We try to build volunteerism into the framework of these all-employee meetings so we can pour back some positive energy into our communities," says Alicia Williams, who led the efforts to organize the volunteer activity.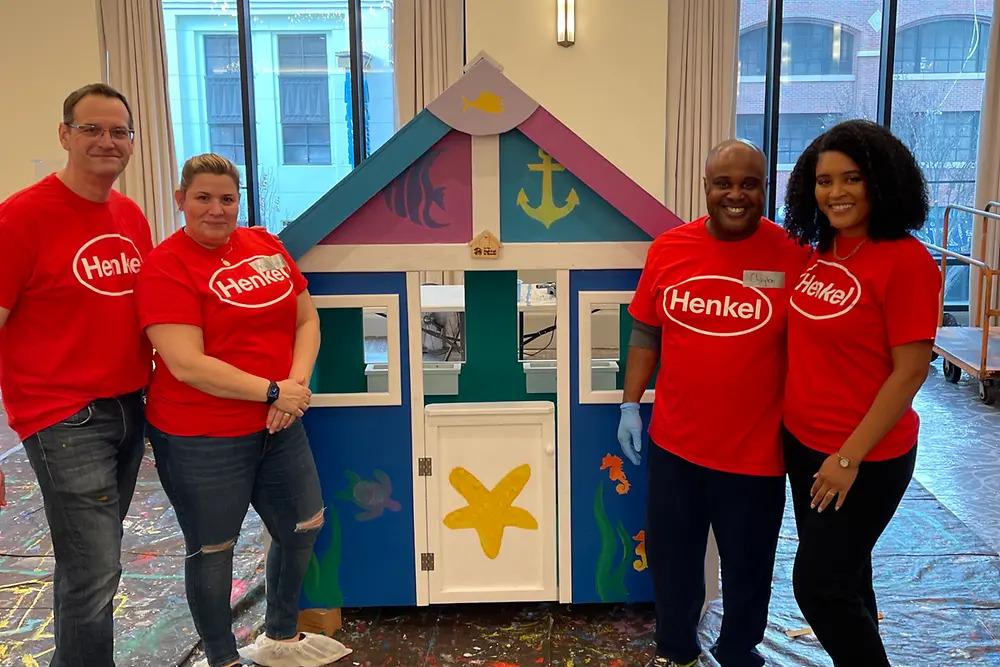 Where Purpose Meets Play
Alicia worked closely with Angela Curley, Henkel's Senior Manager of Corporate Citizenship and DEI, Camille Coward, Senior Manager of Brand Experience & Events, and San Diego Habitat for Humanity to arrange a volunteer opportunity for approximately 75 employees that would build teamwork — and playhouses with pizzazz.
Through San Diego Habitat's playhouse program, groups who want to give back construct and decorate durable playhouses, each measuring 4x5x6'. Habitat then offers the playhouses to low-income families through partnerships with several local charities, military groups, foster networks, and the Habitat ReStore.
"These playhouses offer children a special place of their own where they can let their imaginations run free," notes Linnea Lagerstrom, Corporate Partnerships Manager for San Diego Habitat for Humanity. "In turn, the funds raised through the playhouse program ensure that Habitat can continue to build and repair more affordable homes throughout the region."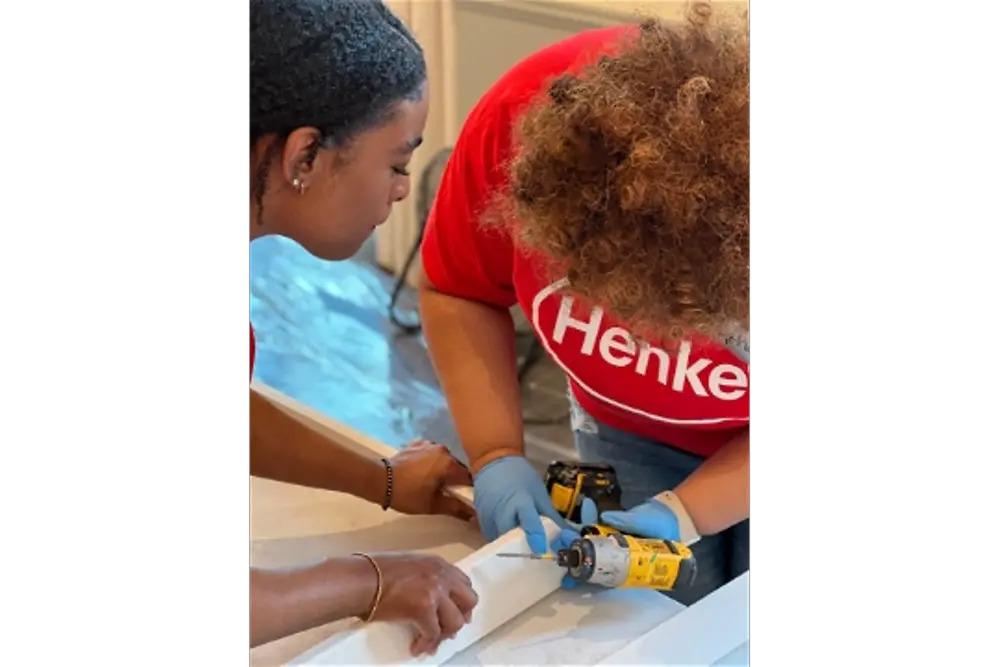 Good Will & Good Times
With severe weather forecasted for the build day, Camille Coward arranged a last-minute pivot to an indoor location: a carefully protected hotel conference room. Employees gathered in seven teams to build and decorate seven playhouses. Volunteers from Habitat for Humanity were on hand to guide the day's activities.
Over a three-hour period, the playhouses began to take shape. After construction, each house was decorated in keeping with a playful theme — from dinosaurs and sea creatures to castles and clouds. Considering that these Henkel volunteers work in the beauty industry, it is no surprise that they produced some show-stopping playhouses that are sure to be the envy of the neighborhood.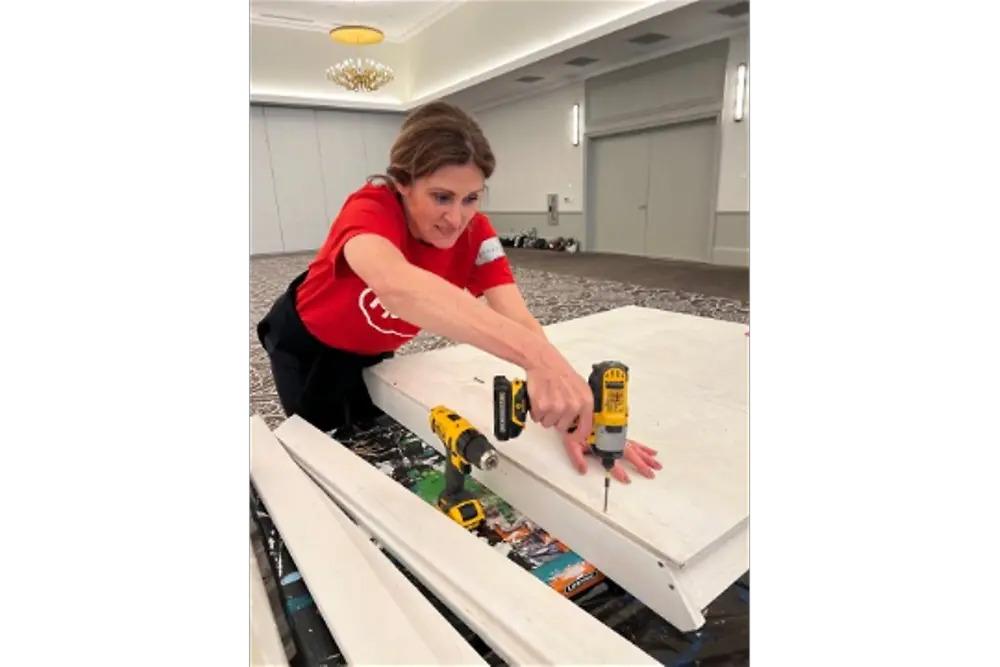 "The designs brought all of the playhouses to life, and everybody really got into it. One team was absolutely covered in paint," says Williams. "Lots of laughs were shared, and that was probably the best part of the experience."
Each family had their brand-new playhouse delivered right to their home after the build.
"For some families, the playhouse is a surprise for their children and for others, they're anxiously waiting for the playhouse to arrive," says Lagerstrom. "All the families were so grateful to receive their playhouse, and the kids are loving them!"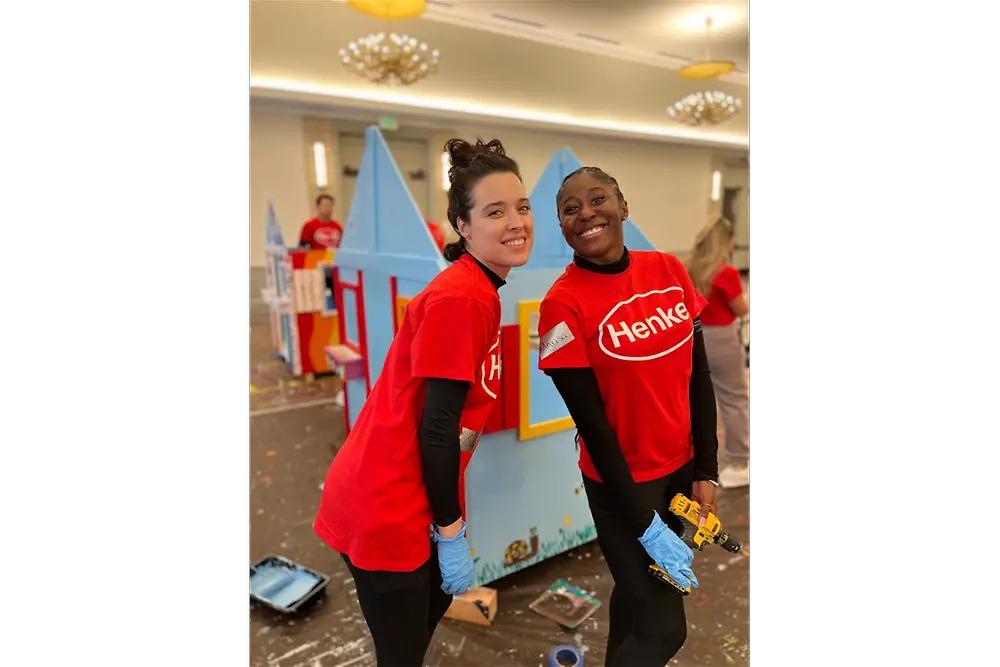 Henkel & Habitat
Henkel employees are united by their desire to help others. Henkel is there to support them. The playhouse build was no exception.
Through the Make an Impact on Tomorrow (MIT) program, Henkel provided a grant to cover the costs of materials for the playhouses and funds to support Habitat for Humanity's mission.
Celebrating its 25th year in 2023, the MIT program provides financial and other resources to support the causes closest to our employees' hearts.
"Henkel and its employees are committed to creating positive change to help make society "future-fit". The MIT program is a grassroots effort that helps us connect with communities in meaningful, sustainable ways," says Angela Curley. "Habitat is one of those causes MIT supports year after year because we can see the impact of their mission to provide safe and affordable housing."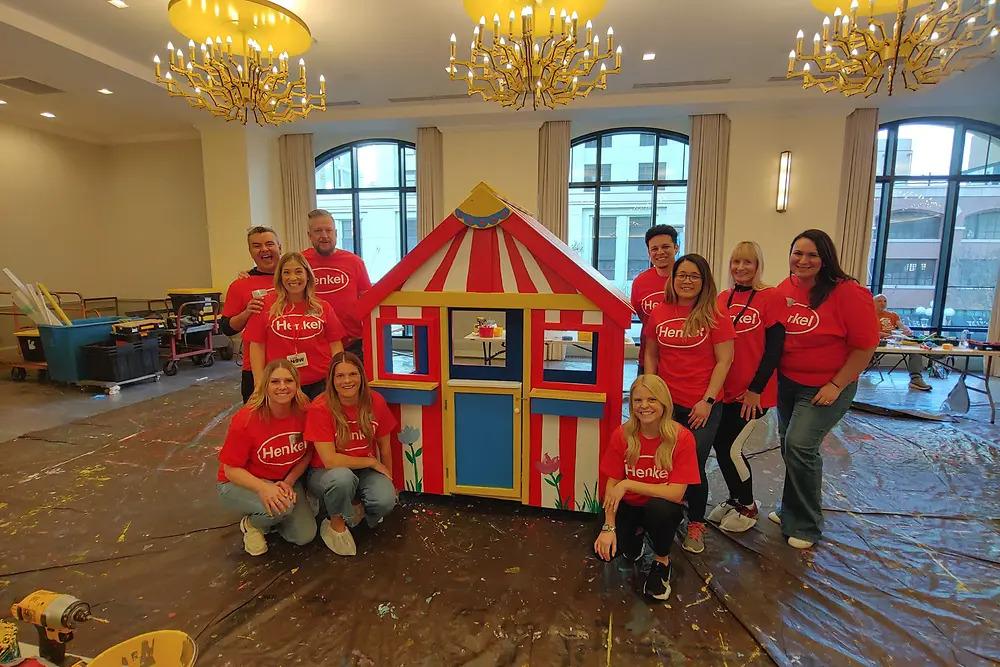 "We are so grateful for Henkel's active support of our mission to ensure that everyone has a safe, decent, and affordable place to call home," says Lagerstrom. "We particularly appreciate collaborations like this where people from all over come to San Diego, not just for the lovely weather, but also to give back to the community they are visiting."
Our volunteers walked away filled with team spirit — and the joy of knowing that happy memories will be made in those playhouses for years to come.
"Some of us are still new to the Henkel team. It was a great feeling to connect with each other and to give back," says Williams. "It was very meaningful to see how just a few hours of our time is going to provide endless possibilities for kids to play in their backyard and let their imaginations shine."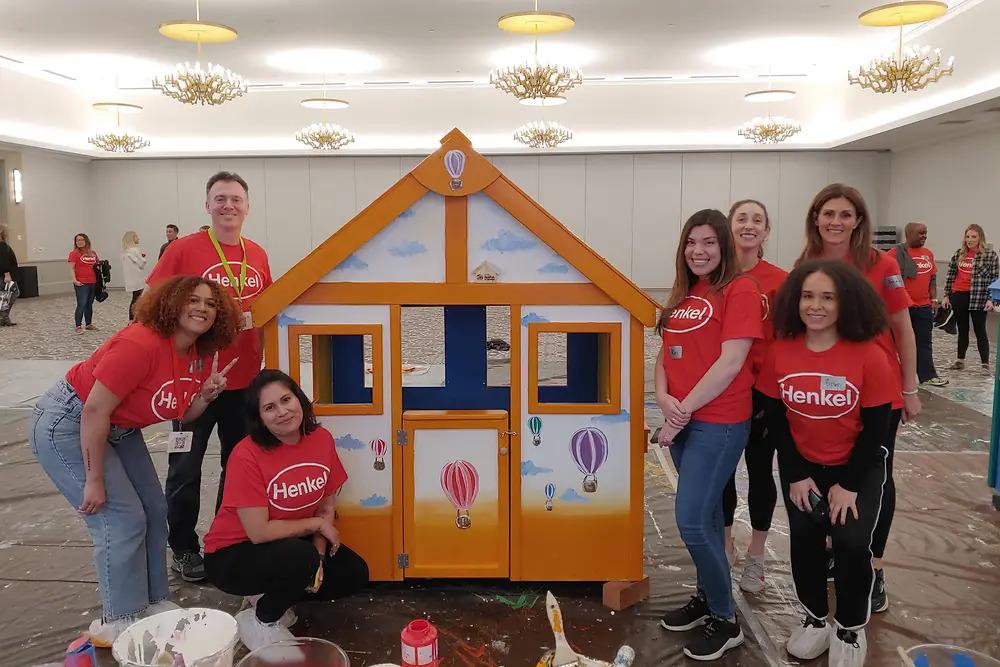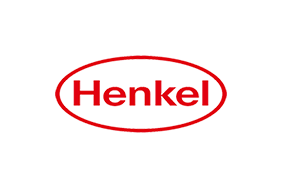 Henkel
Henkel
About Henkel in North America
In North America, Henkel operates across its three business units: Adhesive Technologies, Beauty Care, and Laundry & Home Care. Its portfolio of well-known consumer and industrial brands includes Schwarzkopf® hair care, Dial® soaps, Right Guard® antiperspirants, Persil®, Purex®, and all® laundry detergents, Snuggle® fabric softeners as well as Loctite®, Technomelt® and Bonderite® adhesives. With sales of around 6 billion US dollars (5 billion euros) in 2019, North America accounts for 26 percent of the company's global sales. Henkel employs approximately 9,000 people across the U.S., Canada and Puerto Rico. For more information, please visit www.henkel-northamerica.com, and on Twitter @Henkel_NA.
About Henkel
Henkel operates globally with a well-balanced and diversified portfolio. The company holds leading positions with its three business units in both industrial and consumer businesses thanks to strong brands, innovations and technologies. Henkel Adhesive Technologies is the global leader in the adhesives market – across all industry segments worldwide. In its Laundry & Home Care and Beauty Care businesses, Henkel holds leading positions in many markets and categories around the world. Founded in 1876, Henkel looks back on more than 140 years of success. In 2019, Henkel reported sales of more than 20 billion euros and adjusted operating profit of more than 3.2 billion euros. Henkel employs more than 52,000 people globally – a passionate and highly diverse team, united by a strong company culture, a common purpose to create sustainable value, and shared values. As a recognized leader in sustainability, Henkel holds top positions in many international indices and rankings. Henkel's preferred shares are listed in the German stock index DAX. For more information, please visit www.henkel.com.
More from Henkel