Published 04-19-23
Submitted by Acer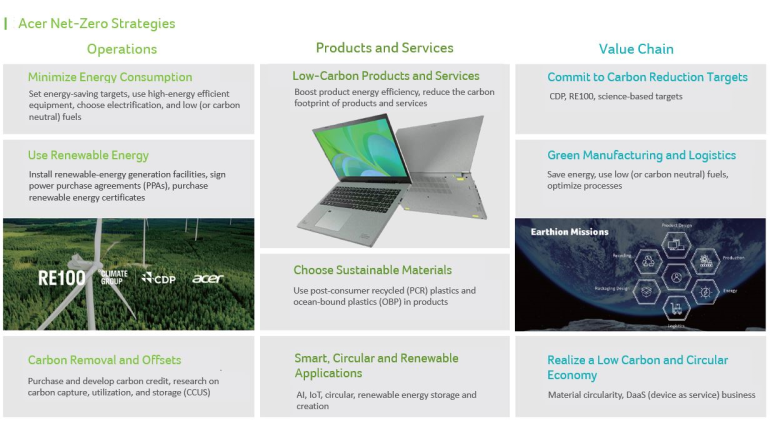 TAIPEI, April 19, 2023 /CSRwire/ - Acer Group has pledged to achieve net-zero carbon emissions by 2050 and announced its net-zero strategy outlining nine directions under three major pillars of operations, products and services, and value chain. The nine strategies are: minimize energy consumption; use renewable energy; carbon removal and offsets; low-carbon products and services; choose sustainable materials; smart, circular and renewable applications; commit to carbon reduction targets, green manufacturing and logistics; and realize low carbon and circular economies to reduce the overall carbon footprint.
Acer also signed a long-term corporate power purchase agreement (CPPA) on renewable energy with Energy Helper TCC Corp., a subsidiary of Taiwan Cement Corp., which will provide about 10 million kilowatt-hours of wind power annually, to gradually realize the goal of sourcing 100% renewable electricity by 2035 and move toward net-zero carbon emissions by 2050 for the Acer Group.
"In addition to Acer's commitment to reach net-zero," said Jason Chen, Chairman and CEO, Acer Inc., "we have gained global recognition for our transparent ESG reporting and actions with our Earthion sustainability mission. Next, our goals are to achieve carbon neutrality among our global operations, design low-carbon and smart products, and work with our supply-chain partners to bring sustainable changes, and ultimately move forward on our path to net-zero carbon emissions by 2050."
Acer's Net Zero Strategy
Since 2015, Acer has sourced more than 40% renewable electricity for eight consecutive years, achieved through building its own solar power generation sites and purchasing renewable energy certificates. Acer owns the largest solar power plant in northern Taiwan and has installed solar power generation equipment in the Netherlands, Germany, and Spain. In 2022, Acer signed a long-term renewable energy CPPA with Taiwan Cement Corp. to reach the phased goals of using 60% renewable electricity by 2025, sourcing 100% renewable electricity by 2035, and achieving net-zero carbon emissions by 2050.
In addition, aligned with the 1.5°C pathway, Acer expects to achieve the goal of cutting emissions by 50% compared to 2019 [1] by 2030. Since 2020, Acer has integrated the climate-related financial disclosure framework (TCFD) into its reporting to better manage climate-related risks and opportunities, strengthen the company's climate resilience, and through an internal carbon price mechanism, encourage various departments and global operations to actively take carbon reduction actions, develop energy-efficient products and services, and evaluate solutions such as introducing natural solutions and carbon negative technologies.
Low Eco-friendly Products that Respond to SDGs
The international trends in applying carbon taxes on trade, manufacturing emissions, and such, mean that products' carbon footprints may directly impact on their cost and competitiveness. Taking into consideration the concept of a circular economy, the life cycle of products, and innovations to reduce the environmental impacts, Acer seeks to strike a balance between product management and environmental performance.
In 2022, a carbon footprint tool was introduced to complete the carbon report of Acer's commercial business products and ChromeOS devices. A new Modern Standby power management mode was developed to reduce energy consumption of notebook computers by 39% and of desktop computers by 35%, compared with the base year of 2016. At the same time, Acer's eco-friendly Vero product line continued to increase the use of eco-friendly materials, such as post-consumer recycled (PCR) plastic and ocean-bound plastic (OBP), extending this use across other product lines to reduce carbon footprint, implementing tangible actions toward the goal of a circular economy.
Acer's subsidiaries have also launched various innovative products that incorporate the concept of sustainability, including: integrated smart parking meter with electric vehicle charging station that respond to the global net-zero policy of transportation electrification; the eKinekt bike desk that converts pedaling power to electricity to create a sustainable and healthy lifestyle; electric vehicles with the Xplova e-scooter and "ebii" ebike; enabling zero-carbon emission to be practiced in daily life and responding to United Nations Sustainable Development Goals (SDGs) including SDG 3 for good health and well-being, SDG 11 for sustainable cities and communities, and SDG 13 Climate Action.
Work with Supply Chain Partners to Speed Up the Net-zero Goal
As one of the world's top ICT companies, Acer seeks to amplify the positive impacts on the environment through united actions. Starting from its Project Humanity initiative in 2017, employees around the world were united to take eco-friendly actions, laying the foundation for the company to implement its net-zero carbon emission strategy. In 2021, Acer launched its Earthion program to extend the concept of carbon reduction to like-minded people and began working closely with suppliers and partners to take actions focusing on energy, product design, packaging design, production, logistics, and recycling to reduce the proportion of plastic materials used throughout the production process.
Acer aims to optimize communication with its supply chain partners through annual ESG communication meetings, ad hoc business meetings, CDP supplier training, and carbon management-related training courses. In addition, Acer's ESG scorecard management mechanism incorporates suppliers' greenhouse gas inventory, carbon management, carbon reduction actions, and renewable electricity usage into its procurement evaluation. This encourages suppliers to commit to net-zero carbon emissions, set reduction goals such as RE100 or SBT, and work toward the goal of net zero by 2050.
[1] Achieve scope 1 and 2 of carbon inventory.

Acer
Acer
Founded in 1976, Acer is one of the world's top ICT companies with a presence in more than 160 countries. As Acer evolves with the industry and changing lifestyles, it is focused on enabling a world where hardware, software and services will fuse with one another, creating ecosystems and opening up new possibilities for consumers and businesses alike. Acer's 7,500 employees are dedicated to the research, design, marketing, sale, and support of products and solutions that break barriers between people and technology. Please visit www.acer.com for more information.
More from Acer