Published 04-18-23
Submitted by The Home Depot
Originally published on Built From Scratch
For 30 years, Team Depot, The Home Depot's associate volunteer force, has been giving back to communities across the country. All year long, Home Depot associates volunteer their time and sweat equity to address the needs of local communities.
Led by captains across the nation, Team Depot associate volunteers work together to complete projects that have powerful and lasting impacts in their communities.
In observance of National Volunteer Week, we're highlighting four Team Depot captains who are passionately involved in giving back.
They share what Team Depot means to them.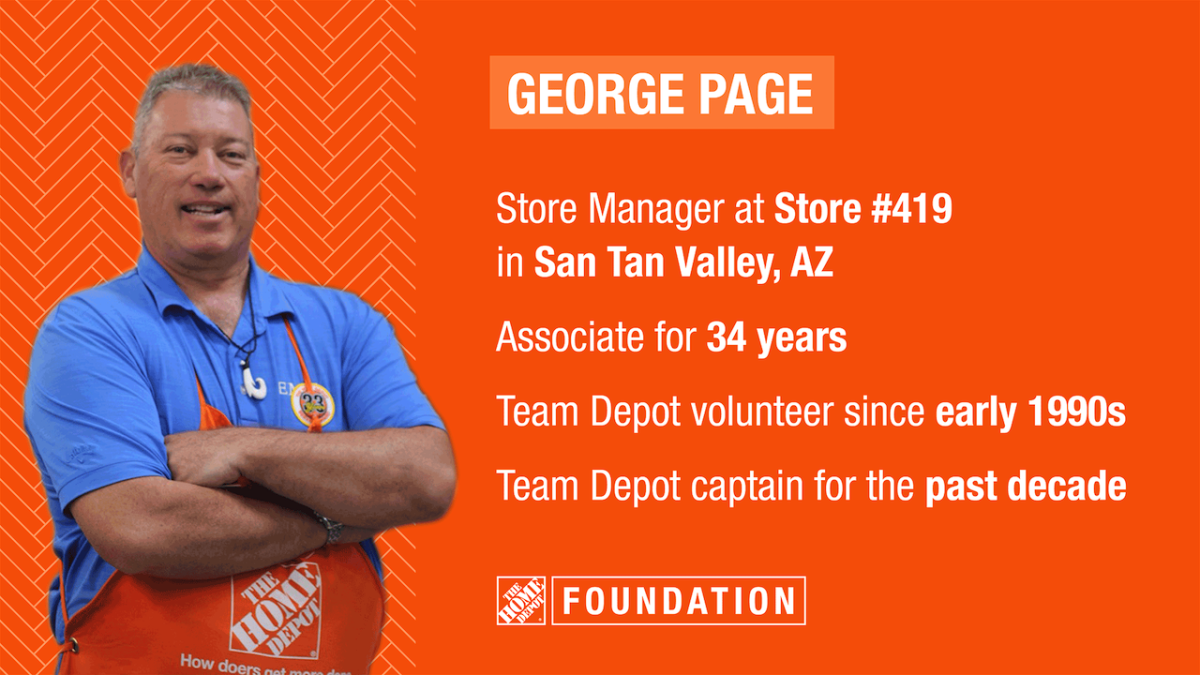 GEORGE PAGE 
Store Manager at Store #419 in San Tan Valley
AZ Associate for 34 years 
Team Depot volunteer since early 1990s 
Team Depot captain for the past decade
"I joined Team Depot to give back and align myself with the values of The Home Depot. It just feels good to give back and provide service to others. I have been lucky to be supported by district and regional teams that perform any and all tasks that need to be done, big or small!" 
GEORGE PAGE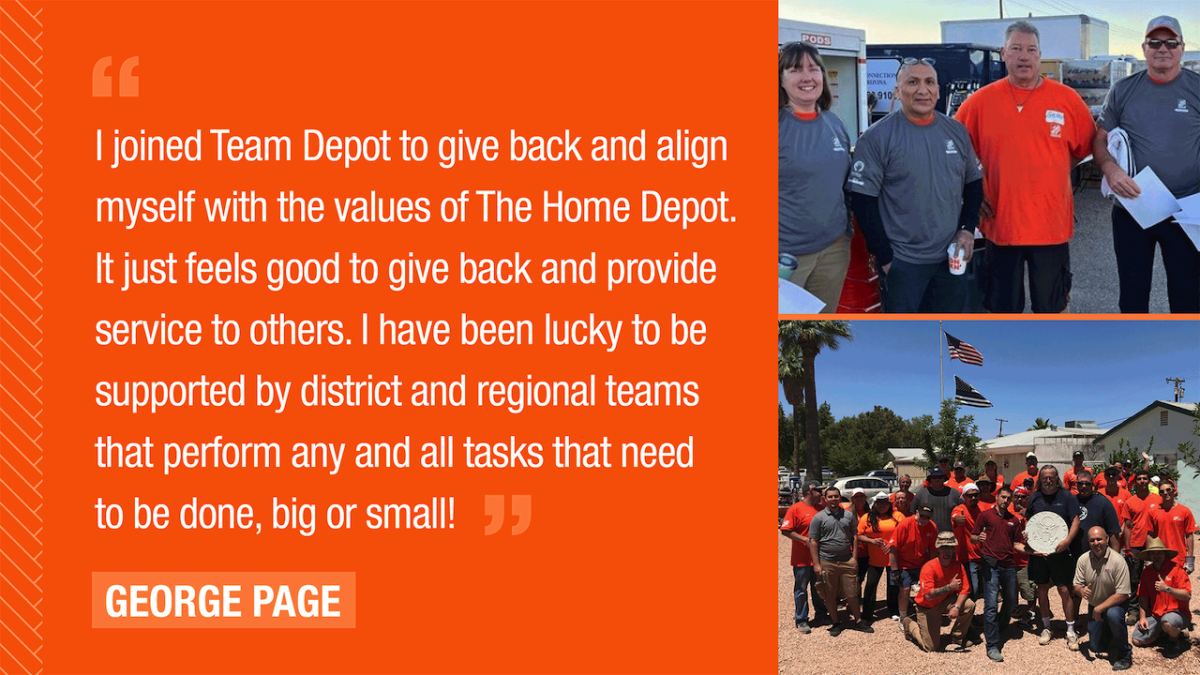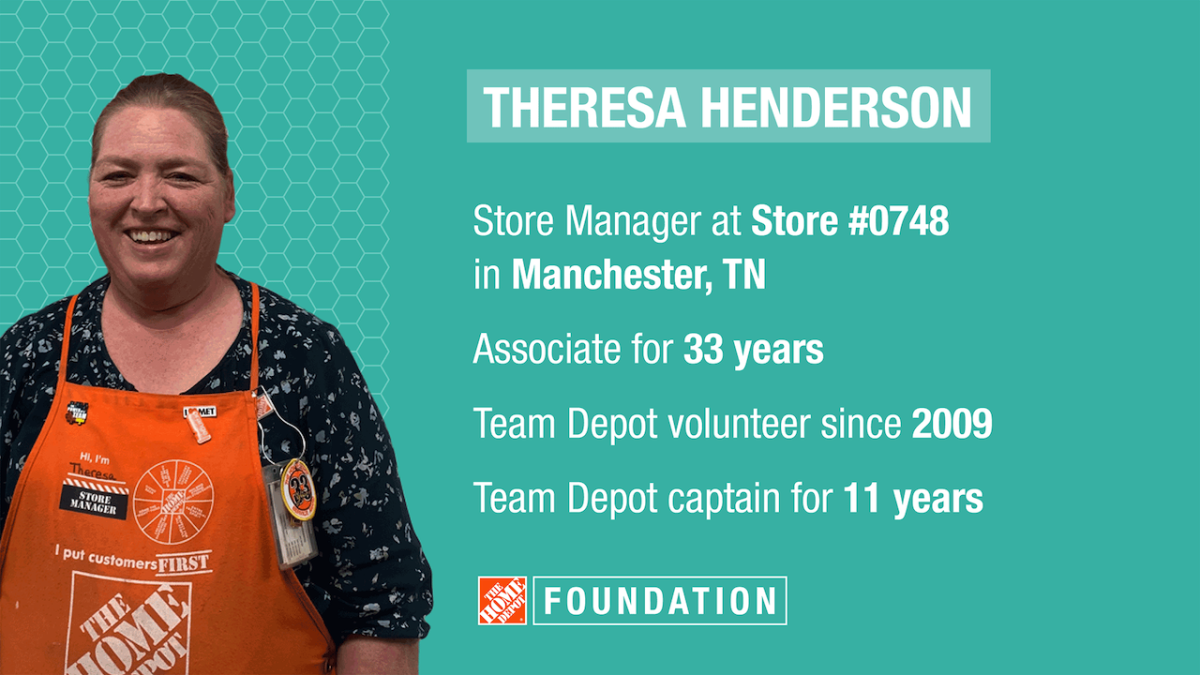 THERESA HENDERSON
Store Manager at Store #0748 in Manchester, TN
Associate for 33 years
Team Depot volunteer since 2009
Team Depot captain for 11 years
"The true spirit of The Home Depot lies within Team Depot. You get out of it what you put into it. If you have never been to an event, sign up for one and go. All you'll be giving is a little time and you will really make a difference."
THERESA HENDERSON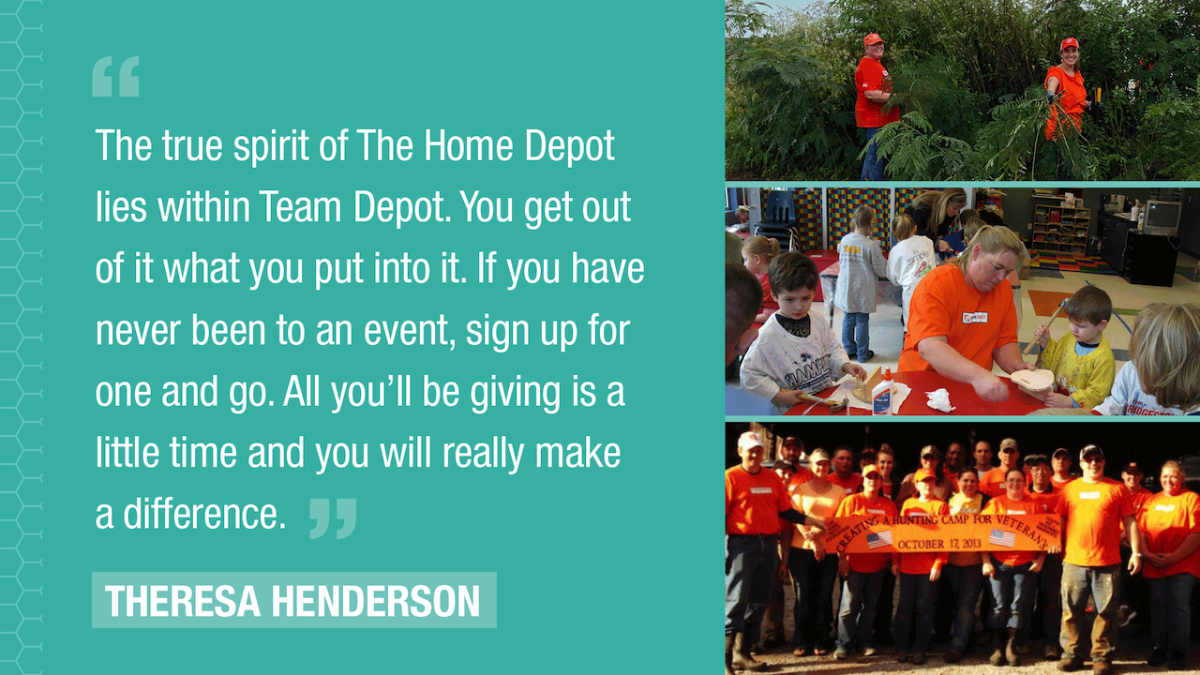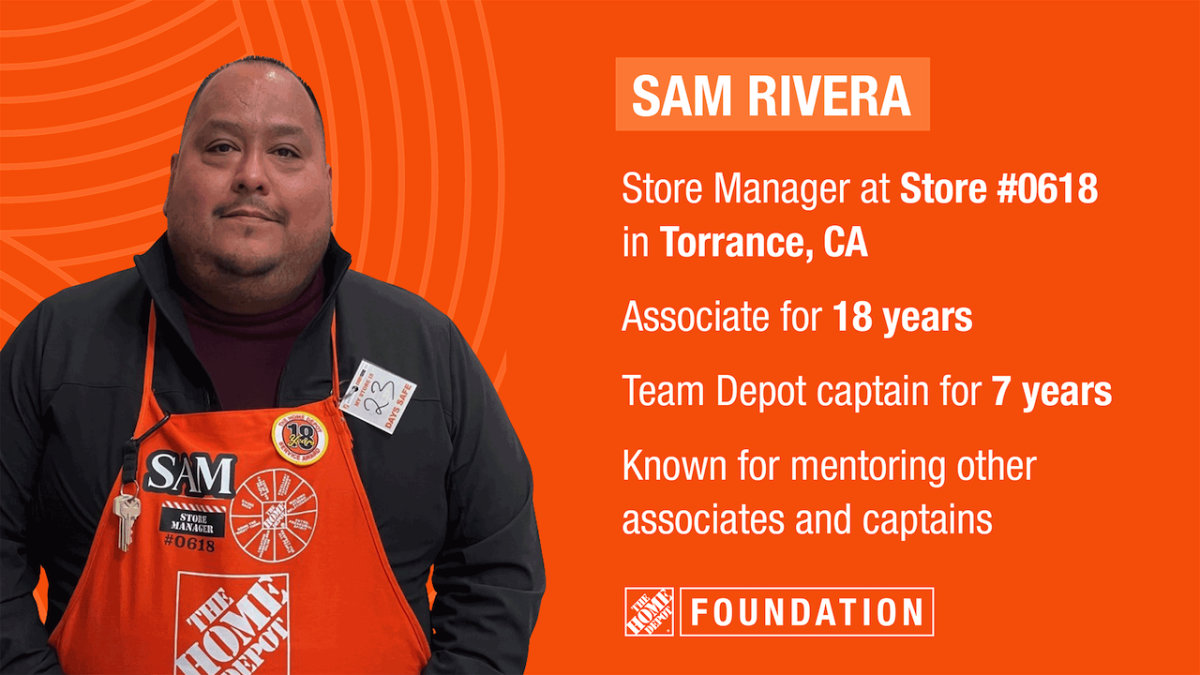 SAM RIVERA
Store Manager at Store #0618in Torrance, CA
Associate for 18 years
Team Depot captain for 7 years
Known for mentoring other associates and captains
"Team Depot has taught me the true meaning of giving in both my professional and personal life. It has been very special to see our captains plan and execute their own projects and make them special for not only the recipient, but all the associates involved as well."
SAM RIVERA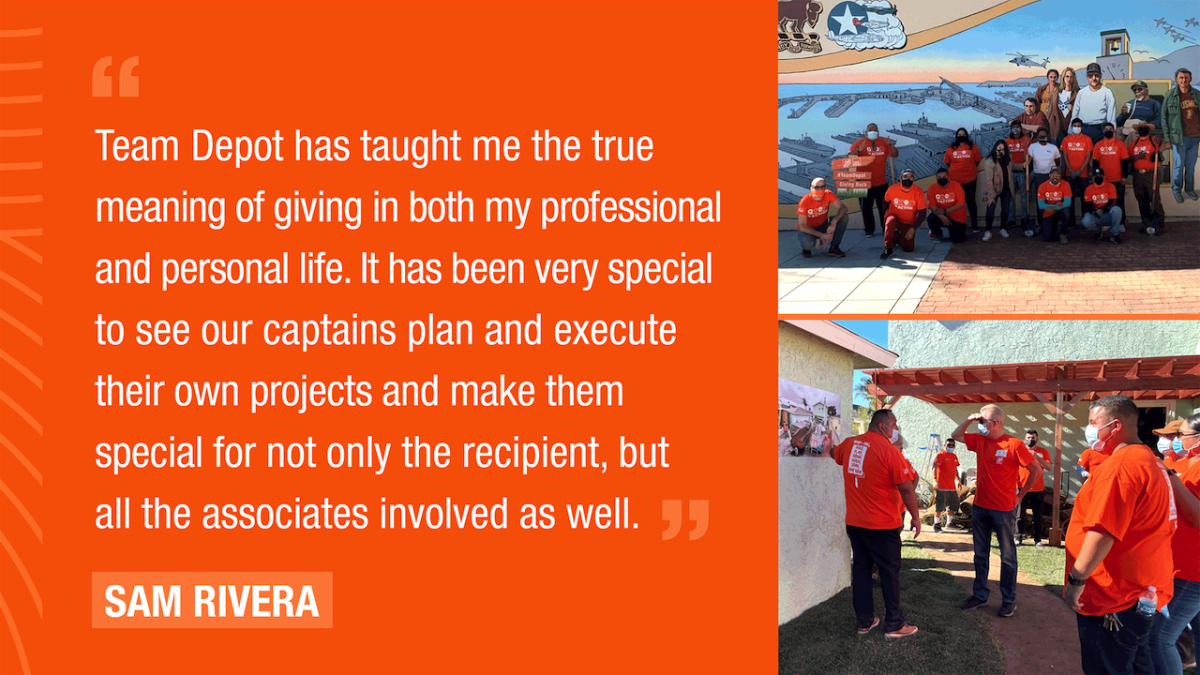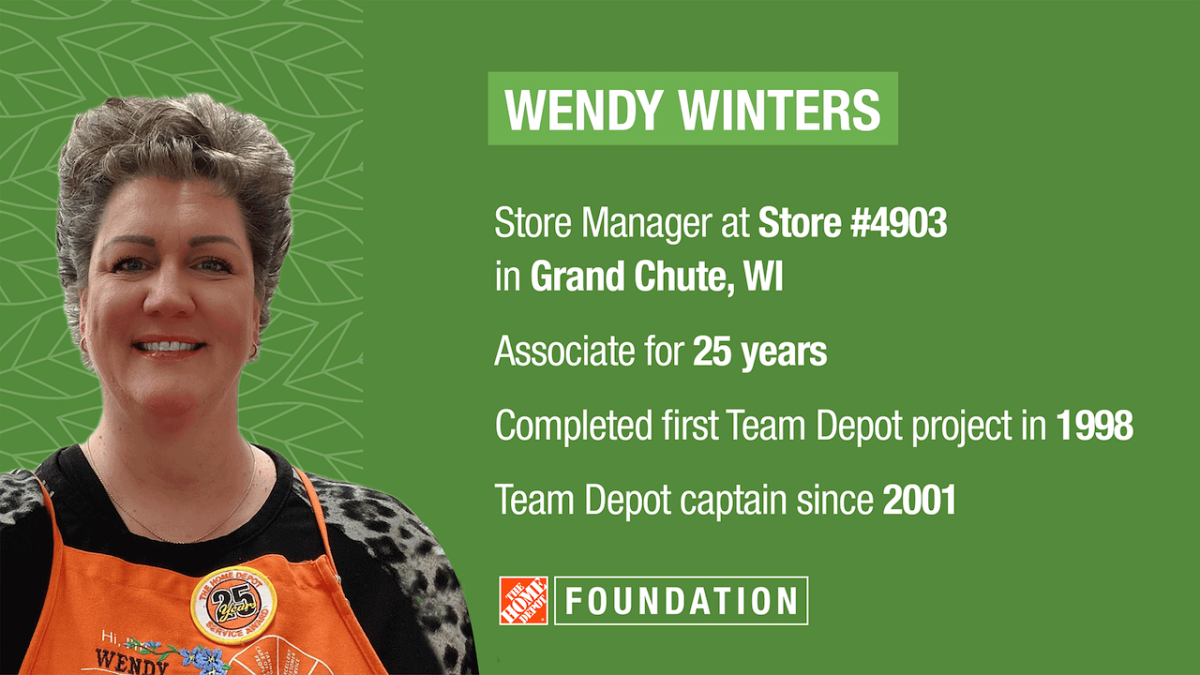 WENDY WINTERS
Store Manager at Store #4903 in Grand Chute, Wl
Associate for 25 years
Completed first Team Depot project in 1998
Team Depot captain since 2001
"I think Team Depot gives associates a sense of belonging, confidence and something they can feel proud of. We have so many types of projects available to you, and it is so much fun to give back to your community while enjoying time with your peers, outside of work."
WENDY WINTERS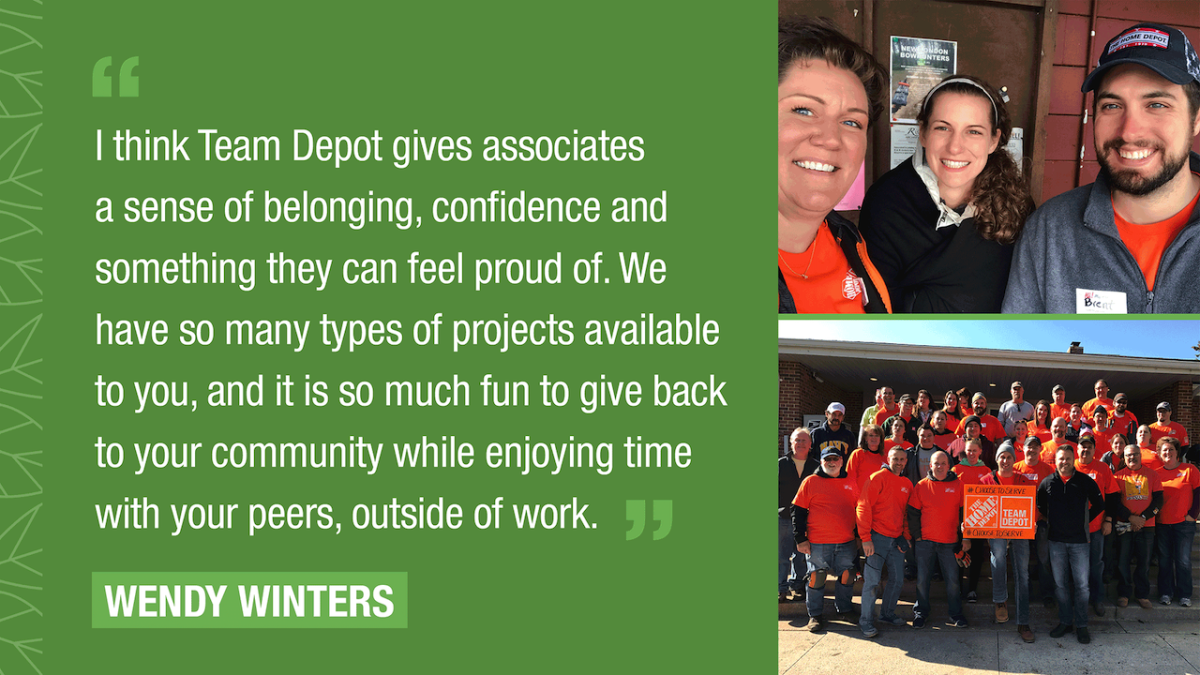 To learn more about Team Depot and The Home Depot Foundation, visit HomeDepotFoundation.org.
Keep up with all the latest Home Depot news! Subscribe to our bi-weekly news update and get the top Built from Scratch stories delivered straight to your inbox.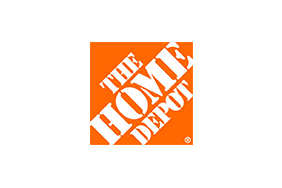 The Home Depot
The Home Depot
About The Home Depot
We are the world's largest home improvement specialty retailer with stores in all 50 states, the District of Columbia, Puerto Rico, U.S. Virgin Islands, 10 Canadian provinces, and Mexico.
More from The Home Depot