Published 04-17-23
Submitted by Yum China
Despite a very challenging year in 2022, Yum China remained profitable every quarter and expanded our store network, while continuing to make significant progress towards our Environmental, Social and Governance (ESG) goals. Throughout the pandemic, our commitment to our ESG priorities never wavered, and we stayed true to our purpose by supporting our employees, effectively serving our customers, and giving back to our communities.
We are committed to making continuous progress towards our ESG goals throughout our company. We have incorporated ESG as a key performance evaluation criterion for each leadership team member, as they are accountable for driving progress towards these goals. Beyond that, we are exploring opportunities to elevate the prominence of ESG throughout our organization by incorporating ESG metrics and results into our broader employee incentive program. This will encourage employees at every level to incorporate ESG priorities into their daily work.
In 2022, we made important progress in advancing our ESG agenda in the following ways:
We are actively executing on our plan to decarbonize our business. We have set near-term greenhouse gas (GHG) emissions reduction targets that have been approved by the Science Based Targets initiative (SBTi). This represents a major milestone on our journey towards achieving net-zero value chain GHG emissions by 2050. We are
committed to reducing GHG emissions by more than 60% by 2035 from a 2020 base year, and we have created a roadmap for achieving a low-carbon future. Our roadmap has three strategic enablers: energy efficiency improvement, renewable energy investment, and supplier engagement.
We are continuously exploring ways to optimize our operations by reducing our reliance on natural resources and increasing our waste recycling. In 2022, we undertook a number of circular economy initiatives: one focused on optimizing packaging and using sustainable packaging materials; another explored recycling and reusing waste as an input where feasible. We initiated a pilot project in Shanghai to fuel our vehicles with B5 biodiesel, a blend incorporating five percent biodiesel made from used cooking oil. We are the first restaurant company in China to recycle used cooking oil in this way. In addition, we have initiated a pilot program in 66 restaurants in Shanghai to recycle packaging waste generated in daily operations. We are actively exploring several new circular economy initiatives.
Food safety is our top priority at Yum China. We have made a substantial investment to build an industry-leading, intelligent, digitalized food safety and quality management system. Utilizing Artificial Intelligence (AI), Internet of Things (IoT), and real-time data collection and analysis, we have established rigorous control measures across the value chain. We also advocate for a balanced diet and healthy eating habits, offering our customers a wide range of nutritious choices. We offer delicious food and great value through product innovation: we launched more than 500 new and upgraded menu items in 2022, despite the disruption of the pandemic. We also released the Yum China Nutrition and Health Policy, highlighting our commitment to promoting balanced diets.
We adhered firmly to our 'People First' philosophy, prioritizing occupational health and safety. This commitment was especially important during the pandemic when we doubled down on our efforts to support our people. We provided job security during tough times by refraining from layoffs, increasing medical coverage for eligible staff and their families, and providing them with food and medical supplies during lockdowns. In 2022, we further upgraded our employee benefits plan and established the 'Yum China Employee Mutual Aid Fund' to offer financial assistance to employees in need.
I'm extremely proud of our employees' heroic efforts throughout the pandemic, especially during lockdowns. Our over 400,000 employees live and breathe our core value of 'Always Doing the Right Thing'. In 2022, our employees recorded over four million hours of volunteer time to support their local communities. Our flagship One Yuan Donation Program celebrated its 15th anniversary, through it we contribute to poverty alleviation and rural revitalization by improving the diet and nutrition of children in remote areas and enhancing their access to digital education. Over the past 15 years, we have continuously fine-tuned the program to increase its impact. We extended fundraising channels from our stores to our own online platforms such as KFC and Pizza Hut Super Apps, and we rolled out new fundraising initiatives like charity auction livestreams led by our executives.
While many uncertainties may lie ahead, I firmly believe that Yum China is uniquely positioned to thrive as a business – and as a responsible corporate citizen. We are grateful to everyone who has joined us on our ESG journey, and we will continue to foster a culture of creativity and collaboration as we work towards our ESG goals.
Joey Wat
Chief Executive Officer, Yum China Holdings, Inc.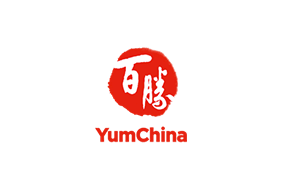 Yum China
Yum China
About Yum China Holdings, Inc.
Yum China Holdings, Inc. is a licensee of Yum! Brands in mainland China. It has exclusive rights in mainland China to KFC, China's leading quick-service restaurant brand, Pizza Hut, the leading casual dining restaurant brand in China, and Taco Bell, a California-based restaurant chain serving innovative Mexican-inspired food. Yum China also owns the Little Sheep, Huang Ji Huang, East Dawning and COFFii & JOY concepts outright. In addition, Yum China has partnered with Lavazza to explore and develop the Lavazza coffee shop concept in China. The Company had over 12,000 restaurants in over 1,700 cities at the end of February 2022.
In 2021, Yum China ranked # 363 on the Fortune 500 list and was named to TIME100 Most Influential Companies list. Yum China has also been selected as member of both Dow Jones Sustainability Indices (DJSI): World Index and Emerging Market Index. In 2022, the Company was named to the Bloomberg Gender-Equality Index and was certified as a Top Employer 2022 in China by the Top Employers Institute, both for the fourth consecutive year. For more information, please visit http://ir.yumchina.com.
More from Yum China