Published 04-17-23
Submitted by United Airlines
On April 5, 2023, United hosted the Los Angeles Cleantech Incubator (LACI) for a day-long event at Los Angeles International Airport (LAX), where eight startup companies participated in a "Shark Tank"-like format to pitch solutions for how United can more effectively charge and utilize electric Ground Service Equipment (eGSE).
The startups were specifically asked to present options to improve eGSE charging infrastructure.
As United works to electrify their entire GSE fleet, having the proper charging infrastructure in place will be critical. LAX is already ahead of the curve, and nearly 60% of United's GSE fleet is electric with charging stations at every gate.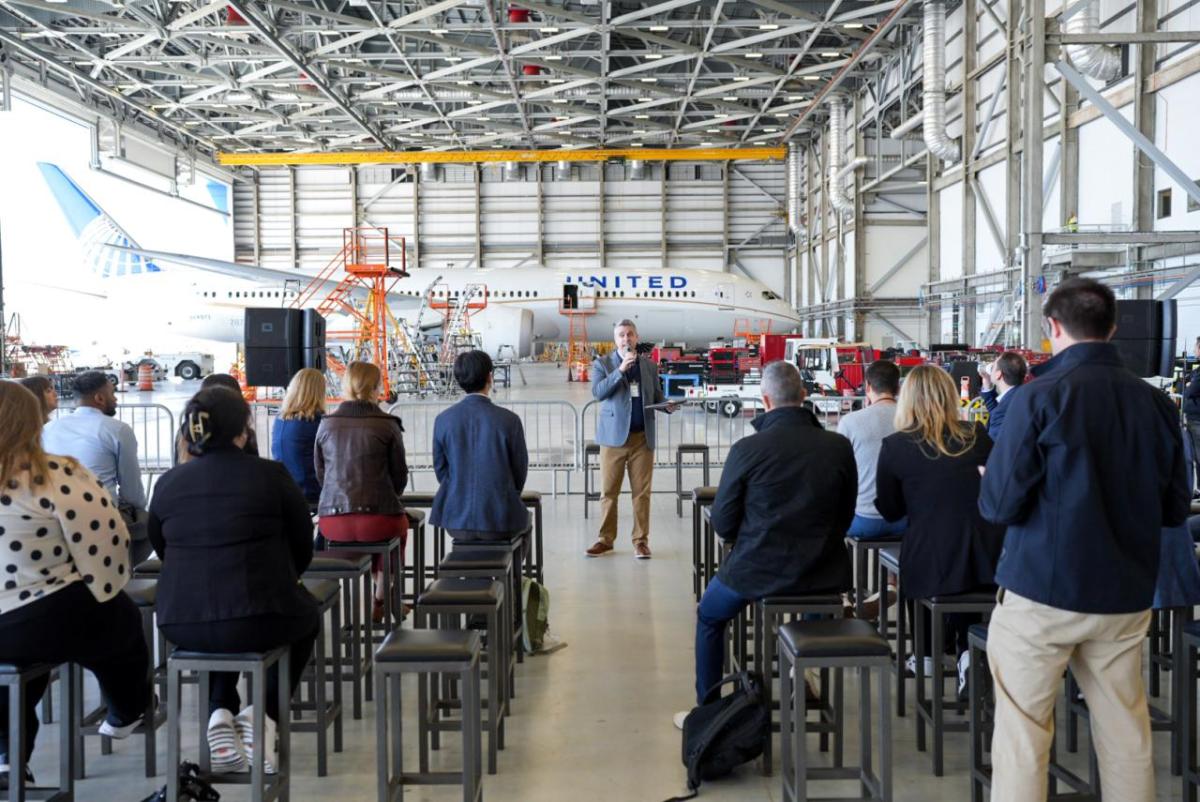 The charging solutions pitched highlighted ways to use existing proprietary equipment such as mobile battery and charging technologies to expand the range and efficiency of battery-powered eGSE. Following the pitches, LACI moderated a panel of United experts from Environmental Sustainability Director Betty Jurkowski, Global Procurement Senior Category Manager Brett Whitten, Project Manager John Solon and Strategic Analysis Lead Analyst Jon Nestor, devoted to "How to do Business with United."
To help give the startups a better idea of the power needs of the current fleet, members of United's GSE team gave brief overviews of pieces of electric equipment currently in use at LAX. Representatives from the startups had the opportunity to ask questions and see the equipment up close.
"The startups presented unique ideas for solving our eGSE challenges," said John. "We'll be following up with a number of them to explore ways United might implement their solutions."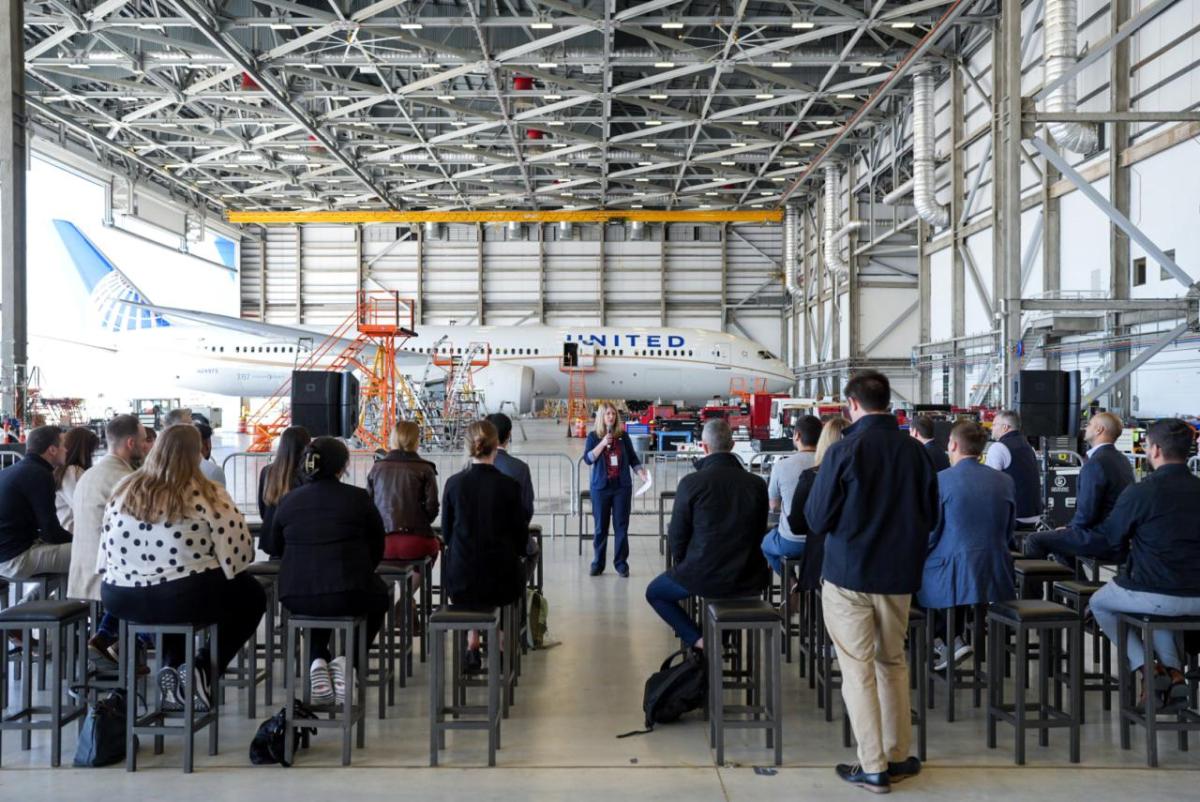 "A lot of these startups today don't think about — and don't have access to the airport space – so it's nice we can bring the startups to our hangar to walk through and see our equipment, talk to our technicians about their challenges and the startups can look at it in a way we haven't looked at from the airline's perspective," added Global Community Engagement Programs Senior Manager Aaron Stash.
LACI is creating an inclusive green economy for the people of Los Angeles by unlocking innovation and working with startups to accelerate the commercialization of clean technologies, transforming markets through partnerships with policymakers, innovators, and market leaders in transportation, energy and sustainable cities. The company is enhancing communities through workforce development, pilots and other programs.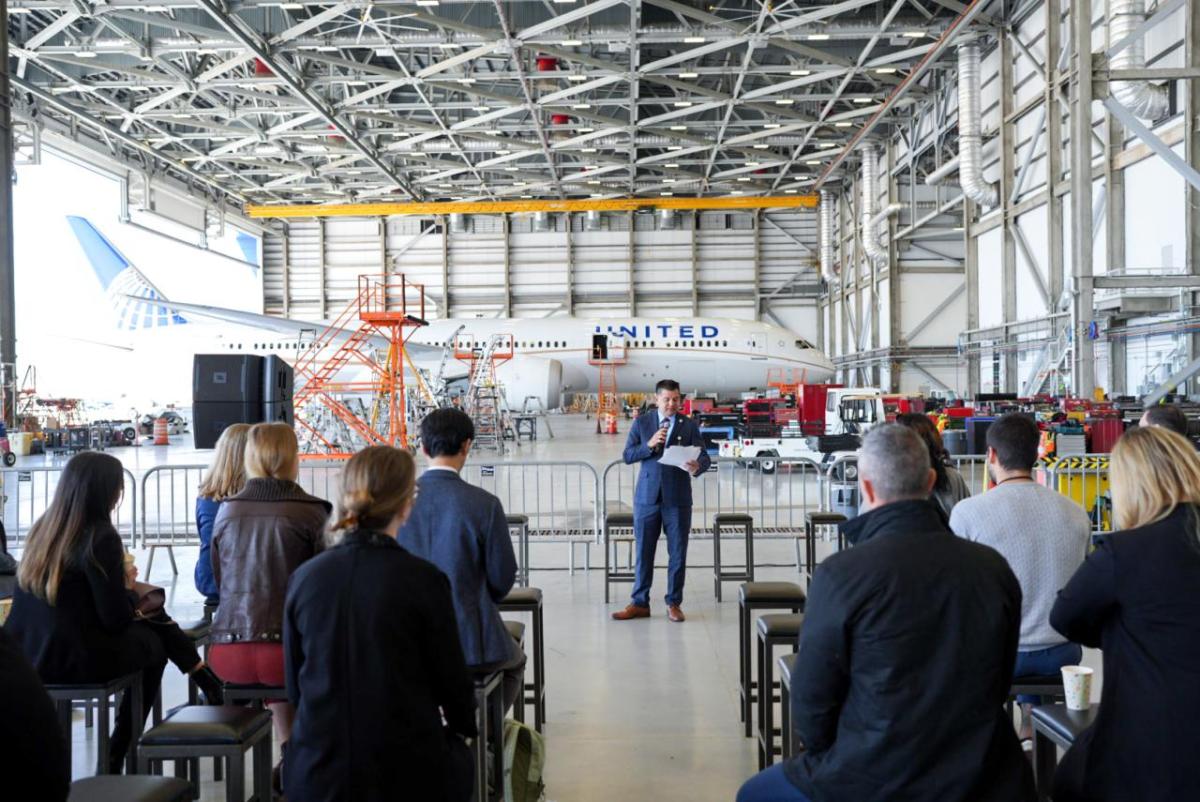 "LACI is our original Clean Tech incubator partner, and we've been working together for five years," said Aaron. "United supports organizations like LACI to make sure there's a connection to clean tech that also supports diverse communities. The startups LACI focuses on are really at the forefront of that."
For United's GSE and Facilities teams, the event couldn't have come at a better time.
"As we roll out more electric vehicles at our hubs, we know we have a variety of challenges when it comes to charging the equipment," said GSE and Facilities Managing Director Paul Joklik. "We're grateful to have partnerships with organizations like LACI to look to for subject matter expert guidance on our path."
The participating startups included: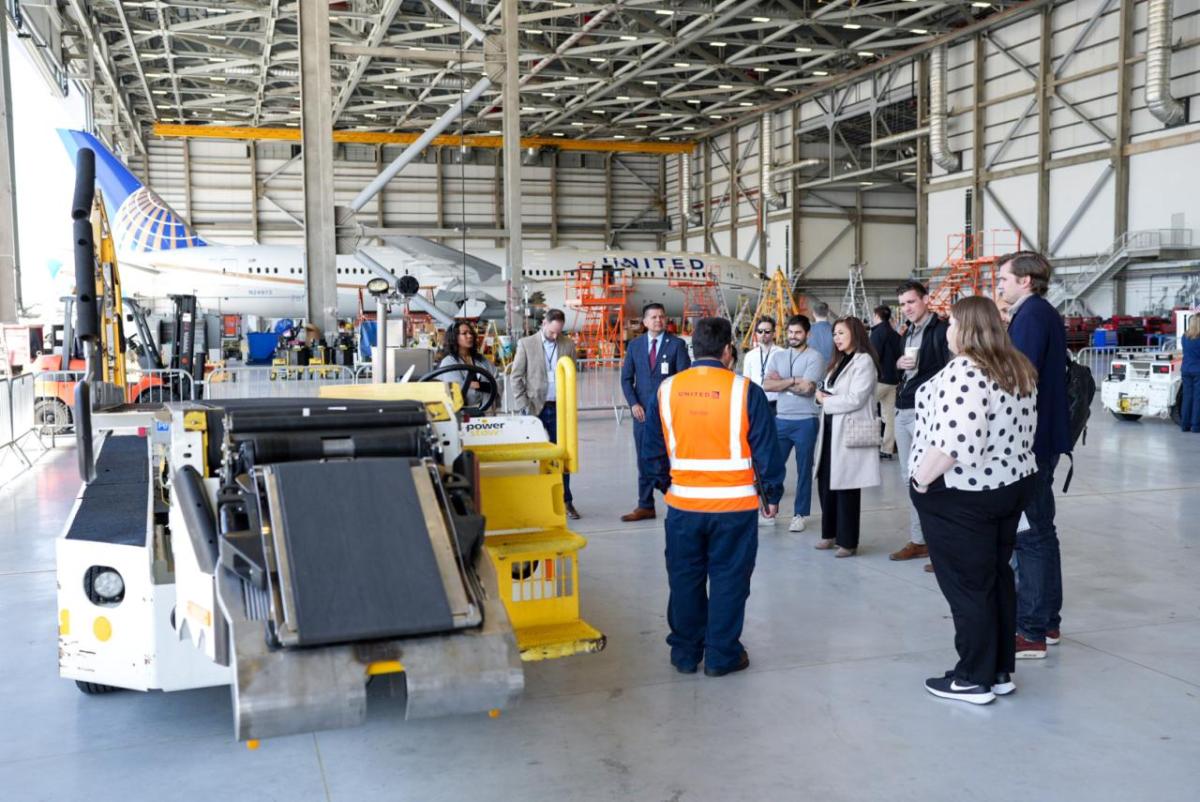 Automotus 
Automotus has built first-of-its-kind automated curb management solutions to help reduce emissions, congestion and safety hazards in our communities. Automotus's curb management solutions help cities, airports, fleets and businesses increase revenue while creating more sustainable, equitable streets.
ChargeNet Stations 
ChargeNet Stations is building the most comprehensive EV charging network in the United States. ChargeNet's Stations software platform makes it seamless for quick-serve restaurants to offer customers a superior EV charge up experience while satisfying their hunger. ChargeNet's ChargeOpt(TM) hardware-agnostic SaaS platform optimizes EV chargers and renewable energy to turn parking lots into profit centers.
ElectricFish 
ElectricFish is a climate tech company building distributed microgrid energy storage XFC (Extreme Fast Charging) stations powered by software. ElectricFish's patented, turnkey energy storage solutions bring unprecedented convenience to the EV charging experience while also supporting energy resilience in local communities, all with 100% renewable energy, eliminating the transportation sector's carbon footprint.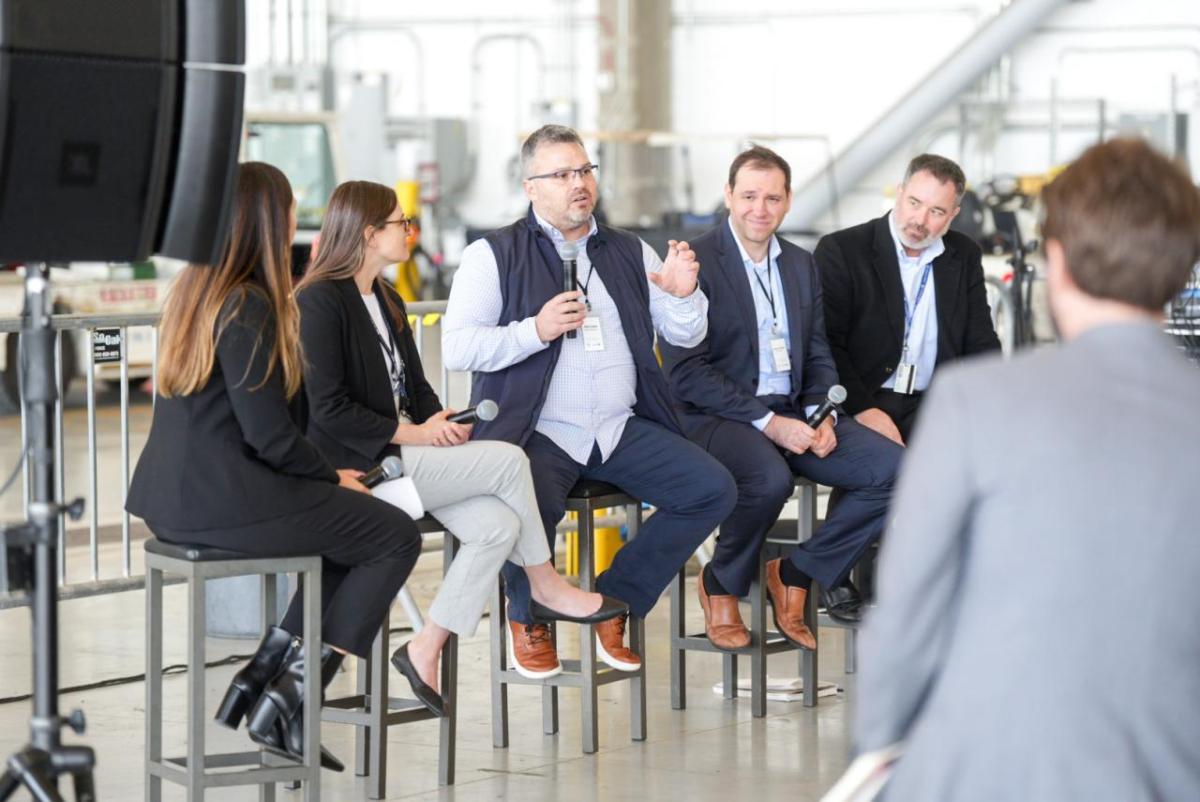 Evolectric 
Evolectric has dedicated themselves to power fleet operations with clean, efficient and safe electrification solutions. Evolectric partners with businesses to create comprehensive electrification strategies and deliver unique electrified mobility battery solutions to transportation, industrial and commercial segments across the U.S and emerging markets. Evolectric's CircularEV™ solutions renew the life of existing commercial vehicles on the road by upgrading them to be smart and 100% electric.
Humble
Humble makes and rents user-friendly electric carts, primarily designed for entertainment production sets, that provide temporary and remote clean power unlike the usual dirty and loud diesel-fueled vehicles. Through a LACI-funded pilot, Humble recently tested and validated their first software platform integration that offers a safer, more efficient way to monitor battery safety remotely, receive notifications of charge status in real-time, and coordinate management and charging using the cloud.
Microgrid Labs
Microgrid Labs Inc (MGL) is a consulting and software company specializing in commercial fleet electrification and microgrids. MGL services range from initial assessment, feasibility studies, modeling, simulation and optimization to support during the implementation and operations phase.
Relyion Energy, Inc.
Relyion aims to solve the problem of the expected, exponential increase in unusable electric vehicle or lithium ion batteries. Relyion Energy is repurposing retired EV batteries to enable longer and sustainable use of Li-ion batteries.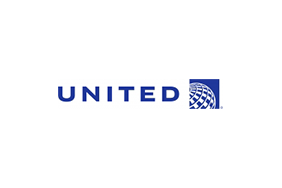 United Airlines
United Airlines
About United
United's shared purpose is "Connecting People. Uniting the World." For more information, visit united.com, follow @United on Twitter and Instagram or connect on Facebook. The common stock of UAL is traded on the Nasdaq under the symbol "UAL".
More from United Airlines