Published 04-14-23
Submitted by Aflac Incorporated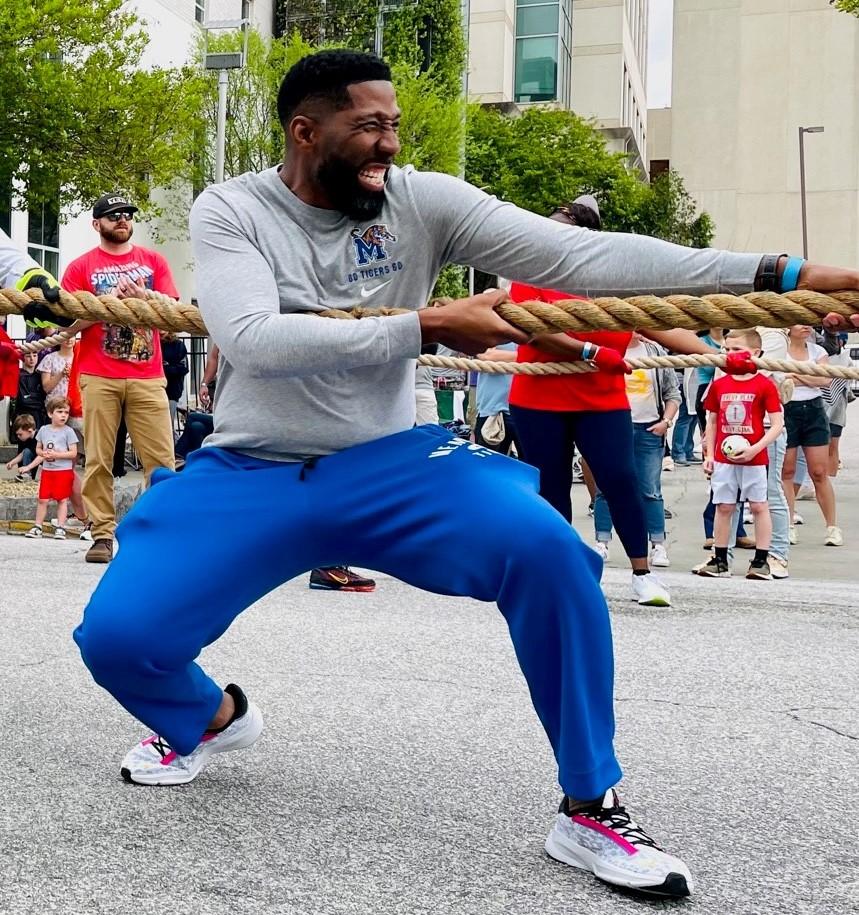 When people pull together, no challenge is too great — even moving a 35,000-pound firetruck! On Saturday, April 1, 35 Aflac Group employees participated in Curing Kids Cancer's 10th Annual Fire Truck Pull, presented by Aflac, in Columbia, South Carolina.
Teaming up and giving back 
Teams of Aflac employees pulled a firetruck to the finish line in honor of Alexander, Judah, Rylan and Trent, children treated for cancer in the Children's Center for Cancer and Blood Disorders at Prisma Health Children's Hospital in Columbia. Each team raised additional funds, bringing the 2023 total to $5,925 and nearly $30,000 since 2017.
"Aflac and Curing Kids Cancer see eye to eye in our commitment to children with cancer, their families and the medical professionals who care for them," said Bob Ruff, senior vice president, Aflac Group Voluntary Benefits. "The Fire Truck Pull is a fun way for Aflac and our employees to pull together for a great cause — helping advance Curing Kids Cancer's mission to fund childhood cancer research and treatment."
Turning grief into action
Curing Kids Cancer was founded by Grainne and Clay Owen in 2005 after they lost their son, Killian, in 2003 at age 9, due to leukemia. More than 20 years ago, when Killian was being treated at Aflac Cancer and Blood Disorders Center at Children's Healthcare of Atlanta, the Owens met Aflac Chairman and Chief Executive Officer Dan Amos and learned about Aflac's commitment to childhood cancer. Grainne, president of Curing Kids Cancer, is grateful for Aflac's support then — and now, more than two decades later.
"Aflac's support can literally make the difference between a child surviving or not," said Grainne. "Our Fire Truck Pull raises money for the Gamecocks Curing Kids Cancer Clinic at Prisma Health Children's Hospital in the Midlands, so local children with cancer receive the best treatments available for their type of cancer. We couldn't help these children without Aflac's support. We love Aflac!"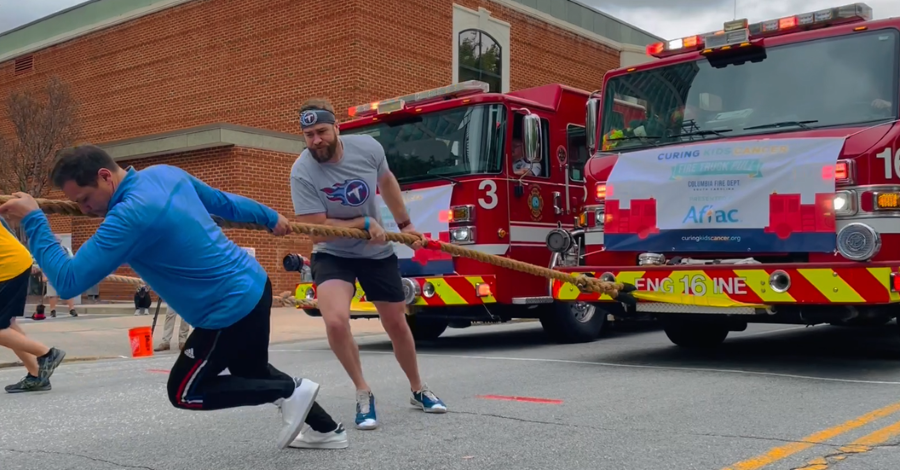 Doing good and giving back 
Denise Kennedy, Client Success manager at Aflac Group, volunteered and raised additional donations for the Fire Truck Pull. She has her calendar marked to participate next year.
"It was humbling to see so many people turn up, rally donations and give their personal time in support of children like Judah, Alexander, Rylan, Trent — and Killian," said Denise. "I am proud to work for a company that sponsors events like Curing Kids Cancer and allows employees to get involved by not just donating money, but also our time."
In 1995, Aflac made a commitment to provide support, hope, time and resources to children facing cancer. Through the Aflac Childhood Cancer Campaign, more than $167 million has supported pediatric cancer research and treatment through partnerships with more than 400 hospitals and organizations like Curing Kids Cancer.
Learn more about how you can support the Aflac Childhood Cancer Campaign at AflacChildhoodCancer.org.
Aflac herein means Aflac and/or Aflac of New York and/or Continental American Insurance Company and /or Continental American Life Insurance Company.
AGC2300412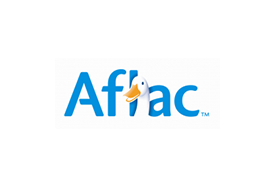 Aflac Incorporated
Aflac Incorporated
Aflac is a Fortune 500 company, providing financial protection to more than 50 million people worldwide. When a policyholder or insured gets sick or hurt, Aflac pays cash benefits fairly, promptly and directly to the insured. For more than six decades, Aflac voluntary insurance policies have given policyholders the opportunity to focus on recovery, not financial stress.
More from Aflac Incorporated