Published 04-13-23
Submitted by Ceres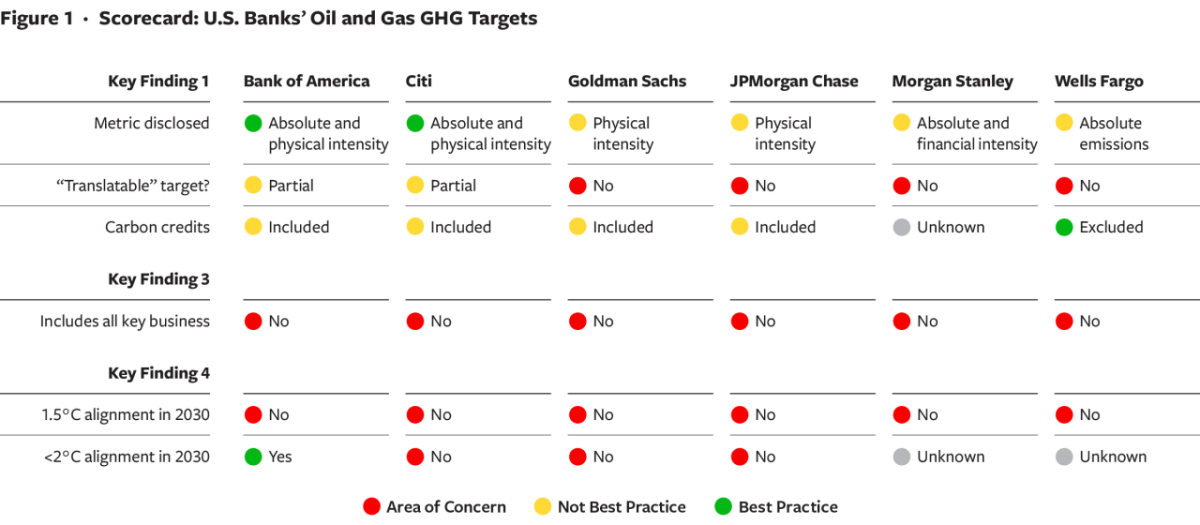 April 13, 2023 /CSRwire/ - With just seven years to go to meet 2030 climate goals, none of the biggest U.S. banks are on track to align their oil and gas targets with a scenario that limits average global temperature rise to no more than 1.5° Celsius, the threshold necessary to avoid more catastrophic climate change. Each of these banks have committed to net zero emissions by 2050 while setting interim targets for specific sectors by 2030, but a new analysis from Ceres and the Transition Pathways Initiative Centre (TPI Centre) finds significant gaps in the 2030 targets necessary to achieve these global goals.
U.S. Banks and the Road to Net Zero: Analyzing the 2030 oil and gas targets of the six largest U.S. banks focuses only on the banks' 2030 oil and gas emissions reductions targets. All six banks have set targets in line with the Net Zero Banking Alliance's (NZBA) guidelines. The analysis seeks to present an apples-to-apples comparison of the ambition of the targets relative to widely accepted and scientifically informed low-carbon benchmarks.
"We are seeing more banks in the U.S. and globally set 2050 net zero targets with interim 2030 targets, which is an important step in protecting our financial institutions from climate risk," said Steven M. Rothstein, managing director of the Ceres Accelerator for Sustainable Capital Markets at Ceres. "However, it's critical that the methodology behind these targets is transparent and comparable to inform both bank management and investors. Our analysis is a particularly vital tool for investors to evaluate banks' decarbonization progress."
A bank's approach to greenhouse gas (GHG) emissions measurement often looks a lot different from that of its clients given that most of a bank's climate impact is indirect. It results from corporate activities that are financed by bank products and services, such as lending, investments, trading, etc. Therefore, these financed and facilitated emissions are a key element of a bank's decarbonization strategy.
The Ceres and TPI Centre analysis extrapolates four key findings on the current state of target-setting practices and methodologies:
The methodologies in use to quantify and establish targets lack sufficient comparability and transparent disclosure.
The sector and emissions parameters applied to set targets are inconsistent and may not capture the full scope of emissions across the oil and gas value chain.
The still-developing target-setting methodologies are leaving an array of material business activities outside of the scope of their targets, which in turn creates loopholes for banks to continue financing high-carbon activities.
The report assesses each bank's target against TPI's oil and gas benchmarks, which are derived from the Sectoral Decarbonization Approach, a method for setting scientifically aligned emissions reduction targets. When benchmarked against a 1.5°C scenario, the analysis shows that none of the six banks' targets converge with that scenario by 2030.

"Our analysis highlights just how difficult it is for banks and their stakeholders to assess and compare how much progress they are making on real oil and gas emissions reductions," said Blair Bateson, Director of the Ceres Company Network at Ceres. "And it goes beyond these six banks. That's why our recommendations should be adopted by any bank that is setting climate goals with specific oil and gas targets."
The brief concludes with five detailed recommendations to help banks improve their target-setting practices. They are:
1. Expand target coverage to include all material on- and off-balance sheet activities, prioritizing activities with high financial and/or emissions exposure.
2. Continue to ramp up the ambition of targets to be in line with limiting global warming to 1.5°C.
3. Substantiate the credibility of targets with a comprehensive transition plan.
4. Explicitly disclose the key assumptions and calculations used in emissions accounting and in target-setting.
5. Report progress in reducing emissions and methodological updates on an annual basis.
About Ceres 
Ceres is a nonprofit organization working with the most influential capital market leaders to solve the world's greatest sustainability challenges. The Ceres Accelerator for Sustainable Capital Markets is a center of excellence within Ceres that aims to transform the practices and policies that govern capital markets to reduce the worst financial impacts of the climate crisis. It spurs action on climate change as a systemic financial risk—driving the large-scale behavior and systems change needed to achieve a net zero emissions economy through key financial actors including investors, banks, and insurers. The Ceres Accelerator also works with corporate boards of directors on improving governance of climate change and other sustainability issues. For more information, visit ceres.org and ceres.org/accelerator and follow @CeresNews.
About the Transition Pathways Initiative Centre 
The Transition Pathway Initiative — based at LSE's Grantham Research Institute on Climate Change and the Environment — is an independent, authoritative source of research and data on the progress of the financial and corporate world in transitioning to a low-carbon economy. TPI Centre's vision is to provide assessment frameworks, based on publicly disclosed information, that enable investors to objectively and robustly assess corporate and sovereign practices and processes. TPI Centre is the main research partner and data provider for the CA100+ Net Zero Company Benchmark.
Media Contact: Becca Johnson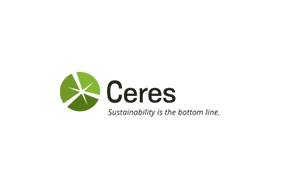 Ceres
Ceres
Our Mission: Ceres is transforming the economy to build a just and sustainable future for people and the planet. 
Ceres is a nonprofit organization working with the most influential capital market leaders to solve the world's greatest sustainability challenges. Through our powerful networks and global collaborations of investors, companies, and nonprofits, we drive action and inspire equitable market-based and policy solutions throughout the economy to build a just and sustainable future. For more information, visit ceres.org and follow @CeresNews. 
More from Ceres