Published 04-13-23
Submitted by Enbridge Inc.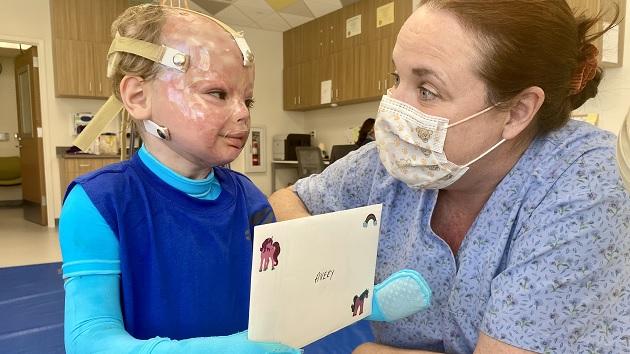 (Editor's note: Feb. 5 to 11 is Shriners Children's Burn Awareness Week. Learn more here about staying safe from burns.)
Four-year-old Avery came to Shriners Children's Ohio (SCO) several weeks after a fiery car crash near her home in Tennessee. Burns covered more than 60% of her tiny body, including her face.
When she arrived at SCO, she could barely move.
But Avery's determination, combined with SCO's skilled medical team, led to major strides in her recovery. Within a month, she could sit up. Soon after, she began to play, and then giggle. Her personality started to come back as her healing progressed. Now she is renowned among the medical staff for her hugs.
"It was very emotional to see the journey she took in such a short period of time," says Mike Caldwell, Shriners Children's Ohio's regional director of marketing and communications.
"Avery is a fighter for sure. She is a resilient little girl and doing really wonderful today," he notes. "And she has a long journey ahead."
SCO specializes in treating pediatric burns, which is why Avery's doctor in Tennessee recommended the child receive care at the facility in Dayton. Burn patients travel from near and far for treatment; since the burn ward was established in 1968, it has welcomed patients from more than 28 states and 35 countries.
Thanks in part to fundraising efforts and the generosity of donors, SCO provides life-changing burn and plastic surgery care, regardless of families' ability to pay or their insurance status.
For young burn victims to have the best possible outcomes, treatment should begin immediately after the injury occurs. But when SCO conducted a community health assessment on the subject, they found health care providers lacked up-to-date education on how to care for a child with a burn injury. The hospital stepped in to fill the knowledge gap.
Debbie Harrell, SCO's director of professional relations and a registered nurse, travels to nearby states to deliver education programs on burn treatment and safety for children.
She speaks directly to health care providers in communities big and small, meeting with emergency room physicians and nurses, firefighters, first responders and EMTs, as well as groups like school nurses and the Ohio National Guard.
Recognizing the importance of this work to make communities safer, Enbridge recently awarded SCO a $5,500 Fueling Futures grant to help fund the hospital's education efforts. In addition to safety, which is the very foundation of our business, education is a value we share with Shriners; it's one of the pillars of the 22 Shriners hospitals in North America, along with care and research.
"When (first responders) are in these emergency situations, we want them to understand the steps they can take to help the child have a better outcome later and prevent future complications," explains Cambry Gossett, a philanthropy officer with SCO.
When tragedy strikes, kids like Avery will be in good hands.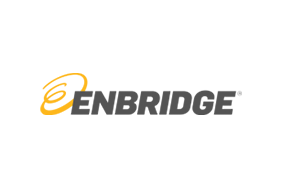 Enbridge Inc.
Enbridge Inc.
About Enbridge
At Enbridge, our name spells out our mission: a bridge to a sustainable energy future. That bridge safely connects millions of people around the world to the energy they rely on every day, fueling quality of life. Whether it's natural gas, oil or renewable power, the energy we deliver through networks spanning North America and our growing European offshore wind portfolio helps to heat homes, feed families, fuel vehicles and power industry. We're investing in modern energy infrastructure to sustain access to secure, affordable energy. We're also building on two decades of experience in renewable energy to advance new low-carbon energy technologies including hydrogen, renewable natural gas and carbon capture and storage. We're committed to reducing the carbon footprint of the energy we deliver, and to achieving net zero greenhouse gas emissions by 2050.
Headquartered in Calgary, Alberta, Enbridge's common shares trade under the symbol ENB on the Toronto (TSX) and New York (NYSE) stock exchanges. To learn more, visit us at Enbridge.com
More from Enbridge Inc.