Published 04-10-23
Submitted by HARMAN

Originally published on HARMAN News Room
As the World Health Organization (WHO) celebrates 75 years of improving public health and promoting overall well-being for World Health Day, HARMAN will be spotlighting its latest technologies. Technologies that enhance the patient experience and deliver greater, security rich care across the healthcare ecosystem by empowering providers and clinicians.
This year's theme for World Health Day is "Health for All." As a global leader in connected technologies, HARMAN contributes to a healthier future with solutions that digitally transform the healthcare ecosystem for improved access and outcomes. Our Digital Transformation Solutions (DTS) business designs and deploys next-generation technology to address everyday healthcare needs. At the recently held HARMAN EXPLORE 2023, HARMAN revealed its Intelligent Healthcare Platform, which is designed to help healthcare providers deliver personalized and consumer-centric services. In today's digital world, more providers and patients rely on virtual and connected healthcare. The patient data systems tend to be disconnected and complex, often adding costs and challenges to delivering quality patient care.
With this in mind, HARMAN Digital Transformation Solutions set out to deliver the right technology to allow for greater transparency, connectedness, and autonomy in remote care while improving the patient experience. Using the latest advances in artificial intelligence (AI) and machine learning (ML), the Intelligent Healthcare Platform improves the efficiency and accuracy of medical diagnoses. Ultimately, it helps enable healthcare providers to deliver the best possible care to their patients through predictive analytics and actionable insights on data harnessed from disparate sources.
Over 200 clients have benefited from HARMAN solutions, with a significant number in the healthcare sector. Here are a number of applications and solutions currently available for providers, payers, life sciences, pharma, and medical equipment manufacturers:
Wearables empowering home-based patient care: HARMAN partnered with LIVMOR to leverage product engineering capabilities for a more interactive, predictive, and proactive healthcare model that can deliver a better, more productive quality of life at home or work.
Better maternal health and wellness through a digital platform: HARMAN created a comprehensive health and wellness platform for maternity care in partnership with Reach, a global social impact organization.
Mental healthcare delivery through gamification: A global pioneer in pharmaceuticals partnered with HARMAN to create a solution that better impacts healthcare delivery for neurodivergent patients by offering real-time insights into the patient's behavioral pattern.
HARMAN is helping providers make healthcare more equitable with emerging technologies that improve the way each human experiences healthcare. As these examples demonstrate, HARMAN innovations help make "Health for All" possible because HARMAN focuses on "healthcare on good." To learn more about HARMAN Digital Transformation Solutions, visit https://services.harman.com/.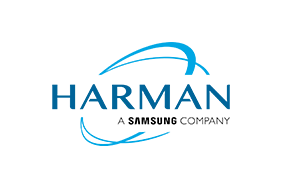 HARMAN
HARMAN
ABOUT HARMAN
HARMAN International (harman.com), a wholly-owned subsidiary of Samsung Electronics Co, LTD., designs and engineers connected products and solutions for automakers, consumers, and enterprises worldwide, including connected car systems, audio and visual products, enterprise automation solutions; and services supporting the Internet of Things. With leading brands including AKG®, Harman Kardon®, Infinity®, JBL®, Lexicon®, Mark Levinson® and Revel®, HARMAN is admired by audiophiles, musicians and the entertainment venues where they perform around the world. More than 25 million automobiles on the road today are equipped with HARMAN audio and connected car systems. Our software services power billions of mobile devices and systems that are connected, integrated and secure across all platforms, from work and home to car and mobile. HARMAN has a workforce of approximately 30,000 people across the Americas, Europe, and Asia. In 2017, HARMAN became a wholly-owned subsidiary of Samsung Electronics.
More from HARMAN