Published 04-10-23
Submitted by Gen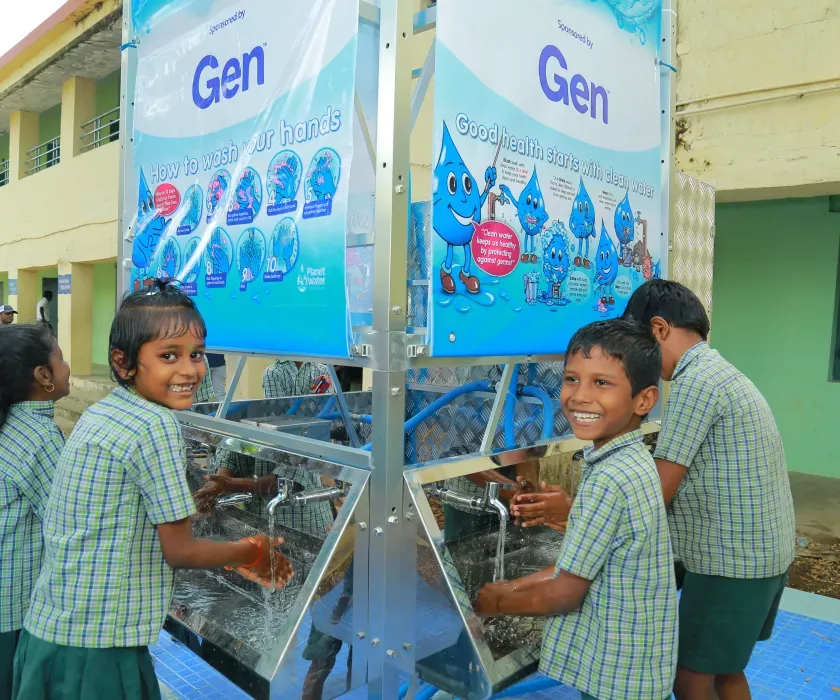 As Gen™ kicks off our Earth Month celebrations, we are helping remind people of the need to safeguard global access to clean water. On this year's World Water Day, held annually on March 22, we took up the call to action for the third year in a row.
Gen once again partnered with Planet Water Foundation to deliver clean drinking water to rural communities in India. For this year's project, Gen volunteers worked alongside Planet Water Foundation representatives to construct a new AquaTower at the Arignar Anna Municipal School in Anumandputheri, Tamil Nadu, a village of 2,250 people.
"We are so glad Gen has returned as one of our World Water Day program partners for 2023," said John Deotrakul, Director of Global Communications & Development for Planet Water Foundation. "We have already seen the enormous impacts that our work together in past years has had on communities in Keerapakkam and Vandavasi, and we are thrilled to expand those efforts with this new AquaTower in Anumandputheri. The safe drinking water and hand-washing access that these projects provide revolutionize the overall health and wellness of these communities."
The Arignar Anna Municipal School, which serves 340 elementary and middle school students, sees absenteeism spike during the rainy season because of waterborne diseases. With no water filtration system in the village, students have no choice but to drink polluted water, and the resulting sicknesses cause them to miss school.
The AquaTower is a water filtration system capable of producing 1,000 liters (~265 gallons) of clean drinking water per hour and functions as a hand-washing station for students, caregivers, and family members. The clean water this system provides will help keep these children well enough to attend school and prevent illnesses in the school community and beyond.
This project also supports progress toward the United Nations Sustainable Development Goal (SDG) 6, focused on achieving water and sanitation for all by 2030. Gen supports SDG 6, as well as several other SDGs, described in more detail in our 2022 Environmental, Social, and Governance (ESG) Report.
Planet Water Foundation has worked since 2009 to respond to the global water crisis, delivering safe drinking water through the AquaTower, water-health and hygiene behaviors through its education programs, and surface disinfection systems through its AquaSan equipment. The organization has reached more than three million people in 26 countries.
Gen's partnership with Planet Water Foundation is one example of our commitment to environmental stewardship. You can read more about how we help protect the planet in our 2022 ESG Report.

Gen
Gen
Gen (NASDAQ: GEN) is a global company dedicated to powering Digital Freedom through its trusted Cyber Safety brands, Norton, Avast, LifeLock, Avira, AVG, ReputationDefender and CCleaner. There's a new generation, and it's not Gen X, Y, or Z. It's Gen D: Generation Digital. Gen's family of consumer brands is rooted in providing safety for the first digital generations. Now, Gen empowers people to live their digital lives safely, privately, and confidently today and for generations to come. Gen brings award-winning products and services in cybersecurity, online privacy and identity protection to more than 500 million users in more than 150 countries. Learn more at GenDigital.com.
More from Gen