Published 04-07-23
Submitted by Essity
Originally published on Essity.com
Building innovative brands for customers and consumers
We aim to retain and strengthen our product category leadership and to build number one or two market positions by launching innovations based on customer and consumer insights that boost sales and build leading brands.
Winning brands for improved well-being
Innovation at Essity is driven by customer and consumer insights, market trends, new technologies and business models. We supply essential hygiene and health solutions that enable better hygiene and health as well as experiences at home and in public spaces. This is achieved by supporting the effectiveness and efficiency of hygiene and health routines, and by preventing and treating various health conditions. By leveraging our global presence and economies of scale, we strive to accelerate the pace of our innovation and our results.
Essity holds the number one or number two position in approximately 90% of the company's branded sales. A high proportion of branded sales demonstrates product superiority, meaning the first choice for customers and consumers, thereby further strengthening our leading brands.
Our brands are strengthened through Essity's marketing campaigns, which have a clear purpose to break barriers to well-being. By reaching and following our customers and consumers in digital channels, we increase the value of marketing investments. Together with product innovation, this creates reliable and appreciated brands.
Sustainable solutions for people and planet
There is growing interest among customers and consumers in making sustainable choices and also paying a premium for these. During the year, Essity further strengthened its offering of sustainable solutions in all its three business areas. 68% of innovations launched in 2022 yielded social and/or environmental improvements.
Reusable solutions
During the year, Knix and Modibodi were acquired, two leading companies in leakproof apparel. Leakproof apparel is washable and reusable, thereby reducing consumer waste compared with disposable products. Through these acquisitions, Essity is the global market leader in leakproof apparel1, the fastest growing product segment in Intimate Hygiene, which includes Feminine Care and Incontinence Products. Essity also sells leakproof apparel under such brands as Libresse, Bodyform, Saba, TOM Organic and TENA.
In Baby Care, Essity launched a hybrid diaper under the strong Libero Touch brand during the year. The diaper consists of an absorbent disposable insert and a washable cloth diaper, resulting in a 35% reduction in climate impact and 22% less waste compared with a standard diaper.
Raw materials and packaging for a lower carbon footprint
Essity strives to increase the use of recycled and renewable material in packaging and products. In 2021, Essity began tissue manufacturing using pulp from wheat straw at its production facility in Mannheim, Germany. The pulp produced will have lower carbon emissions, use less water and energy as well as fewer chemicals. In 2022, the first consumer tissue to the retail trade was launched under the Zewa brand, and the launch received a highly positive response from consumers.
In Medical Solutions, Essity launched Leukoplast Eco, environmentally friendly plasters manufactured from at least 90% natural and renewable material and in Feminine Care, pads were launched under the Nana brand in packaging manufactured from at least 80% plant-based and recycled material.
Value-creating digital innovations
New digital technologies create opportunities for better hygiene and health outcomes and experiences. Essity has launched several successful digital solutions in recent years.
In Health & Medical, for example, Essity has launched TENA Bladder Sensor, a wearable ultrasound sensor that measures levels in the bladder and sends a notification when it is time to visit the bathroom, and the TENA Family Care App, which makes life easier for caregivers of family members in the home. Cutimed Wound Navigator is a digital wound management solution. The innovative mobile app registers the size and other properties of the wound. An assessment is carried out based on this data to offer the patient the most suitable care and wound care product.
In Professional Hygiene, more customers are seeing the advantages of Tork Vision Cleaning, which enables cleaners of public spaces to use real-time data to ensure better hygiene outcomes and experiences.
Read more about Essity's strategic priorities, earnings and leading sustainability work in the Annual and Sustainability Report 2022, which can be downloaded at www.essity.com.
To access the digital short version, please click here.
1Estimate based on market data compiled by Essity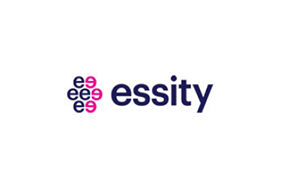 Essity
Essity
Essity is a leading global hygiene and health company that develops, produces and sells Personal Care (Baby Care, Feminine Care, Incontinence Products and Medical Solutions), Consumer Tissue and Professional Hygiene products and solutions. 
Our vision is; Dedicated to improving well-being through leading hygiene and health solutions. The name Essity stems from the words essentials and necessities. Sales are conducted in approximately 150 countries under many strong brands, including the leading global brands TENA and Tork, and other brands, such as Leukoplast, Libero, Libresse, Lotus, Nosotras, Saba, Tempo, Vinda and Zewa. Essity has about 48,000 employees and net sales in 2017 amounted to approximately 12.8 bn USD (SEK 109bn, EUR 11.3bn). The business operations are based on a sustainable business model with focus on value creation for people and nature.
The company has its headquarters in Stockholm, Sweden, and is listed on Nasdaq Stockholm. Essity used to be part of the SCA Group.
About Tork
Tork is a brand of Essity. Essity is a leading global hygiene and health company that develops personal care, professional hygiene and consumer tissue products and solutions. Essity offers Tork paper towels, toilet paper, skin care products, facial tissue,  wipers, wet wipes, napkins and other hygiene products for washrooms, wash stations, healthcare areas, food and beverage handling, food preparation, manufacturing and maintenance. For more information, visit http://www.torkusa.com/
More from Essity