Published 04-06-23
Submitted by Paramount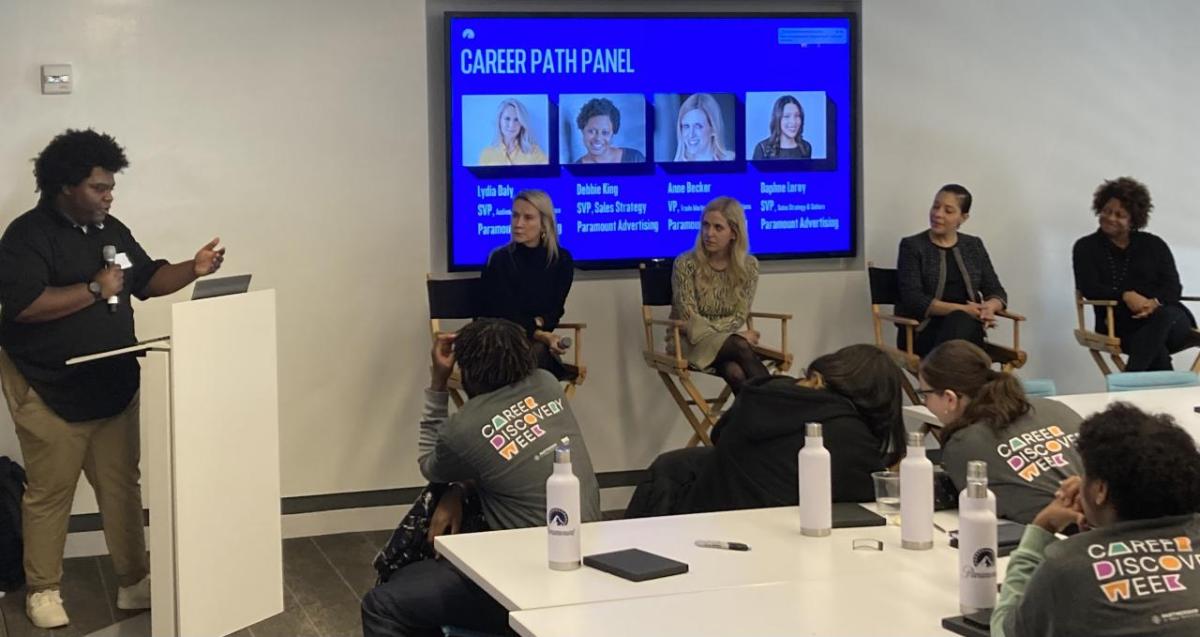 On March 7th, Paramount Global coordinated with the Partnership for New York City on Career Discovery Week. Career Discovery Week is part of NYC Public Schools Student Pathways, an expansion of career-connected learning that provides work-based learning opportunities and career exposure. More than 85 of the city's major employers joined forces this year to help build a bridge from the city's classrooms to the world of business. This year, Paramount partnered with students from the Manhattan Early College of Advertising (MECA) for a day full of career and advertising-focused workshops and employee-led sessions.
The morning kicked off at Paramount's Times Square headquarters with a Paramount Culture & CSR presentation for the students, followed by an Internship & Skill-building 101 workshop from Rosa Agnello on the Talent Acquisition team. From there, Harold Anderson, Coordinator for Paramount's Social Responsibility team, moderated a powerhouse executive Career Path Panel + Q&A featuring: Lydia Daly (SVP, Audience Impact & Intelligence), Anne Becker (VP, Trade Marketing & Communications), Daphne Leroy (SVP, Sales Strategy & Culture) and Debbie King (SVP, Sales Strategy), all of whom shared hugely inspirational advice with the class!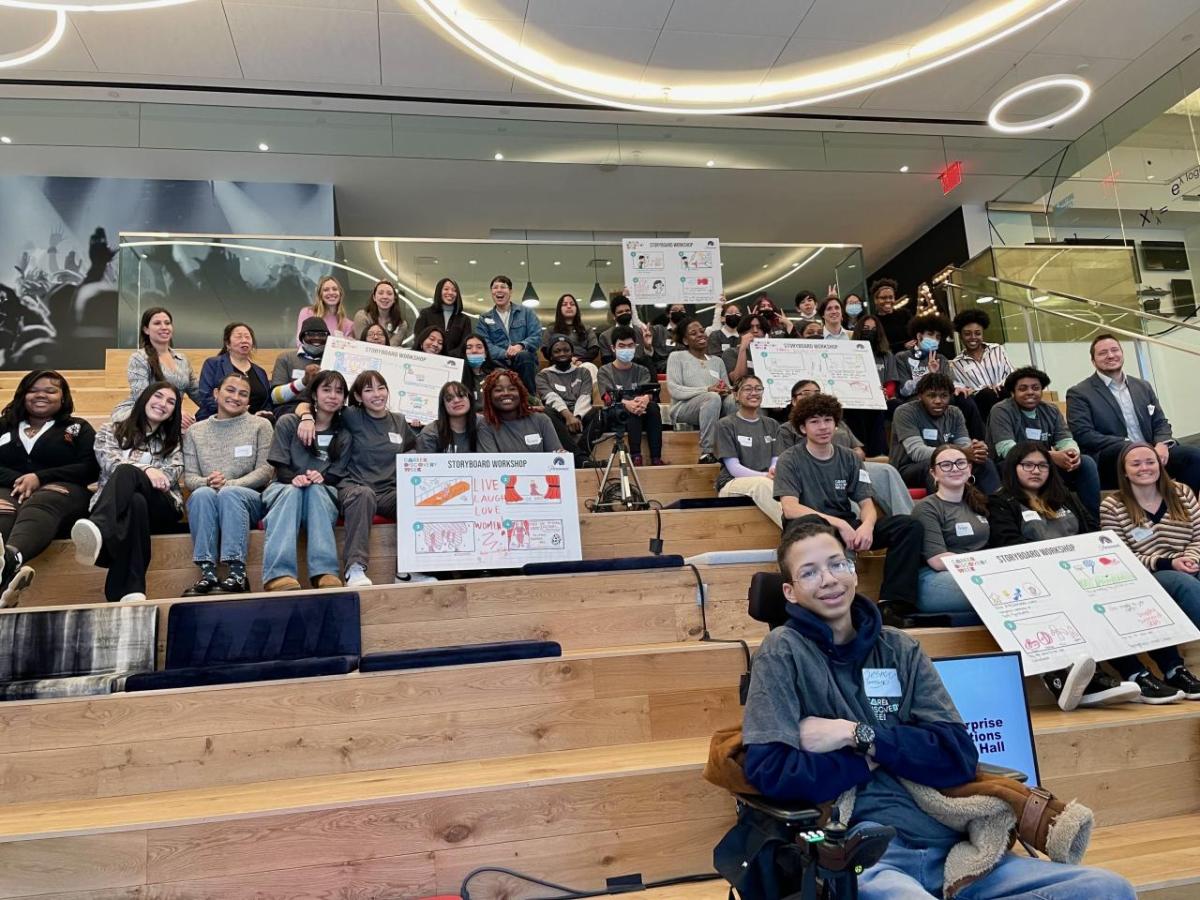 The day culminated with an immersive Storytelling workshop utilizing storyboards. Groups of students were paired up with employees from Paramount's Advertising division to create a 30-second spot for Paramount+ using giant animation-inspired storyboard templates. Each team presented their work at the end of the activity, and the ideas shared were incredible, including spots focused on themes of inclusion, female empowerment and self-expression. 
The teachers and students of MECA expressed great appreciation for the opportunity. The teachers were impressed by how confidently the students presented their storyboards and engaged in insightful conversations with multiple Paramount teams. One student shared the following feedback with their teacher, "I learned that you should be confident and know your worth."
Another student added, "the most memorable part for me was working with the employees and getting feedback on ideas and questions."
Paramount looks forward to furthering our commitment to unleashing the power of content for good to inspire change. Our partnership and experience with the MECA students was a great reminder of this commitment.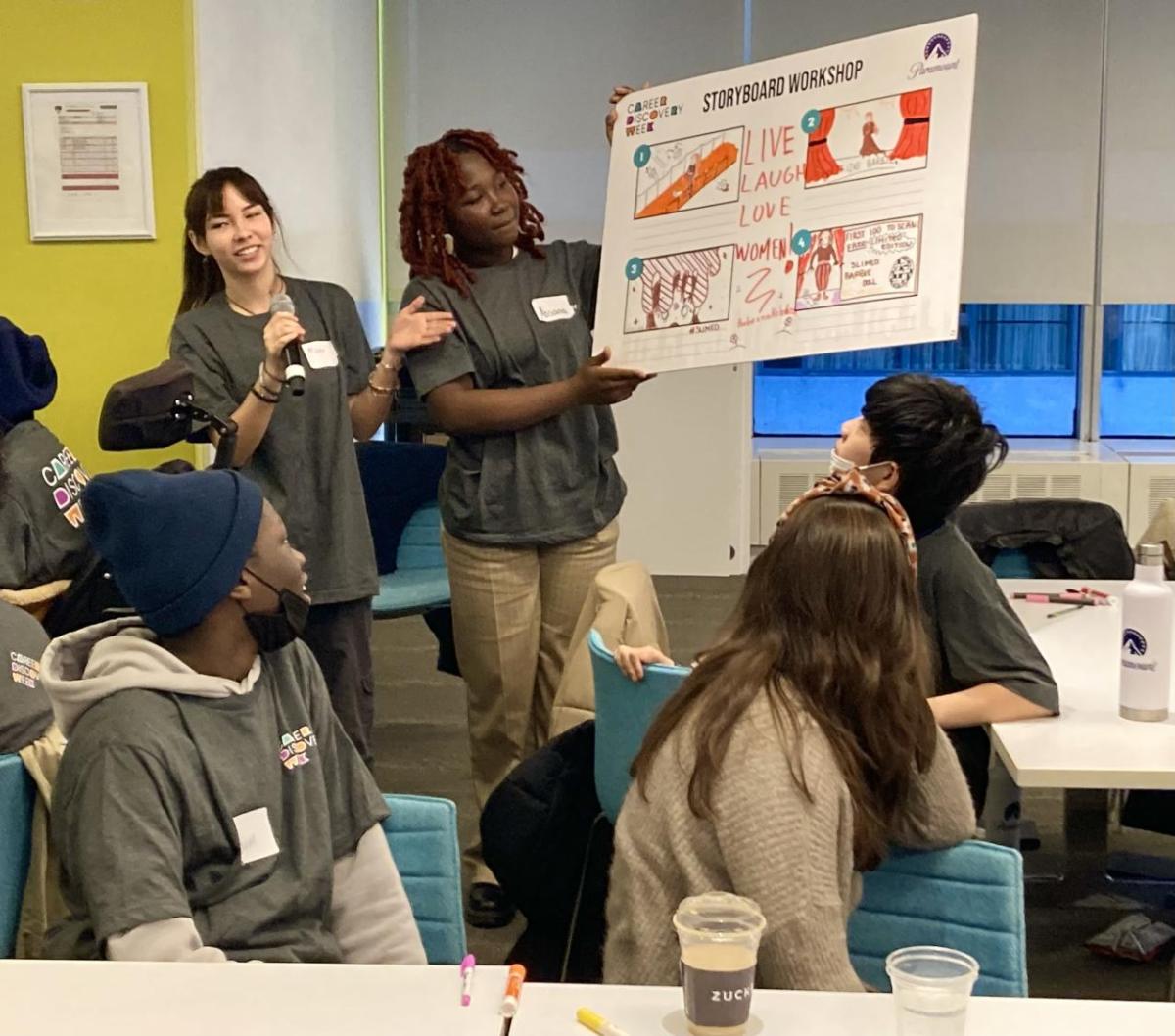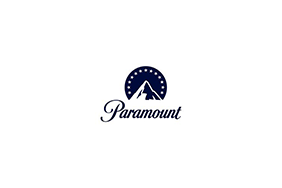 Paramount
Paramount
About Paramount Global
Paramount Global (NASDAQ: PARA, PARAA) is a leading global media and entertainment company that creates premium content and experiences for audiences worldwide. Driven by iconic studios, networks and streaming services, its portfolio of consumer brands includes CBS, Showtime Networks, Paramount Pictures, Nickelodeon, MTV, Comedy Central, BET, Paramount+, Pluto TV and Simon & Schuster, among others. The company delivers the largest share of the U.S. television audience and boasts one of the industry's most important and extensive libraries of TV and film titles. In addition to offering innovative streaming services and digital video products, Paramount Global provides powerful capabilities in production, distribution and advertising solutions.
More from Paramount