Published 04-04-23
Submitted by Peloton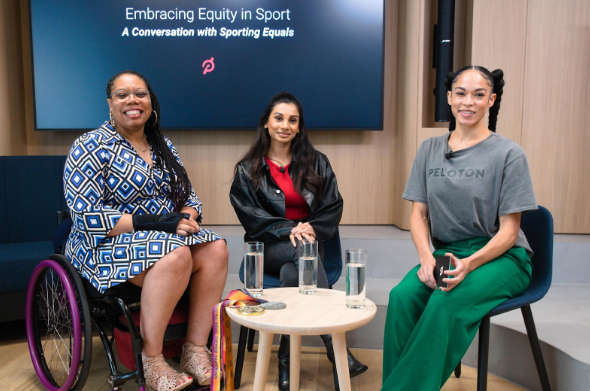 At Peloton, we believe none of us win if some of us are being held back. We recognize the scale and impact of barriers hindering so many from becoming their best selves and recognize our responsibility to help break them down.
On March 8th, 2023, International Women's Day, we were delighted to welcome our valued Pledge partner, Sporting Equals, to our London office and engage in conversation with our team members on the theme of embracing equity in sport.
Based in London, Sporting Equals exists to promote ethnic diversity across sport and physical activity, and is the only organization in the UK solely focused on this topic. Their work centers on raising awareness and understanding of the needs of Ethnically Diverse Communities in sport, while partnering with a network of grassroots partners to drive better health outcomes for the communities they seek to serve.
The panel was hosted by Peloton Instructor and Ambassador for Sporting Equals, Hannah Frankson. Joining Hannah in conversation were two women leaders from the Sporting Equals community: Team GB Paralympian and Trustee of Sporting Equals, Vanessa Wallace, and the Founder of BollyCo dance company, Nileeka Bose.
Our panelists generously shared their lived experiences, personal truths, and practical ways in which we can all make a difference in making sport more equitable, inclusive, and impactful.
It's up to all of us
Both Hannah and Nileeka outlined their belief that embracing equity in sport is everyone's responsibility - we can all be active allies and we can all work on it every day. While women in sport have seen progress, there are still many obstacles limiting women from being able to show up and participate in an equitable way. Even if not directly impacted, each of us - regardless of gender identity - has a duty to recognize where systems are failing and demand change.
Our panelists also emphasized that being part of positive change doesn't always equate to a large-scale, difficult job. Sometimes, change can come about by the simple action of creating time and a safe space for conversations where fears or differences can be shared. Seemingly small actions are essential and, very often, how change starts.
As Vanessa so powerfully put it,
"Whether you are as quiet as a mouse or as loud as a lion, your voice has power…so use it, just work out what volume you need in that space."
Vanessa invited our team members to be conscious of assumptions we may have and practice questioning what we see. Meanwhile, Nileeka encouraged us all to give a little bit of our personal time to make a difference, whether through volunteering, engaging in discussions, or inspiring, and supporting others. While we might not see the impact straight away, every little action helps - we just have to make a start.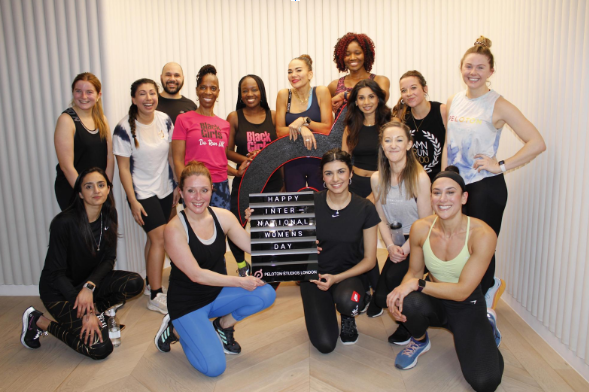 Supporting the wellbeing of women
Each panelist spoke about how they support the inclusion and wellbeing of women in sport and shared their own perspectives about breaking down the multitude of barriers they've seen or experienced. For Nileeka, this means championing women in Bollywood dance and enabling access to safe spaces to move, whether from their homes or in the studio. Vanessa encouraged everyone to consider the intersectional challenges many women face and reflected on her personal experience as a Black female athlete living with a disability.
Hannah shared her new commitment to physically get out and support women's sporting events. As Vanessa experienced while competing in the British Athletic Championships, it is extremely powerful to be on the receiving end of spectators' encouragement and support.
Towards the end of the discussion, Nileeka recounted a piece of advice she often reflects on,
"As a woman you can do everything your counterparts can so why not go out and get it?"
Together we go far
In addition to the panel, Peloton Instructor Susie Chan led Sporting Equals community members and members of Peloton's Women's Alliance Employee Resource Group through a live Tread class at our Peloton Studio in London. Check out the 30 min Women's History Month Rock Run here.
Our Peloton community is full of inspiring women finding and sharing their strength every day. We were incredibly proud to celebrate International Women's Day 2023 and are energized by future opportunities to share the ways in which we can all embrace equity in sport.
Learn more about our partnership with Sporting Equals and our community partners by visiting the Peloton Pledge website and reading our 2022 ESG report.

Peloton
Peloton
Our mission: To use technology and design to connect the world through fitness, empowering people to be the best version of themselves anywhere, anytime.
Our Values
Put members first
Operate with a bias for action
Empower teams of smart creatives
Be the best place to work
Together we go far
More from Peloton