Published 03-28-23
Submitted by HARMAN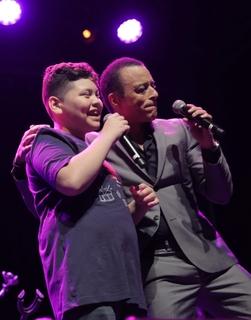 Originally published on HARMAN News Room
From helping improve academic, social, and cognitive skills to inspiring creativity and fostering a sense of belonging, there is no doubt that music and music education have a positive impact on people. And with our long history in the music and audio industry, all of us at HARMAN have experienced first-hand the power music has on our lives.
Through our global cause initiative, HARMAN Inspired, we work closely with our longtime partner Music Will to bring the benefits of music education and helpful resources to students across the U.S. in classrooms and communities in need. In honor of Music In Our Schools Month, we wanted to take stock of our recent accomplishments and share how we're bringing the power of music education to the next generation of leaders…
During the 2021-2022 school year, HARMAN helped Music Will recruit, train, and equip more than 450 new music teachers who each launched a new, modern band music program in their classroom. Take a closer look at our achievements by the numbers:
Launched 458 new music programs in 21 markets to bring music to more than 86,000 new students
987 new and returning Music Will teachers participated in a total of 52 training workshops and gained 5,750 professional development hours
Donated 3,200 instruments to schools nationwide
682 teachers, arts administrators, special guests, and supporters participated in our second Virtual Modern Band Summit
594 teachers enrolled in the new online learning management system, which provides asynchronous training to advance teachers' skills on their own time
60 pairs of JBL headphones were donated to students in Washington, D.C., Detroit, and to performers at the Music Will Benefit event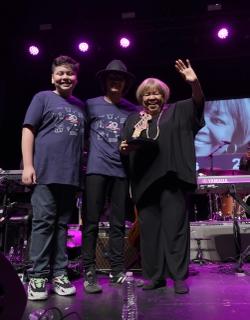 Overall, HARMAN helped Music Will serve 560,000+ total students in more than 2,400 classrooms from coast to coast! Because we know that music has the power to bring us together and connect in new ways, HARMAN and Music Will also partnered on several in-person events and activations throughout the year:
One-of-a-Kind Performances: As part of our DE&I Inclusive Leadership Summit held last year in Detroit, MI, a group of all-female Music Will students was invited to perform a special concert showcasing their musical abilities.
Instrument Donations: At Theodore Roosevelt High School in Washington, D.C., HARMAN, Music Will, and special guest artist Harry Miree donated a drum set and other instruments, as well as eight pairs of JBL headphones to help further the student's musical learning experiences
Celebrating 20 Years of Impact: At the Little Kids Rock 20th Anniversary Benefit Concert, HARMAN was one of more than 350 special guests that gathered at New York City's Terminal 5 music venue to honor Hall of Famer Mavis Staples with the Peace and Freedom Award and John Reznick, frontman of the Goo Goo Dolls with the Rocker of the Year award. The evening concluded with special performances from Music Will students alongside stars like Hozier, Darryl "DMC" McDaniels, Cassadee Pope, Michael Bearden, and Jon Secada, as well as a silent and live auction that raised over $1 million to help bring the gift of music to even more schools across the country.
At HARMAN, we remain dedicated to partnering with leading organizations like Music Will to provide students with opportunities to experience the benefits and impact of music education. For more information on HARMAN Inspired and our work to empower the next generation to realize their potential through the power of music, technology, and service, visit: https://www.harman.com/inspired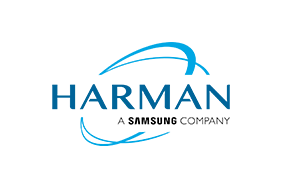 HARMAN
HARMAN
ABOUT HARMAN
HARMAN International (harman.com), a wholly-owned subsidiary of Samsung Electronics Co, LTD., designs and engineers connected products and solutions for automakers, consumers, and enterprises worldwide, including connected car systems, audio and visual products, enterprise automation solutions; and services supporting the Internet of Things. With leading brands including AKG®, Harman Kardon®, Infinity®, JBL®, Lexicon®, Mark Levinson® and Revel®, HARMAN is admired by audiophiles, musicians and the entertainment venues where they perform around the world. More than 25 million automobiles on the road today are equipped with HARMAN audio and connected car systems. Our software services power billions of mobile devices and systems that are connected, integrated and secure across all platforms, from work and home to car and mobile. HARMAN has a workforce of approximately 30,000 people across the Americas, Europe, and Asia. In 2017, HARMAN became a wholly-owned subsidiary of Samsung Electronics.
More from HARMAN