Published 03-23-23
Submitted by Aflac Incorporated

Originally published on Aflac Newsroom
COLUMBUS, Ga., March 23, 2023 /CSRwire/ - Continuing its commitment to helping provide children with cancer and blood disorders comfort and tools that help them cope with mental and emotional stresses of diagnosis and treatment, The Aflac Foundation Inc. this week donated $1.5 million to the Aflac Cancer and Blood Disorders Center of Children's Healthcare of Atlanta. Earmarked for family support services, this year's annual donation will help address patient mental and emotional well-being throughout 2023 and brings Aflac's funding support of the pediatric cancer and blood disorders cause to over $166 million since 1995.
"Aflac continues to provide funding for treatment and research, but we also understand that children need more than medicine when going through a medical crisis," said Kathelen Amos, president of The Aflac Foundation Inc. "For every child with a cancer or blood disorder diagnosis, there is a family in crisis. The needs and concerns of the parents and siblings include, but are not limited to, those directly concerning the patient. We are pleased to help fund the ever-increasing array of holistic and support services that Children's offers to the patients and families of the Aflac Cancer and Blood Disorders Center."
Aflac's donation will help fund the Aflac Cancer and Blood Disorders Center's 35-person Family Support Team, which includes social workers, child life specialists, non-denominational chaplains and music therapists who work in tandem with medical staff to provide therapeutic activities, positive distractions and social support for both patients and families. Major medical insurance does not typically cover family support services, leaving hospitals dependent on philanthropic support to continue the program that cost the Aflac Cancer and Blood Disorders Center $2.5 million in 2021. In the same year, Family Support Team members provided services to a majority of the more than 8,000 children receiving care at the Center, many giving support to their families, as well.
"Because a diagnosis of cancer or a blood disorder impacts all aspects of family life, the common goal of the specialists, therapists and volunteers that make up the Family Support Team is to ensure that the family feels cared for and supported as they adjust and cope, every step of the way," said Certified Child Life Specialist Lucy Tyler, the Center's lead Child Life Specialist in Outpatient Oncology. "We concentrate on the emotional and mental aspects of a childhood illness that, if left unaddressed, can have long-term negative effects on a child and his or her family."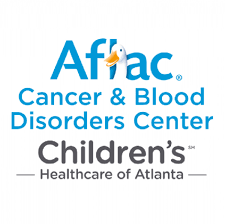 According to Tyler, across different roles, the support team offers distraction and fun through art and music, helps with schoolwork, explains medical procedures in terms a child can understand, provides a safe space to show anger or frustration, helps parents navigate and find financial resources, and more.
The latest donation by The Aflac Foundation Inc. further strengthens the company's commitment to help support psychosocial needs of children with cancer and blood disorders such as sickle cell in addition to providing funding for treatment and research.
In 2018, after nearly two years of research with health care professionals and families, Aflac introduced My Special Aflac Duck®, the award-winning robotic companion and app designed to help patients communicate their emotions with caregivers, teach them about their treatment through medical play, provide distraction and fun with music and art, reinforce comfort and coping skills, and more.
To date, the company has given, free-of-charge, more than 22,000 My Special Aflac Ducks to children with cancer and sickle cell across the United States, Japan and Northern Ireland at a cost of more than $3.5 million to the company.
For more information about Aflac's commitment to children with cancer and blood disorders, including how they can receive My Special Aflac Duck free of charge, visit AflacChildhoodCancer.org. To learn more about the Aflac Cancer and Blood Disorders Center, go to choa.org/medical-services/cancer-and-blood-disorders. For more information about how Aflac policies help close gaps left by expenses health insurance doesn't cover, including some associated with mental health services, go to Aflac.com.
ABOUT AFLAC INCORPORATED
Aflac Incorporated (NYSE: AFL), a Fortune 500 company, has helped provide financial protection and peace of mind for more than 67 years to millions of policyholders and customers through its subsidiaries in the U.S. and Japan. In the U.S., Aflac is the No. 1 provider of supplemental health insurance products.1 In Japan, Aflac Life Insurance Japan is the leading provider of cancer and medical insurance policies in force. In 2021, the company became a signatory of the Principles for Responsible Investment (PRI). In 2022, the company was included in the Dow Jones Sustainability North America Index for the ninth year, the World's Most Ethical Companies by Ethisphere for the 17th consecutive year, Fortune's World's Most Admired Companies for the 22nd time and Bloomberg's Gender-Equality Index for the fourth consecutive year. To find out how to get help with expenses health insurance doesn't cover, get to know us at aflac.com or aflac.com/espanol. Investors may learn more about Aflac Incorporated and its commitment to ESG and social responsibility at investors.aflac.com under "Sustainability."
1 LIMRA 2021 U.S. Supplemental Health Insurance Total Market Report.
Aflac herein means American Family Life Assurance Company of Columbus and American Family Life Assurance Company of New York.
Media contact – Jon Sullivan, 706-763-4813 or jsullivan@aflac.com
Analyst and investor contact – David A. Young, 706-596-3264, 800-235-2667 or dyoung@aflac.com
SOURCE Aflac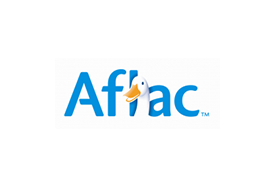 Aflac Incorporated
Aflac Incorporated
Aflac is a Fortune 500 company, providing financial protection to more than 50 million people worldwide. When a policyholder or insured gets sick or hurt, Aflac pays cash benefits fairly, promptly and directly to the insured. For more than six decades, Aflac voluntary insurance policies have given policyholders the opportunity to focus on recovery, not financial stress.
More from Aflac Incorporated