Published 03-22-23
Submitted by Rayonier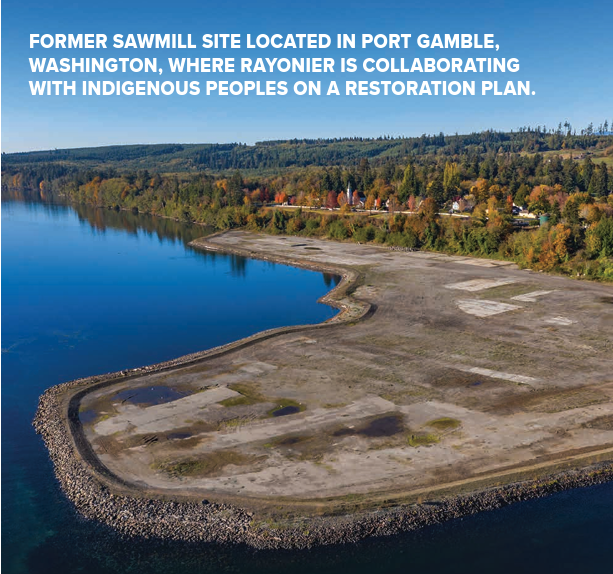 Rayonier 2021 Sustainability Report
Rayonier has developed policies and practices to recognize and respect the rights of Indigenous Peoples. We maintain ongoing dialogue and are continually building relationships with Indigenous Peoples in Washington, Oregon, and New Zealand. We further have programs in place to respond to any inbound inquiries from or relating to Indigenous Peoples.
We take pride in our relationships with U.S. Pacific Northwest tribes, are respectful of protecting their cultural rights, and look for opportunities to both strengthen these relationships and foster improved communication.
Given the significant common interests that we have with the Port Gamble S'Klallam Tribe in Port Gamble Bay, adjacent to the former Pope & Talbot mill site in Port Gamble, Washington, Rayonier works hard to ensure a cooperative working relationship with the tribe. This relationship incorporates many elements, including a 25-year lease on five acres of Rayonier tidelands in Port Gamble Bay to support the tribe's cultural shellfish harvesting. The tribe also holds a first right of refusal on these tidelands, which gives the tribe preferential rights to purchase the tidelands in the event that Rayonier ever decides to sell them. In addition, Rayonier is working cooperatively with the Port Gamble Bay Natural Resource Trustees, a group comprised of five stakeholder tribes (including the Port Gamble S'Klallam Tribe), and state and federal regulators in implementing a suite of restoration activities on the former mill site. Much of this unique waterfront property will ultimately be dedicated to open space for public access and is adjacent to the town of Port Gamble, for which redevelopment planning is underway.
Going forward, as we look to build upon our relationships with Indigenous Peoples and further enhance our environmental stewardship efforts, we expect to provide access to our lands for a wide range of beneficial academic studies, including:
University of Washington Coastal Observation and Seabird Survey Team
Hood Canal Salmon Enhancement Group
Jefferson County Public Health (shellfish assessments)
Lower Elwha Klallam Tribe (cougar study and salmon recovery project monitoring)
Makah Tribe (cougar, elk, and deer study)
National Council for Air and Stream Improvement (stream sampling)
Olympic Natural Resources Center (Swiss needle cast study, ethnoforestry study, and others)
Oregon Department of Fish and Wildlife (spawning and other aquatic surveys)
Point No Point Treaty Council—Port Gamble S'Klallam and Jamestown S'Klallam Tribes (cougar study)
Quileute Indian Tribe (culvert assessments)
Quinault Indian Nation (elk study)
Washington State Department of Fish and Wildlife (steelhead surveys and Cooperative Monitoring, Evaluation, and Research (CMER) Committee's riparian study)
In New Zealand, we operate on lands that have cultural, ecological, and economic importance to Māori, and we therefore seek to honor their interests in these lands.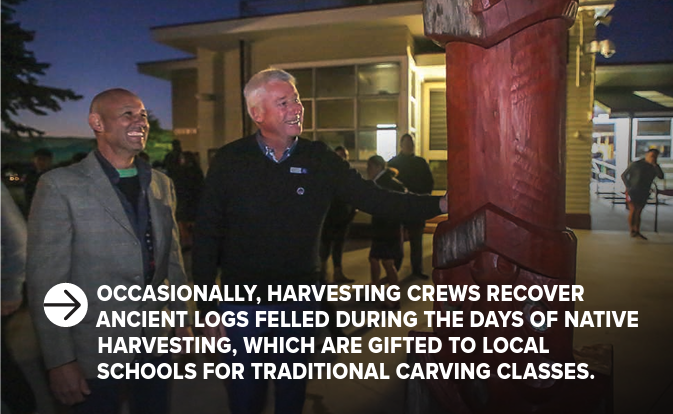 Our subsidiary, Matariki Forests, was recently recognized to signify the Māori name for the Pleiades constellation, which appears above the horizon in early June, signifying the start of the Māori New Year. Traditionally, this is the time when new crops are planted, or in Matariki Forests' case, new trees are planted, which marks the beginning of a new cycle of growth.
We have a number of joint ventures with Māori land owners where the joint venture partner is actively involved in management decisions on the land. This includes decisions around land use mix, consideration of cultural and ecological values, and incorporation of complementary commercial or non-commercial land uses.
In order to support the ongoing protection and enhancement of these lands, special care is taken in the development and execution of forest manage ment plans in consultation with iwi, Pouhere Taonga (Heritage NZ), the Department of Conservation, local councils, and surrounding communities.
Read the full 2021 Sustainability Report.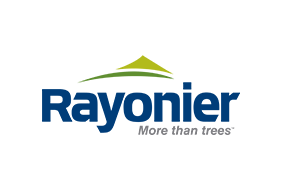 Rayonier
Rayonier
Rayonier (NYSE:RYN) is a leading timberland real estate investment trust with assets located in some of the most productive softwood timber growing regions in the United States and New Zealand. We own or lease under long-term agreements approximately 2.8 million acres of timberlands located in the U.S. South, U.S. Pacific Northwest and New Zealand. We are More than trees because we recognize that our 90+ years of success in the timberland industry comes from our people, an empowering culture and the courage to constantly challenge "the way it's always been done." Get to know us at www.rayonier.com.
More from Rayonier