Published 03-13-23
Submitted by Aflac Incorporated

Originally published on Aflac Newsroom
COLUMBUS, Ga., March 13, 2023 /CSRwire/ - Aflac Incorporated, a leading provider of supplemental health insurance products in the U.S., enhanced its hospital insurance product to include income protection for mental health treatment while reducing hospital confinement hour requirements to qualify for benefits. The enhanced product, named "Aflac Choice," is designed to help customers with expenses associated with doctor visits, hospitalizations and mental health treatment that health insurance doesn't cover.
Mental illness and/or substance use disorders are a component of 1 in every 8 emergency department visits by an adult in the United States, and mood disorders are the most common cause of hospitalization for all Americans under age 45, according to the National Alliance on Mental Illness.1 Additionally, 24.7% of all adults with a mental health condition cited insufficient finances as a barrier to seeking treatment.2
"Today many Americans face stress, anxiety, depression and other concerns that can lead to mental health challenges and hospitalization," said Keith Farley, senior vice president, Aflac Individual Voluntary Benefits. "Amid rising health care costs, seeking appropriate and timely care can be costly, which only contributes to the burden for many who are facing a health crisis. Aflac Choice Hospital Insurance puts healing and recovery at the forefront so that Aflac policyholders can focus on getting better rather than worry about how to help close the gap between what their health care insurance does and doesn't cover."
In addition to helping policyholders, Aflac Choice Hospital Insurance can help protect the overall physical, financial and mental health of an employer's workforce. With a variety of options, employees can tailor coverage to their specific needs and budgets, which helps ensure their employees have the protection they need whenever a health event arises.
"Even with health insurance, an unplanned visit to the hospital may leave individuals and families with unpaid medical bills, which can be devastating to their financial and mental health," said Kim Rudeen, vice president, Aflac Product Development. "When a hospital stay is necessary, our customers can experience peace of mind knowing that they'll have hospital coverage to help protect their financial well-being and worry a little less."
Highlights of Aflac's strengthened individual hospital product include:
Expanded benefits for covered hospital confinements caused by common mental health conditions, including but not limited to schizophrenia, bipolar disorders, depressive disorders, anxiety disorders, eating disorders, post-traumatic stress, substance and alcohol use disorders.
Expanded coverage with no rate increase to policyholders.
Decreased minimum number of hours required to qualify for hospital confinement from 23 hours to 18 hours.
Optional riders to help further amplify income protection coverage.
For more information visit Aflac.com/business.
ABOUT AFLAC INCORPORATED
Aflac Incorporated (NYSE: AFL) is a Fortune 500 company helping provide protection to more than 50 million people through its subsidiaries in Japan and the U.S., paying cash fast when policyholders get sick or injured. For over 67 years, the insurance policies of Aflac Incorporated's subsidiaries have given policyholders the opportunity to focus on recovery, not financial stress. In the U.S., Aflac is the number one provider of supplemental health insurance products.3 Aflac Life Insurance Japan is the leading provider of medical and cancer insurance policies in force in Japan, where it insures 1 in 4 households. In 2022, the company was included in the Dow Jones Sustainability North America Index and became a signatory of the Principles for Responsible Investment (PRI). Also in 2022, Aflac Incorporated was proud to be included as one of the World's Most Ethical Companies by Ethisphere for the 16th consecutive year, Fortune's World's Most Admired Companies for the 22nd time and Bloomberg's Gender-Equality Index for the fourth consecutive year. To find out how to get help with expenses health insurance doesn't cover, get to know us at aflac.com or aflac.com/espanol. Investors may learn more about Aflac Incorporated and its commitment to ESG and social responsibility at investors.aflac.com under "Sustainability."
Coverage is underwritten by American Family Life Assurance Company of Columbus. In New York, coverage is underwritten by Aflac New York. Benefits and/or premiums may vary based on state and benefit option selected. The policy has limitations, exclusions, and pre-existing condition limitations that may affect benefits payable. Riders are available for an additional cost. The policy may contain a waiting period. Refer to the policy for benefit details, definitions, limitations and exclusions. For more information, ask your insurance agent/producer, call 1.800.992.3522, or visit aflac.com. In Arkansas, Policies B40100AR & B401HAR. In Delaware, Policies B40100DE & B4010HDE. In Idaho, Policies B40100ID & B4010HID. In New York, Policies NYB40100 & NYB4010H. In Oklahoma, Policies B40100OK & B4010HOK. In Oregon, Policies B40100OR & B4010HOR. In Pennsylvania, Policies B40100PA & B4010HPA. In Texas, Policies B40100TX& B4010HTX. In Virginia, Policies B40100VA & B4010HVA. This is a limited benefit, Hospital Confinement Indemnity Insurance.
Media contact: Jon Sullivan, 706-763-4813 or jsullivan@aflac.com
Analyst and investor contact: David A. Young, 706-596-3264, 800-235-2667 or dyoung@aflac.com
1 National Alliance on Mental Illness (2022). Mental Health Statistics. Accessed on Jan. 11, 2023, from https://nami.org/mhstats.
2 Reinert, M, Fritze, D. & Nguyen T. (October 2021). "The State of Mental Health in America 2022." Mental Health America. Accessed on Jan. 17, 2023, from https://mhanational.org/issues/2022/mental-health-america-adult-data.
3 LIMRA 2021 US Supplemental Health Insurance Total Market Report
Aflac | WWHQ | 1932 Wynnton Road | Columbus, GA 31999
SOURCE Aflac Incorporated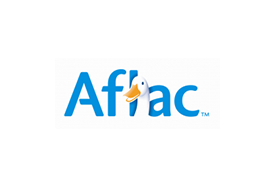 Aflac Incorporated
Aflac Incorporated
Aflac is a Fortune 500 company, providing financial protection to more than 50 million people worldwide. When a policyholder or insured gets sick or hurt, Aflac pays cash benefits fairly, promptly and directly to the insured. For more than six decades, Aflac voluntary insurance policies have given policyholders the opportunity to focus on recovery, not financial stress.
More from Aflac Incorporated