Published 03-09-23
Submitted by Logitech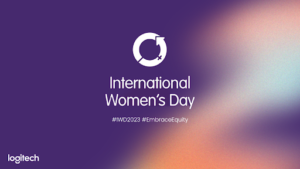 As Logitech celebrates International Women's Day, we join the rest of the world in recognizing women's incredible achievements around the globe, while raising awareness and encouraging organizations and people everywhere to advocate for gender equality. This year's global theme to "Embrace Equity" resonates very strongly with us, as we join others to get the world talking about why equal opportunities are no longer enough.
At Logitech, we have strived to make important gains in women's representation, both in leadership roles and throughout the company, but we know there is always more work to be done. Like most in the industry, we continue our work towards equal gender representation for STEM and technical roles within the walls of Logitech and in our community through multiple partnerships and programs.
Logitech remains committed to building a more equitable workplace by pushing back against bias, practicing allyship and embracing sponsorship. We also seek to address barriers and defy stereotypes through various initiatives, including:
At Logitech, we celebrate the achievements and successes of women everywhere today and everyday, and remain committed to do our part in building a more equitable workplace and advocating for gender equality around the world.

Logitech
Logitech
Logitech designs products that have an everyday place in people's lives, connecting them to the digital experiences they care about. More than 35 years ago, Logitech started connecting people through computers, and now it's a multi-brand company designing products that bring people together through music, gaming, video, and computing. Brands of Logitech include Logitech, Logitech G, ASTRO Gaming, Streamlabs, Ultimate Ears, Jaybird, and Blue Microphones. Founded in 1981, and headquartered in Lausanne, Switzerland, Logitech International is a Swiss public company listed on the SIX Swiss Exchange (LOGN) and on the Nasdaq Global Select Market (LOGI). Find Logitech at www.logitech.com, the company blog, or @Logitech.
More from Logitech