Published 03-08-23
Submitted by Expedia Group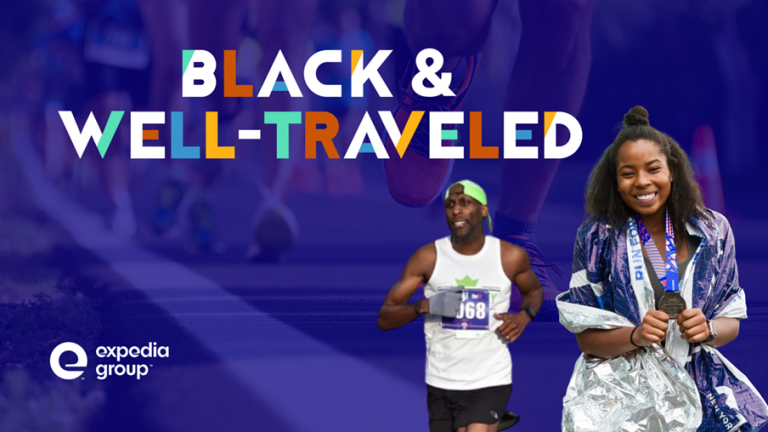 Wellness and balance go hand in hand, so it makes perfect sense that it also plays an integral role in our careers — regardless of industry or organization. As we focus on our well-being, it can often be difficult to find representation and community in some activities, such as running. According to Running USA's biannual National Runner Survey, only 1.6% of marathon runners in America are African-American, compared with 90% Caucasian, 5.1% Hispanic and 3.9% Asian/Pacific Islander.

We interviewed two of our leaders to learn more about their experiences as marathoners, and the ways Expedia Group has empowered them to lead their dream careers and invest in their love for running. One thing they have in common – they both agree running has taken them to new places and expanded their worlds.
Kira West, Inclusive Marketing & Social Impact Lead at Expedia Group, is also a wellness entrepreneur with a passion for inclusivity. Kira is the co-founder of ACTIV-ISM, an anti-racism wellness program, and Sanity Miles. She's also a huge lover of traveling and is our Global Vice President of BEAM (Black Expedian Allied Movement, our Black Inclusion Business Group).
"Being an athlete is so much more than running marathons and competing in races. An athlete continues to show up and push themselves, reaching new heights while overcoming countless challenges along the way. I'm passionate about running as a vehicle for change."
On finding inspiration to begin running
"Midway through college, I wanted to take my wellness more seriously and I wanted to approach it in a holistic way. I had always dreamed of doing a half marathon. In the beginning, a lot of it was overcoming my own challenges. But now, it's become a lot more community-focused and a vehicle for mental wellness. It was also a beautiful way of finding freedom during the pandemic."
For me, my running journey has shown me just how much I'm capable of, not just at the end of that race but in life." – Kira West
On the relationship between running and work
"It has set me up for success and helped me process nuanced concepts. There are a lot of lessons learned in running that translate to work, like making progress. Progress happens over time, for both your success in the workplace and with running. That same concept of consistency is also important in both running and in work."
"Progress happens over time, for both your success in the workplace and with running." – Kira West
How Expedia Group has supported employee wellness journeys
"I used my wellness and travel benefits to participate in the Berlin marathon. It helped me meet other employees in our Seattle office who run, and I was able to lean on the Expedia Group community. It's helped me build an internal and external community. You can also use the wellness benefit for things like fitness trackers, and sneakers!"
Recommended listenings
"Atomic Habits as an Audiobook."
Jaison Williams, Senior Vice President, Capabilities and Culture at Expedia Group, is a talent management, leadership and organization development executive. He ignites passion and purpose in our organization by designing human-centered approaches that improve how employees experience the workplace —whether in physical or virtual environments. Jaison has completed over 20 marathons across 3 continents and 16 states in the U.S. Also, he has used his running to help raise funds to support World Vision and mental health services provided to the Boston community following the 2013 Boston Marathon bombing.
On finding inspiration to begin
"I was in graduate school and my stress reliever was playing basketball. After our games were finished, there was one person who would always go for a run around the track. One day I asked why he ran, and he inspired me to run with him. I watched this black man do it and that resonated with me. I've been running ever since then."
On the relationship between running and work
"I started connecting leadership with running. Leadership is a marathon – it takes the same type of preparation and practice. You have to know where you're going and the outcome want and you need to prepare before you get to the starting line in order to lead. Leadership and marathons require proper perspective — an unwavering understanding of what you are trying to achieve, and how you are pacing yourself. You also begin to recognize in any leadership journey that you can "hit the wall" the same way you do with running where your body starts to shut down on you. You have to train your leadership skills from start to the finish."
"You have to know where you're trying to lead, and you need to prepare before you even get to the starting line." – Jaison Williams
How Expedia Group has supported employee wellness journeys
"When you run a lot, you go through a lot of shoes and clothes. Our wellness health benefits have been helpful for that, and I've been able to use it for race registration. I use our employee travel discount for hotels when I travel for races. Expedia Group has helped with my ambitions and I have been able save money to push farther and go farther."
Recommended listenings
"The Marathon Talk Podcast."
Learn more about the power of travel as a force for good at Expedia Group, our Travel Community, BEAM, and how you can join us.

Expedia Group
Expedia Group
Expedia Group, Inc. companies power travel for everyone, everywhere through our global platform. Driven by the core belief that travel is a force for good, we help people experience the world in new ways and build lasting connections. We provide industry-leading technology solutions to fuel partner growth and success, while facilitating memorable experiences for travelers. The Expedia Group family of brands includes: Expedia®, Hotels.com®, Expedia® Partner Solutions, Vrbo®, Egencia®, trivago®, Orbitz®, Travelocity®, Hotwire®, Wotif®, ebookers®, CheapTickets®, Expedia Group™ Media Solutions, Expedia Local Expert®, CarRentals.com™, and Expedia Cruises™.
More from Expedia Group