Published 03-03-23
Submitted by Whole Foods Market Foundations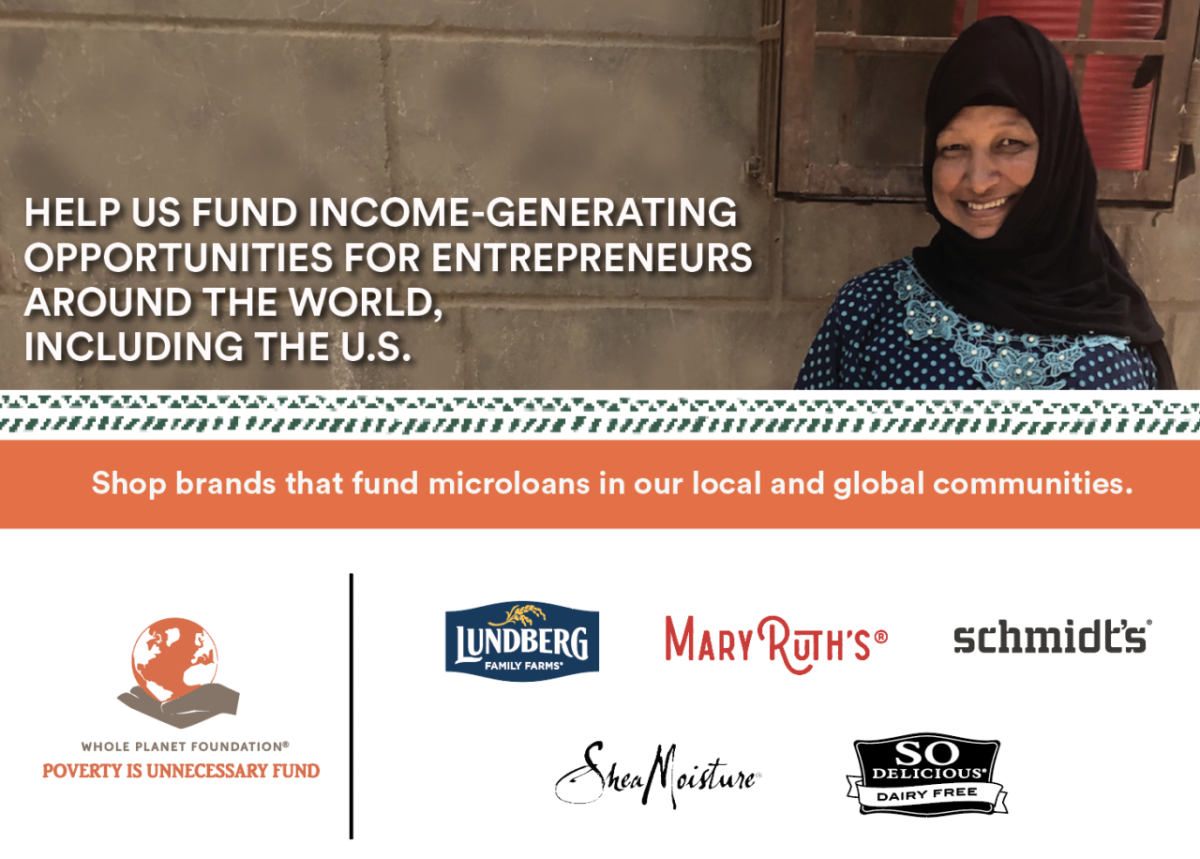 Suppliers of Whole Foods Market are empowering microentrepreneurs, primarily women, with economic opportunity. These generous brands fund microloans for entrepreneurs living in poverty so they can start or expand a small business, often home-based. With a small loan of around $200, an entrepreneur can purchase essential needs for their small enterprises, such as products for a food stand, equipment for a sewing business, or tools for a small-scale farm.  Profits from their microbusinesses provide these entrepreneurs the opportunity to lift themselves and their families out of poverty, one loan at a time. 
Celebrating the economic achievements of women in March
Every year, we celebrate the economic achievements of women microcredit clients on International Women's Day in March during Women's History Month. Supporting brands are invited to help further our mission by funding additional microloans. Brands that donate $25,000 in March to fund microcredit are recognized as members of Whole Planet Foundation's Poverty Is Unnecessary Fund. This month's generous donors include Lundberg Family Farms, MaryRuth's, Schmidt's, SheaMoisture and So Delicious. 
Lundberg Family Farms
Lundberg Family Farms, a leading grower of organic rice and maker of best-selling packaged rice and rice snacks, returns as a member of the $25,000 Poverty is Unnecessary Fund supporting Whole Planet Foundation's mission. To date, they have helped fund more than 630 microloans to create income-generating opportunities for microentrepreneur families around the globe. These loans help a microentrepreneur to start or grow a small business in their communities.

"Our family knows firsthand how the seed of an idea can grow into a business that can help families and communities flourish," says fourth-generation family member Brita Lundberg. "We're honored to pay it forward by supporting Whole Planet Foundation so we can all keep growing together for generations to come," says Lundberg Family Farms Team.
MaryRuth's Organics
Woman-founded MaryRuth's Organics renews their support of Whole Planet Foundation with an additional contribution of $25,000 in March. Their deep mission to make supplements accessible to all falls right in line with Whole Planet Foundation's mission to provide microentrepreneurs with access to microcredit. To date, MaryRuth's has helped create more than 1,280 opportunities for microentrepreneur families around the globe to lift themselves out of poverty. 
"MaryRuth Ghiyam founded MaryRuth's Organics in 2014 with her mother, Colleen. And while the company is still fairly new, it has a bigger purpose. MaryRuth's was created to help others reach their goals and achieve their dreams by being empowered to take their health and wellness into their own hands", writes the MaryRuth's Team.
SheaMoisture
SheaMoisture is a global beauty and personal care leader committed to serving the Black community through strategic investment and community give back. SheaMoisture recognizes the power of entrepreneurship in addressing racial inequality with the belief that commerce can bring true economic independence. Every year SheaMoisture reinvests at least 1% of net sales directly into economic opportunities for underserved entrepreneurs and Black business owners. Every purchase provides investments that support funding for Black-owned business, entrepreneurial education, crisis response, equitable purchasing, and ethical sourcing. SheaMoisture develops no compromise beauty products that help every member of the Black community live their healthiest, most beautiful lives. Shea butter is one of the brand's core ingredients, praised for its hydrating and nourishing properties, and sourced from women-led cooperatives in West Africa, providing fair wages and creating economic opportunities. SheaMoisture supports Whole Planet Foundation and a shared mission to reinvest back in our communities globally. To date, SheaMoisture has funded more than 430 microloans for entrepreneurs around the globe living in poverty.  These microloans help create income-generating opportunities for those that are in most need of a hand up. 
Schmidt's
Jaime Schmidt started making natural products in her Portland kitchen back in 2010. She felt frustrated with the lack of effective natural products in the marketplace, so she decided to make her own.  Today, this woman-founded company, in partnership with Whole Planet Foundation, is paying it forward by helping fund microloans for women microentrepreneurs around the globe. With their renewed support, Schmidt's is funding additional microloans for those living in poverty around the global.  To date, Schmidt's has helped fund more than 2,290 income-generating opportunities for entrepreneurs, primarily women. 
So Delicious
Since 2015, So Delicious has been committed to funding opportunity through Whole Planet Foundation. As a repeat donor, their $50,000 commitment this year will help fund an additional 270 microloans for entrepreneurs living in poverty. With a small microloan, low-income entrepreneurs can start or develop a business, often home-based, to support themselves and their families. "So Delicious Dairy Free is on a mission to show what's possible when everyone has an equal seat at the table. This means advocating for a more inclusive economy and creating economic opportunities for marginalized communities. We are proud to support Whole Planet Foundation and their mission to alleviate global poverty through microfinance", says Virginia Kelly, VP of Marketing for So Delicious Dairy Free.
Whole Planet Foundation's $25,000 donors believe Poverty is Unnecessary. That's why they support our mission to empower microentrepreneurs like Hamdiya, pictured above, with income-generating opportunities. Hamdiya is a microcredit client of Whole Planet Foundation's microfinance partner Future Eve Foundation in Egypt. Learn about Hamdiya featured above and how you can help support our work at wholeplanetfoundation.org.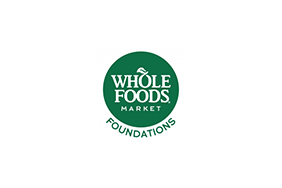 Whole Foods Market Foundations