Published 03-02-23
Submitted by Pure Strategies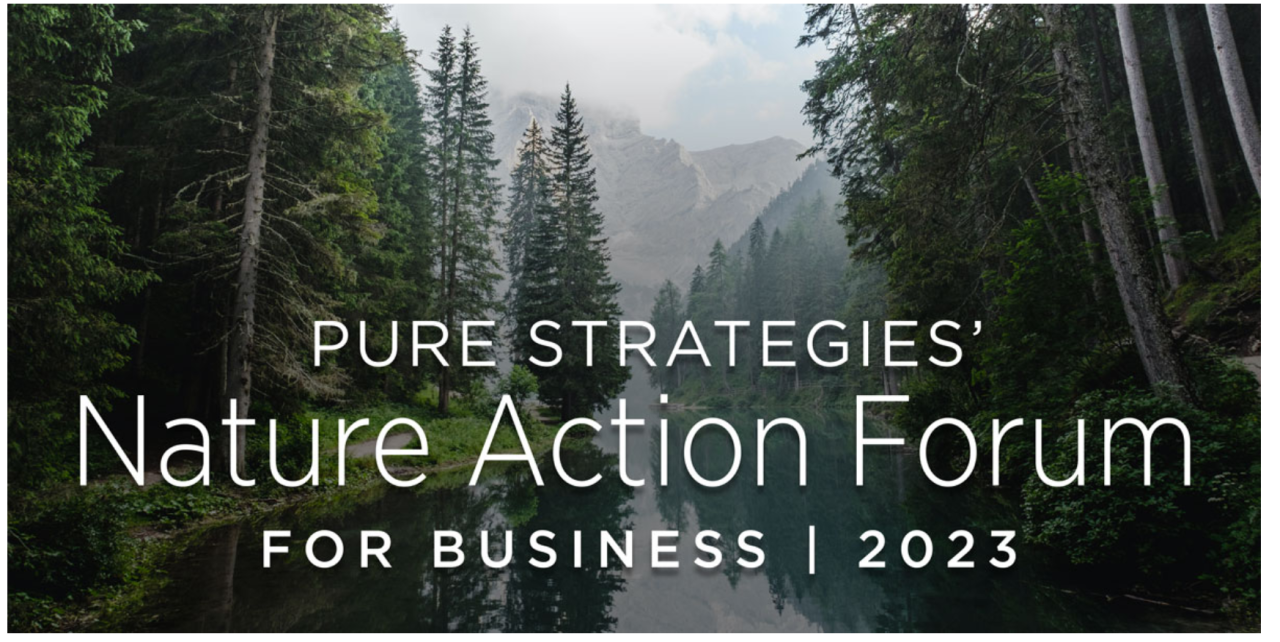 GLOUCESTER, Mass., March 2, 2023 /CSRwire/ - Pure Strategies, a sustainability consulting firm empowering brands and retailers to realize meaningful environmental and social improvement, is offering an 8-month Nature Action Forum for Business to help companies progress on their nature programs.
Pure Strategies' Nature Action Forum is accepting applications for a cohort of corporate sustainability professionals that will begin meeting in April 2023. 
Through the monthly web-based meetings, the members of the Nature Action Forum will:
Build knowledge about the drivers and approaches in a corporate nature strategy
Create their own action plan to advance a nature strategy that is suited for their business
Acquire skills, practical tools, and information to take their next steps
The engaging monthly discussions will cover topics including nature assessment approaches, target setting, implementation actions, and disclosure frameworks such as the Task Force for Nature-related Disclosures and others.
"When the new Global Biodiversity Framework was finalized at the end of 2022, business targets were included in the framework for the first time," notes Tim Greiner, Managing Director and Co-founder of Pure Strategies. "Leading businesses know this is just one of the many drivers for the growing expectations to assess, act on, and disclose biodiversity impacts."
Pure Strategies is offering sustainability leaders in businesses the Nature Action Forum's unique learning opportunity to help companies take the steps toward a nature-positive future.
Applications and payment are due by April 7, 2023. Companies can learn more and apply here.
About Pure Strategies 
Pure Strategies has been transforming business through sustainability performance since 1998. Our team helps companies initiate and enhance existing sustainability programs by setting meaningful sustainability goals, devising effective management strategies, and making changes to products and supply chains that deliver value to the business and society. Our clients include Walmart, Ahold Delhaize USA, Seventh Generation, TAZO, Timberland, Everlane, MegaFood, Ben & Jerry's, and over 100 others. Pure Strategies is proud to be a Co-Founder of The Chemical Footprint Project, a licensed GreenScreen® Consultant, The Sustainability Consortium registered service provider staff member, a pioneer member of the Science Based Targets Network Corporate Engagement Program, and a certified B Corp.
For more information, contact: 
Melanie Fleming 
Marketing Manager 
Pure Strategies, Inc. 
mfleming@purestrategies.com 
978-525-0487

Pure Strategies
Pure Strategies
Pure Strategies is a sustainability consulting firm that has been empowering companies to realize meaningful environmental and social improvement since 1998. Our team of experts helps build sustainability strategies and programs, set sustainability goals, create sustainable supply chains, and optimize products and sustainable packaging for brands and retailers such as Ben & Jerry's, Everlane, Seventh Generation, TAZO, and Walmart. This work helps our clients gain business benefits while also realizing sustainability goals and helps us on our mission as a certified B Corporation to transform business to create a more sustainable future. Learn more about our sustainability advisory services here.
More from Pure Strategies