Published 03-01-23
Submitted by JetBlue Airways
NEW YORK, March 1, 2023 /CSRwire/ - JetBlue (NASDAQ: JBLU) today announces a partnership with climate tech company CHOOOSE as part of its ongoing focus on sustainability and advancing the use of Sustainable Aviation Fuel (SAF). By visiting https://jetblue.chooose.today, JetBlue customers will now be able to join JetBlue in championing SAF adoption through a dedicated climate platform powered by CHOOOSE. The platform enables customers to estimate the CO2 emissions of their flights and then address these emissions by contributing to a fund dedicated to covering the cost premium of SAF as compared to conventional jet fuel.
JetBlue views SAF as the most promising avenue for addressing aviation emissions in a meaningful and rapid way – once cost-effective SAF is made available commercially at scale. Produced from a wide array of renewable sources such as agricultural wastes and used cooking oils—not fossil fuels— SAF is a type of renewable fuel that exists today and drops directly into existing aircraft and infrastructure with no impact to safety or performance. SAF can lower lifecycle greenhouse gas emissions by roughly 80% compared to traditional petroleum-based fuels while reducing particle and sulfur pollution.
In 2022, roughly 0.3% of JetBlue's fuel consumed was SAF. Supporting and growing SAF availability is critical to increasing this volume and reaching the aviation industry's emissions reduction goals. By contributing toward the purchase of additional SAF through CHOOOSE, JetBlue customers and can now send a critical signal of consumer demand for more sustainable air travel options and help grow the emerging SAF market.
"The call from our customers for more sustainable air travel has only gotten louder and louder. We are proud of our industry-leading commitments and actions but recognize reaching our aggressive goals will require the partnership and support of multiple stakeholders," said Sara Bogdan, director of sustainability and environmental social governance, JetBlue. "With this new platform, customers are now able to measurably reduce the environmental impact of air travel, as well as join their voices with JetBlue and our growing list of partners as we work and advocate for a more sustainable future of aviation."
While proven effective, additional support for SAF is still needed to grow the market and encourage the economies of scale necessary to make SAF more widely available and cost competitive with traditional fuel sources. JetBlue continues to do its part, securing immediate as well as future supplies of SAF on its path to convert 10% of the airline's total fuel to be SAF by 2030. JetBlue has been flying regularly using SAF from its California airports in San Francisco and Los Angeles, partnering with both currently available SAF suppliers in the U.S., Neste and World Energy. To further encourage a vibrant and competitive market, in 2022 alone, JetBlue signed agreements with three additional SAF producers for future supply: Aemetis, AIR COMPANY, and Fidelis New Energy.
Today's announced partnership with CHOOOSE builds upon the airline's previously announced JetBlue Sustainable Travel Partners program for JetBlue Corporate Travel customers. JSTP enables organizations to directly and meaningfully reduce their reported carbon footprint through the purchase of JetBlue issued SAF certificates and address their "Scope 3" indirect emissions that exist within the value chain, such as those produced through corporate travel. Since launching the program in 2022, a growing list of sustainability-focused organizations have taken advantage of JetBlue issued SAF certificates to help source over 1.6 million gallons of SAF combined.
Together with CHOOOSE, individual customers will now be able to join JetBlue and these leading sustainability-minded organizations in their call for greater availability of lower carbon solutions within the aviation industry. All customer contributions through https://jetblue.chooose.today/ are used to help cover the difference in cost between SAF and conventional jet fuel -- allowing the airline to 'upgrade' more conventional jet fuel to SAF and sending a powerful signal that demand for SAF exists.
"CHOOOSE is thrilled to support JetBlue's efforts to reduce its carbon emissions by making it easy and accessible for JetBlue customers to take action on the emissions associated with their flights and to join JetBlue in its efforts to transition to SAF. Airlines, governments, NGOs and travelers alike must come together to scale the production and use of SAF and other low-emission alternatives," said Andreas Slettvoll, CEO at CHOOOSE. "This is how we change the emissions at their root cause, by giving passengers the opportunity to opt for alternatives to fossil fuel. We are excited to be a part of JetBlue's journey to becoming a more sustainable business. Together we will make SAF much more accessible to travelers across the world"
Advancing the Future of Flight
JetBlue continues to focus on the future of sustainable aviation through partnerships and advocacy. As a launch member of the Aviation Climate Taskforce, the airline, along with its subsidiary JetBlue Ventures (JBV), nine other airlines and the Boston Consulting Group launched the non-profit organization to accelerate breakthroughs in emerging technologies to decarbonize aviation.
JetBlue Ventures also continues to invest in and partner with early-stage startups improving travel and hospitality, including those in the sustainable travel space. JBV has invested in seven direct and three adjacent sustainability companies to date. The team explores advanced methods of measuring and reducing emissions, technologies that improve environmental protections and encourage sustainable tourism, and game-changing transportation powered by alternative propulsion systems like electric or hydrogen powered commercial aircraft. Most recently, JBV announced an investment in Rubicon Carbon, a next generation carbon solutions provider also backed by TPG Rise Climate.
About JetBlue
JetBlue is New York's Hometown Airline®, and a leading carrier in Boston, Fort Lauderdale-Hollywood, Los Angeles, Orlando and San Juan. JetBlue carries customers to more than 100 destinations throughout the United States, Latin America, Caribbean, Canada and United Kingdom. For more information and the best fares, visit jetblue.com.
About CHOOOSE
CHOOOSE™ provides the leading Software-as-a-Service (SaaS) platform empowering businesses to integrate climate action into customer experiences. Enterprise partners in sectors like aviation, travel and logistics deploy CHOOOSE to build, manage and report on customer-centric climate programs that embed climate action wherever they interact with their consumer or corporate customers. Headquartered in Oslo, Norway, CHOOOSE has enterprise partners and employees around the world. Learn more at www.chooose.today.
Media Contact 
JetBlue Corporate Communications
corpcomm@jetblue.com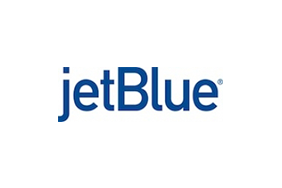 JetBlue Airways
JetBlue Airways
JetBlue is New York's Hometown Airline, and a leading carrier in Boston, Fort Lauderdale/Hollywood, Los Angeles (Long Beach), Orlando and San Juan. JetBlue carries more than 30 million customers a year to 87 cities in the U.S., Caribbean, and Latin America with an average of 825 daily flights. For more information please visit JetBlue.com.
More from JetBlue Airways