Published 02-28-23
Submitted by Yum! Brands
KFC is on a journey to reflect the diversity we see in our restaurants, within the dining room, and across our counters.
In celebration of Black History Month, we're shining a light on some incredible leaders throughout our KFC family who are playing a role in advancing a more equitable and inclusive KFC for future generations.
Meet Kedibone Patricia Malatji Lebethe (she/her), CEO and Managing Director of KFC South Africa's KPML Group of Companies. This is her story.
How did you get started as a franchisee with KFC?
My journey started with this great brand in 1986, working as a cashier at a franchise-owned KFC restaurant. My relationship with KFC progressed over the years as my career reached different milestones – only then did I realize my purpose at KFC. Success demands singleness of purpose and mine was to be a franchisee one day.
Through prayer, persistency, influential mentorship and the boundless support of my family, my career grew rapidly to that of senior management at Yum! Brands. After hardship, a lengthy standard application process and with the support from Tarun Lal (currently KFC U.S. President) and other senior leaders at Yum! Brands, I was then approved as a franchisee.
"Alongside my great people, we grew our portfolio to 29 restaurants in 3 different provinces with a team of over 1,000 employees."
In 2007, I opened my first restaurant and worked as the General Manager. After the opening of my third restaurant, I worked as an Area Coach, and as my business grew so did my team. I capitalized on the experience gained from ground level of what can be done and how it can be done; this ensured a strong foundation for the way forward. Alongside my great people, we grew our portfolio to 29 restaurants in three different provinces with a team of over 1,000 employees.
We know the customer experience will never exceed the team member experience. How do you keep a winning mindset when growing your restaurant teams?
True culture is a shadow of the leader. At KPML Group of Companies, we lead through our motto, Motho Ke Motho Ka Batho, meaning "No man is an island." This ignites our HWWT2 principles and delivers a magic recipe in running a great business.
"As a leader, I have learned that my people are the 12th ingredient to a successful KFC franchise and they are the most important assets of my business."
Being compassionate is also a great blend to top our motto and this makes each and every person in my business feel appreciated and valued, as my shadow filters down all the way to store management and team members. Over the years I've learned that you don't merely build restaurants, you build people. And the people will not only build the restaurants but will grow them to greater heights.
This all ensures that KFC's People Promise stays alive and everyone can 'Be their Best Self, Make a Difference and Have Fun.' The key to success as a franchisee consists of being true to the core of the business with passion, hard work, dedication and determination to make it work, while doing the same thing every day until it gets done.
My advice on motivating staff and cultivating a culture of recognition and training is to:
Celebrate people doing things right
Give consistent recognition
Promote from within
Training is an integral and ongoing part of our business, which allows people to grow and improve their capability to do their jobs more effectively. We also put people capability first, which results in satisfied customers and sales that will follow and to maintain this we have leaders who lead with their heart to ensure sustainability. Any business is, in large measure, the elongated shadow of one person.
When you think about the KFC of the future, what inspires you?
It is said, "The only constant is change." This alone inspires me – to know that we are forever growing and evolving not only as individuals but as a business, too. One constant since my time with the brand is witnessing how we transform with time. If we reject change there is no growth, no progress. Being part of a brand that rejects being stagnant makes room for innovation. KFC stays aligned with new innovation and technology, and as a global brand, we study and measure other markets to ensure we do things in the right way to benefit the customer and continue to grow the brand on the southern tip of Africa.
"...this puts me at ease to know together, the future will be bright."
The brand has the right strategy to ensure we move with time. We have recently seen more technology come on board to ensure we keep the smiles on our important customers faces. The brand always has a go-forward strategy, and this puts me at ease to know together, the future will be bright.
Click here to continue reading stories about the People of KFC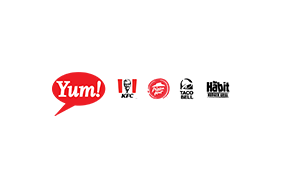 Yum! Brands
Yum! Brands
Yum! Brands, Inc., based in Louisville, Kentucky, has over 54,000 restaurants in more than 155 countries and territories, operating the Company's brands – KFC, Pizza Hut and Taco Bell – global leaders of the chicken, pizza and Mexican-style food categories. The Company's family of brands also includes The Habit Burger Grill, a fast-casual restaurant concept specializing in made-to-order chargrilled burgers, sandwiches and more. Yum! Brands was named to the 2021 Dow Jones Sustainability Index North America and was ranked on Newsweek's list of 2021 America's Most Responsible Companies. In 2022, Yum! Brands was named to 3BL Media's 100 Best Corporate Citizens.
More from Yum! Brands