Published 02-24-23
Submitted by Nielsen

Originally published on Nielsen News Center
At Nielsen, all employees are encouraged to get involved with skills-based volunteering through our Data for Good® program. These projects and initiatives share pro bono Nielsen data, solutions and talent with nonprofit organizations to make a positive impact, especially to increase representation and encourage inclusion. Data for Good projects are also critical to advance Nielsen's 2024 goal to contribute $30 million in total in-kind value for pro bono data donations, public reports and other support for organizations and topics that are powering a better media future for all people.
Last fall, the company's Corporate Citizenship team asked all employees to share their ideas on how our data and insights could help solve some of the most pressing challenges that the media industry is currently facing. The 2022 Data for Good Idea Challenge provided an opportunity for dozens of Nielsen employees from around the world to share their ideas for how Nielsen data, solutions and talent can creatively power a more inclusive media future that works for and represents all people.
Our employees certainly stepped up to the challenge! Ideas, submitted by teams across 10 countries, explored how to measure audience and influencer diversity, how to assess the credibility of news sources, how to account for the media's influence on mental health and much more.
The Idea Challenge culminated with six finalist teams presenting their ideas in a live event to a panel of senior leader judges. The winning ideas included:
"The Nielsen Climate Content Rating" proposes a report and content metric on scientific content in extreme weather reporting. The idea was submitted by Jocelyn Azada, Director, Business Diversity, ESG, and Risk; Dana Siler, QA Engineer, Product Leadership; and Emily Baker, Data Scientist, Local TV Panels.

"Non-Binary Genders in Survey-Based Products and Models" proposes a framework for how to collect, use and report on non-binary genders in surveys. The idea was submitted by Bert de Bruijn, Lead Data Scientist, Campaign Analytics.

"Making Mental Health a Media KPI" proposes a new metric to make mental health a standard media KPI. The idea was submitted by Maria Daniela Isea, Client Services Manager Measurement; Cory Weeks, Director of International Expansion, TVTY; and Maira Barcellos, Country Leader Measurement Spain and Portugal.
"We are always looking for new ways to power a better media future for all people," said Christine Pierce, Chief Data Officer, and one of the executive sponsors of the Cares Business resource group, who served as a judge for the Challenge. "The Data for Good Idea Challenge was an exciting opportunity to hear creative ideas from across the company. It was truly inspiring!"
For more information on our community efforts, visit our Responsibility & sustainability page and our 2022 ESG report.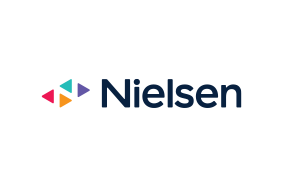 Nielsen
Nielsen
Nielsen shapes the world's media and content as a global leader in audience measurement, data and analytics. Through our understanding of people and their behaviors across all channels and platforms, we empower our clients with independent and actionable intelligence so they can connect and engage with their audiences—now and into the future.
An S&P 500 company, Nielsen (NYSE: NLSN) operates around the world in more than 55 countries. Learn more at www.nielsen.com or www.nielsen.com/investors and connect with us on social media.
More from Nielsen