Published 02-15-23
Submitted by The Home Depot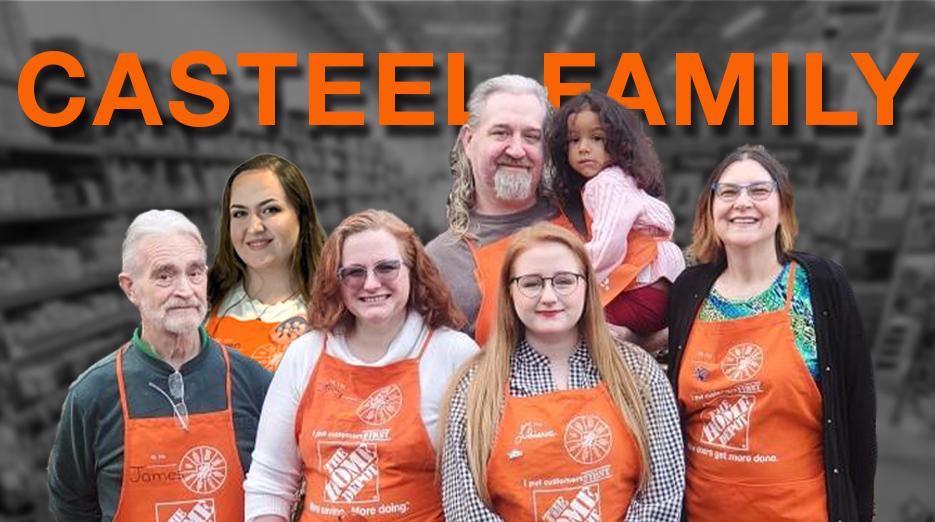 Originally published on Built From Scratch
Scott Casteel grew up around retail. After years of working in other fields, it took a lightbulb moment at a family meal to make it click.
"I knew I had to join The Home Depot when during dinner, my father and my ex-wife had what felt like a 20-minute conversation using nothing but abbreviations and Home Depot lingo," remembers Scott. "I knew I needed to join the company if I ever wanted to participate in family conversations again."
Scott joined the company in 2011 as a customer service associate and is currently a Home Depot Installation Services (HDIS) sales recovery associate. Not only do his dad, James, and ex-wife, Stacy, still work for Home Depot, but his wife, Stacy; his daughter, Lilianne; and his bonus daughter, Lauren; are also part of The Home Depot family. Yes, that's three generations and six associates in one family.
"For me, having my immediate family also work with Home Depot means that my whole family is supported by this company. I know my father can work and do something he truly enjoys. I know my two oldest daughters both have careers rather than just jobs. I know they can provide for their families and are both given the tools to go as far as they want with Home Depot," Scott says.
Let's meet the family:

"WORK AS IF YOU ALREADY HAVE THE NEXT JOB YOU WANT. SHOW UP, TAKE A LEADING ROLE, SUPPORT YOUR PEER ASSOCIATES. PUT THE EFFORT AND THE HOURS IN SO THAT YOU ARE THE OBVIOUS CHOICE WHEN THE NEXT PROMOTION OPPORTUNITY COMES UP." 
- SCOTT CASTEEL
Scott's dad, James Casteel, works as a lumber recovery associate at Store #153 in Marietta, Georgia. A Vietnam veteran, Jim spent his teen years helping his carpenter dad build churches in California. "As a youth, I was a construction company's roustabout, a mason's apprentice, and a heavy equipment operator in the U. S. Army Corps of Engineers."
James likes to help customers solve problems, find supplies to meet their needs and complete their projects.

"LEARN FROM PEOPLE WHO CAN HELP YOU IMPROVE AND TEACH THOSE WHO COME TO YOU FOR HELP OBSTACLES ARE LIKE A TWO-EDGED SWORD - FAILURE ON ONE SIDE AND A GREATER PATH TO SUCCESS ON THE OTHER WHEN YOU OVERCOME THE PROBLEM." 
- JAMES CASTEEL
Lilianne Whisenant-Casteel, Scott's daughter, is a customer service rep in the Virtual Contact Center. She started out with Home Depot Measurement Services (HDMS) for flooring in 2019. "I had a baby a year out of high school, so I had to grow up fast and become an adult. Home Depot helped me get insurance for my child."
While she plans on going to college soon and using the company's tuition reimbursement program, Lilianne says, "I like that we can grow in our current position or go to other positions without the need for a college degree."

"EVEN IF YOU DO NOT HAVE THE EXPERIENCE, ALWAYS BE WILLING TO LEARN AND THAT WILL TAKE YOU A LONG WAY." 
- LILIANNE WHISENANT-CASTEEL
Stacy Whisenant, Lilianne's mom, works in Human Resources as a knowledge base admin. She was the first member of the family to put on the orange apron. "I started with THD as an associate shortly after Hurricane Katrina in 2005. My first few days set the tone for my career. I found water, paychecks, and other items because my leaders at the time asked if I could do something. My response was 'sure, I could try.' So I did."
While building her career at The Home Depot, Stacy and her family dealt with some medical challenges that surpassed their resources when Lilianne needed extensive diagnostic work. "My Home Depot family took up the challenge for a Homer Fund drive and helped us care for her."

"TITLE IS NOT A BARRIER TO IMPACT. BE CURIOUS AND BE BRAVE." 
- STACY WHISENANT
The other Stacy in this family is Stacy Smith, Scott's current spouse.
"I'm a copywriter in the Brand Marketing and Creative department. I write and edit copy for the Product Information Pages (PIPs). I'm also the brand claims coordinator. I analyze brand claims submissions for accuracy and validity according to our claims standards."
An animal lover who volunteers with a local nonprofit in her community, Stacy considers her time at The Home Depot as the high point of her career.

"MY FAVORITE THING ABOUT WORKING AT THD IS THE COMPANY CULTURE AND VALUES. THE HOME DEPOT EMBRACES DIVERSITY AND ENCOURAGES EVERYONE TO SUCCEED. THE COMPANY TAKES CARE OF BOTH THE CUSTOMERS AND THE EMPLOYEES IN A WAY THAT I'VE NEVER EXPERIENCED IN SUCH A LARGE BUSINESS. IF SOMEONE NEEDS HELP, THEY DON'T HAVE TO GO FAR TO FIND IT. WE TRULY ARE LIKE A FAMILY." 
- STACY SMITH
Stacy's family also includes a bonus daughter, Lauren King, a senior training specialist who joined the company in 2019.
"I came from a construction background, working specifically in water damage, remediation (mold, asbestos) and rebuilding. These skills allowed me to learn critical sales methods and make myself an asset to Home Depot Measurement Services. In the first few weeks, I realized I loved training and even told the training specialist on the last day of class, 'One day I'm going to be one of your colleagues.' I continued to work hard, providing best-in-class service while also assisting classes as a subject matter expert. In April, I transitioned to a training specialist role and have been loving every second!"
Lauren is excited about her future and wants to encourage others to pursue their dreams, too.

"BE APPROACHABLE AND MAKE AS MANY CONNECTIONS AS YOU CAN. THE MORE YOU MEET WITH PEOPLE WHO ARE IN THE POSITION YOU WANT, THE MORE YOU CAN GET ADVICE TO HELP YOU REACH YOUR GOALS. LEADERS ACTIVELY WANT TO HELP YOU, BUT YOU MUST ASK FOR IT." 
-LAUREN KING
Keep up with all the latest Home Depot news! Subscribe to our bi-weekly news update and get the top Built from Scratch stories delivered straight to your inbox.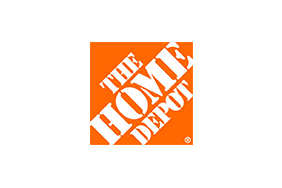 The Home Depot
The Home Depot
About The Home Depot
We are the world's largest home improvement specialty retailer with stores in all 50 states, the District of Columbia, Puerto Rico, U.S. Virgin Islands, 10 Canadian provinces, and Mexico.
More from The Home Depot